River Rock Perfect Circle LED Flashlight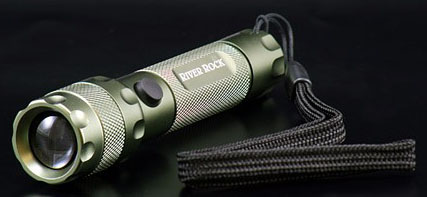 Illustration courtesy of River Rock Designs, Inc.
River Rock Designs of Austin, Texas, has recently released the latest in their growing family of illumination products. This is their T-AL71AA "Perfect Circle" flashlight, a single AA powered unit with a $14.99 suggested retail price. A wrist strap and one AA alkaline battery are included.
The overall length of the Perfect Circle is 4.4", diameter is 0.8" and weight is 4.5 ounces. The aluminum body is checkered for a firm grip and the On/Off button is conventionally located on the body tube behind the front bezel. Both the constant on and flashing modes are selected by this switch.
The outer case is made from T6061 aircraft aluminum and O-ring sealed for weather protection. Actually, I have no idea if aircraft are made from T6061 these days, but riflescopes certainly are. It is an extremely good looking little light, hard anodized in drab olive green.
LED lights have made incandescent flashlight bulbs obsolete. The days of dropping a flashlight, only to have it fail due to a broken bulb, are over. This little light has a .5 mm Nichia LED that throws out 10 lumens for 30 hours, or 60 hours in the strobe mode. Brightness versus runtime is always a trade-off. This economical little light strikes me as a useful map light, pocket flashlight, or a back-up light. If you're looking for more output, River Rock has a 2-AA / 60 lumens / 8 hour unit, a 1-AA 100 lumen 1.5 hour unit and a 2-C cell 136 lumen 60 hour unit, to cite a few examples.
As far as I can tell, all Rock River lights have a lifetime warranty and, in the case of this light, the LED itself is rated to 100,000 hours of continuous use, so it won't need replacing. You can view the rest of the line at www.riverrockledlights. This little single AA light is a good-looking, well-made and well-packaged product that works as advertised.