Ruger Mini-14 Tactical .223 Carbine with Folding Stock and Redfield CounterStrike Optical/Laser Sight
By the Guns and Shooting Online Staff

Illustration courtesy of Sturm, Ruger.
Having recently (and in the past) fired what are alleged to be among the better semi-automatic AR-15 clones on the market, as well as the USAF's selective fire M16 (with which our both our Owner and Managing Editor Chuck Hawks and Gunsmithing Editor Rocky Hays qualified as "Expert" shooters and won the ribbons to prove it), we are convinced that the Ruger Mini-14 is a superior design. Ruger firearms (www.ruger.com) are made in the USA and well known for both value and performance. After due diligence and careful consideration, we chose a Mini-14 for this rare Guns and Shooting Online review of a "tactical" rifle.
Of course, the Mini-14, like all modern military rifles, is designed for cheap and easy mass production. No modern military design is going to please the connoisseur of fine firearms or the accuracy nut. There is no fine walnut or luster blued steel. The stocks are usually black plastic. The lines of military rifles can accurately be described as "ugly" (although the Mini-14 is better than the seminal AK-47 and AR-15 in that respect). Stocks are ungainly and handling is, at best, clumsy. Picatinny rails sprout from forends and flash hiders protrude from barrels. Even the carbines weigh too much for their modest kicking calibers and are awkward to carry when accessorized. Being autoloaders, they throw brass all over the place, so they are not a good choice for the reloader. Pride of ownership is nil.
They are typically chambered for the 5.56mm NATO (.223 Remington) or 7.62x39mm Soviet cartridges, both of which are low on power compared to most centerfire rifle cartridges. Neither caliber is going to impress the big game hunter, particularly when fired from the currently popular carbine length barrels that degrade their already unimpressive ballistics.
The Guns and Shooting Online home staff is composed of mature and experienced riflemen who are beyond any need to impress the unwashed or intimidate the impressionable with a quasi military firearm. We have a reasonable grasp of external ballistics and always strive for humane, one shot kills in the field. We know that "spray and pray" is a formula for disaster in any civilian scenario. We appreciate elegant design, top quality materials and fine craftsmanship. Our favorite rifles are fine single shots (such as the Ruger No. 1) and refined bolt or lever action repeaters that handle so smoothly they become part of the shooter in use and are easy on the eyes. These are rifles we are proud to own and pass down to future generations.
This is why we seldom review tactical rifles. They are not our cup of tea. We mention these things up front so that you, gentle reader, understand where we are coming from.
As the name implies, the Ruger Mini-14 is based on a scaled-down (.223 size) M14 type action, which was itself based on the famous M1 Garand action of WWII and Korea fame. As a result, all critical components of the barreled action are steel. Unlike AR-15's, we don't think there are any aluminum alloy parts in the Mini-14. As originally designed, Mini-14's had hardwood stocks, but later plastic stocks were also offered, along with stainless steel barreled actions.
The most recent variation is the Mini-14 Tactical reviewed here, which has a 16-1/8" barrel and an ATI (www.atigunstocks.com) Strikeforce folding/telescoping stock with ATI's Scorpion recoil absorbing material at pistol grip and buttpad. The collapsible stock can be set for six lengths of pull.
This ATI stock incorporates no less than six detachable sling swivel studs and four plastic Picatinny accessory rails. (A 7" rail on top and 2" rails on both sides and the bottom of the forend). The Mini-14 also has a sling swivel in front of the forend, making a total of seven sling attachment points. We are not sure why any carbine needs seven sling mounts and we removed the stud on the left side of the forend to get it out of the way of our thumb. The black plastic Strikeforce stock gives the Mini-14 Tactical a visual appearance more similar to an AR type rifle than an M14 infantry rifle.
The Mini-14 uses a true gas-operated action, which eliminates the problems created by the AR's direct gas impingement operation. In our experience, an out of the box Mini-14 is both more reliable and more accurate than equivalent AR-15 type rifles.
The (investment cast) steel receiver and machined steel barrel and bolt are the basic blocks upon which every Mini-14 is built. The rest of the Mini-14's metal parts appear to be stamped from sheet steel. All external metal parts wear a blued finish.
The supplied front sight is a blade protected by wings on each side, in the style of the M1 and M14 infantry rifles. The rear sight is a receiver mounted aperture (peep) sight. The rear sight is user adjustable for windage and elevation. These are good iron sights.
The Mini-14 safety is a sheet metal blade in the front of the sheet metal trigger guard, similar in operation to the M-1 Garand safety. (The forward position is "fire," back is "safe.") Unfortunately, the Mini-14 safety is so thin that it is uncomfortable to use. So far it hasn't cut any fingers, but it feels as if it might.
Speaking of cut fingers, there are more sharp plastic and sheet metal edges to cut or pierce fingers on this carbine that we have ever previously encountered on one firearm. The folding stock is also a dandy finger crusher of the unwary. Within minutes of opening the box to inspect the Tactical a finger was bleeding. Ruger made no attempt to round or "melt" any of the carbine's crude edges and sharp corners. Even the detachable, 20 round, sheet metal box magazine (5, 10 and 30 round magazines are also available) has sharp corners on its feed lips, so care must be taken when loading cartridges. A little judicious filing and sanding can resolve the problem of sharp edges, but Ruger should attend to such matters before shipping these rifles.
The trigger released the striker at a very heavy 6.5 pounds, out of the box. There is also a long, gritty take-up and noticeable over travel. Fortunately, Mini-14 triggers can be improved with a little home gunsmithing. We have fired AR type rifles with even worse triggers, but that does not justify the Mini-14's poor trigger pull.
Mini-14 Tactical Specifications
Catalog number: M-14/20CF
Model number: 5846
Caliber: 5.56mm NATO (.223 Remington)
Magazine capacity: 20 (as supplied)
Material: Alloy steel
Finish: Blued
Stock: ATI black synthetic; collapsible/folding
Length of pull: 11.88" to 15.62"
Sights: Blade front, adjustable peep rear; Ruger scope bases
Barrel length: 16.12" (approx. 17.5" w/flash hider)
Twist: 1:9"
Trigger pull: 6.5 lbs. (as measured)
Overall length: 34.0"-37.75"
Weight: 7.25 lbs. (empty, w/o accessories)
Weight as tested: 10 lbs. 2.5 oz. (empty, w/magazine and accessories)
Included accessories: Ruger scope rings, 7 sling mounts, 1- 7" and 3-2" Picatinny rails
Country of origin: USA
2018 MSRP: $1089
The .223 Remington (5.56mm NATO) cartridge, which has been covered in detail on the Rifle Cartridges page, derives its excellent performance as a long range varmint and small predator cartridge from its high velocity when fired from a full length 24" barrel. It is, therefore, difficult to understand the popularity of carbine length barrels on .223 caliber rifles. Sacrificing the very quality that makes the .223 cartridge good, its high velocity and consequent flat trajectory, just doesn't make any sense. According to Winchester figures, a 60-62 grain spitzer bullet fired from a .223 with a 24" barrel has a MV of 3100 fps. From a 16" barrel the velocity falls to only 2750 fps. The 200 yard energy drops from 825 ft. lbs. to 505 ft. lbs.
Chambering carbines for high velocity cartridges makes no ballistic sense, particularly a cartridge firing a very small diameter, lightweight bullet like the .223, which depends heavily on velocity for its striking power. For a rifle with a carbine length barrel, it would be much better to use a lower velocity cartridge firing a fatter, heavier bullet. This is why the old Soviet 7.62x39mm handily outperforms the .223 in such applications, but not at long range when fired from a 24" barrel. It is simply a matter of choosing an appropriate cartridge for the intended application.
We decided to outfit our Mini-14 Tactical as a home defense rifle. We therefore equipped it with some typical accessories beloved by the tactical crowd. By the time we were finished accessorizing, our 7.25 pound Mini-14 rifle weighed over 10 pounds. However, it looks intimidating to those who don't know much about firearms, which is probably the idea.
---
First and most important, we fitted a Redfield (www.redfield.com) CounterStrike optical sight to the top Picatinny rail. Some sort of optical sight is advisable on this carbine, as the ATI folding stock makes it difficult to use the supplied iron sights.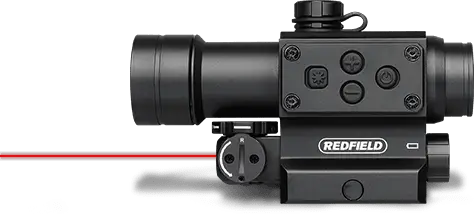 Illustration courtesy of the Redfield Division of Leupold & Stevens.
Redfield describes the CounterStrike thusly: "Our new CounterStrike™ puts every advantage in your favor, combining a powerful, visible, red laser and an illuminated, 4-MOA green/red dot scope in one versatile sighting system. Get on target faster and with greater precision, either through the scope or using the laser sight. There's no excuse to ever miss a shot again."
The CounterStrike is powered by a common and comparatively inexpensive CR123 (3v Lithium) battery, the same as used by many tactical flashlights. In a single unit with an integral Picatinny/Weaver mount, it incorporates a red LED projected laser and a red dot optical sight. Actually, you can select a red or green dot for the optical sight by means of the aft push button on the left side of the unit (marked by a circle with a line at 12 o'clock), which also serves as the on/off switch for the red dot sight. (Press to turn on, press again to change color, press and hold for over two seconds to turn off.) The unit will automatically turn off after two hours.
Redfield StrikeForce Features
MIL-STD-1913 / Picatinny Rail: Mounting the CounterStrike on the rail of your MSR/AR is as easy as tightening the nut. Rock-solid under fire and fast, repeatable mounting/dismounting.
1/2-MOA Click Adjustments with Tethered Covers: Precision 1/2-MOA click adjustments (slotted for screwdriver or coin) for windage and elevation. Knob covers are tethered to prevent loss in the field.
Base-Mounted Laser: A powerful (5mw), integrated visible laser sight lets you engage targets in an instant from almost any position. User selects "on/off" mode for laser.
Fully multicoated lens system: Reduces light reflection and diffusion. With maximum light transmitted to your eye, you get a bright, crisp image in all lighting conditions. Flip-up lens covers included.
100% Waterproof / Fogproof / Shockproof: Completely sealed and nitrogen-filled, the CounterStrike is totally waterproof and fog proof.
Extended Battery Life: The CounterStrike is powered by a readily available CR-123A battery. Optical sight runs up to 5,000 hours on lowest setting and up to 500 hours on highest setting (does not include running of the external laser).
Red/Green Dot Reticle: The CounterStrike features a user-selectable 4-MOA Red/Green Dot reticle in combination with a base-mounted laser. Eleven different illumination intensity settings (including night vision) give you the flexibility to adapt to all shooting/lighitng conditions.
Unlimited Eye Relief: Allows maximum flexibility for positioning on Picatinny rails.
Redfield "No Excuses" Warranty: Two years materials and workmanship.
Since the laser projects a red spot, we chose a green dot for the optical sight to avoid confusion. In the middle of the left side control panel are + (upper) and - (lower) buttons to change the intensity of the optical sight's aiming dot. (The two lowest settings are compatible with night vision devices.) At the front of the control panel is the on/off button for the red laser (marked by an asterisk). All of these push buttons are stiff to operate and require a strong push.
At night, the laser spot can be seen for hundreds of yards. In shadowed daylight it is good for about 25 yards and in bright sunlight perhaps 25 feet, so you need to use the red/green dot optical sight in bright light. Both the laser and the optical sight are adjustable for windage and elevation.
We found the CounterStrike's coin slot windage and elevation adjustments for the optical dot sight reasonably accurate and conventional in operation. Each click moves the point of impact 1/2" at 100 yards. For our test shooting, we zeroed it at 50 yards. This only required half a dozen shots.
Loosen the set screws with the supplied hex wrench before adjusting the laser's fingertip knobs for windage and elevation. We adjusted the laser to coincide with the optical sight's dot at 25 yards.
---
For the purposes of this review, we also attached a a couple of additional accessories, which made us look just like the "in" people at the range. First, a black, 9" Caldwell (www.battenfeldtechnologies.com/caldwell) XLA Pivot Bipod #571429 to the sling swivel stud in the center of the bottom Picatinny rail. The legs extend to a maximum of 13" in steps. Caldwell Pivot bipods allow the shooter to tilt the rifle on the bipod for use on uneven ground. (This bipod is reviewed on the Rifle Information page.) We used this bipod on a bench rest for our accuracy testing and it performed very well.
Second, an NcStar (www.ncstar.com) 35 lumen LED flashlight was clamped to the left side Picatinny rail. This little gem is only 3.25" long and less than an inch in diameter. It has an anodized aluminum body with an easily operated push button on/off switch at the back of its tailpiece. Power is supplied by a single CR123 battery. A Weaver/Picatinny mount is included with the light. There is a review of this NcStar tactical light and its companion laser on the Outdoor Accessories page.
We considered mounting a dedicated black nylon sling with detachable swivels to the studs on the right side of the Mini-14. However, we decided a sling would just get in the way on a home defense rifle and gave up on the idea. If on some occasion we need a sling, we will just use one of our existing slings. (We have several slings we use on hunting rifles.)
Mini-14 Tactical w/CounterStrike sight and bipod. Photo by Chuck Hawks.
As usual, we did our test shooting at the Izaak Walton outdoor range south of Eugene, Oregon. This facility has covered shooting benches and 50 yard target frames convenient for testing rifles with iron sights or optical sights without magnification. Chuck Hawks, Rocky Hays and Jim Fleck, all G&S Online staff members, participated in the shooting. The weather was typical of April in Western Oregon, with partly sunny skies and a high temperature in the 60's F. The wind was gusting to about 10-15 MPH.
For the shooting part of this review, due to the Obama post reelection gun ban effort, we had available only one .223 factory load. Fortunately, it was an excellent one, the Hornady Varmint express load using a 55 grain V-MAX bullet at a MV of 3240 fps from a 24" barrel. This is the extremely accurate .223 load we use in our best varmint rifles. We know from past experience that it can deliver ˝ MOA groups. We fired three shot groups at bullseye targets from a sturdy bench rest using the Caldwell XLA Pivot bipod we had installed on the Mini-14.
50 Yard Shooting Results
Hornady Varmint Express 55 grain V-MAX: Smallest group = 1-1/4"; Largest group = 2-1/8"; Mean average group size = 1.66"
This time out, Chuck shot the smallest recorded group. Overall, the Mini-14's accuracy was somewhat better than expected. Our 1.66" average group size at 50 yards would translate to 3.3" at 100 yards, not bad for a rifle with a 1x sighting system. It is a definite cut above the typical AR-15 autoloader, but not the equal of a Ruger bolt action M77 .223 varmint rifle. The Redfield CounterStrike red dot sight (which we used with the green dot illuminated) worked well and is an appropriate choice for the Mini-14 Tactical, although we could have shot tighter groups with a Redfield magnifying riflescope.
The lousy trigger made it difficult to take maximum advantage of the Mini-14's accuracy potential. We all agreed that we could have shot tighter groups with a decent trigger pull.
Immediately following the shooting portion of this review, Guns and Shooting Online Gunsmithing Editor Rocky Hays did some trigger work. Reducing and polishing the hammer, sear and trigger engagement notches and surfaces (the stock parts are pretty crude) reduced the Tactical's trigger pull to a measured 2-5/8 pounds. There is still a lot of gritty take-up, but once you get to the final pull the release is crisp.
There is noticeable flex in the 7" top Picatinny rail and the upper hand guard to which it is mounted, which means there is flex in any sighting system so mounted. (Both the rail and hand guard are injection molded plastic.) Clearly, such flex can only be detrimental to accuracy. Fortunately, the .223 generates so little recoil that the rifle still shot acceptable groups.
Mounting a low power, conventional riflescope in the supplied Ruger mounting rings that clamp solidly to the receiver would result in a more rigid and accurate daylight sighting system. However, we found the Redfield CounterStrike combined optical / laser sight sufficient for most daytime tactical applications and it is far superior to a standard riflescope in dim light or at night.
The Tactical's ATI telescoping and folding plastic stock has play in every direction, no matter in what position it is locked. This stock play can only degrade accuracy. We adjusted the comb to its highest position and it is still too low to allow a proper cheek weld when looking through the red dot tactical sight, which is a typical sighting system for this type of rifle. On the other hand, in its lowest position, the comb was still too high for some staff members to comfortably use the rifle's iron sights. Here we have an adjustable comb with insufficient adjustment in either direction, a first in our experience.
The telescoping/folding buttstock proved to offer less flexibility than we had hoped. Fully shortened and folded along the left side of the rifle, the buttstock is so bulky that it makes holding and shooting the Mini-14 Tactical even more awkward than with the stock unfolded. Incidentally, we found adjusting the stock for a length of pull of 13-5/8" (the fifth of the six available positions) best fit our medium size shooters.
We found the standard 20 round magazine protrudes so far from the bottom of the carbine that it impedes a normal grip on the forend when shooting from the offhand position. As you know, the shooter's strong hand should be on the pistol grip and the support hand should be cradling the rifle's forearm from below with the arm directly beneath the rifle. This is impossible, because of the magazine. The support arm is forced to the side, because the long magazine is in the way. This degrades steadiness when shooting from unsupported positions. The bottom line is the Mini-14 Tactical is not a sharpshooter's rifle.
We would like to see Ruger ship these rifles with two magazines, one each for 10 and 30 rounds. The 10 round magazine should be short enough to allow a normal offhand hold and, since the 20 round magazine gets in the way, it might as well be replaced by an even longer 30 round magazine.
Conclusion and Suggestions
We found several things to criticize about the Mini-14 Tactical carbine, but most of these are endemic to tactical rifles in general. Some of our criticisms, including the heavy trigger and the sharp edges, can be dealt with at home by anyone reasonably skilled with hand tools.
Other problem areas, such as the shaky ATI folding stock, can be avoided. We'd prefer the Mini-14 Tactical supplied with a rigid stock (Model #5847). The ATI Strikeforce stock concept is okay, but the execution is poor.
We'd also prefer an 18.5" barrel without a flash suppressor, which would improve ballistics without materially increasing overall length. (The Ruger Ranch Rifle, Model #5817, comes with an 18.5" barrel.) Finally, we would like to see this rifle chambered for the superior 6.8mm SPC cartridge for increased stopping power.
At the core of the Mini-14 Tactical is a strong, reliable Mini-14 barreled action and that is its best feature. The supplied Picatinny rails make it easy to mount multiple accessories, which we realize is important to tactical rifle fans.
Note: Reviews of the Ruger Mini-14 Ranch Rifle in 6.8mm SPC and Mini-Thirty All-Weather can be found on the Product Reviews page.