Two-Inch Eyepieces from Baader Planetarium, Celestron, Explore Scientific, Meade, Orion, Pentax, Stellarvue, Takahashi, Tele Vue, Vixen and William Optics
By Chuck Hawks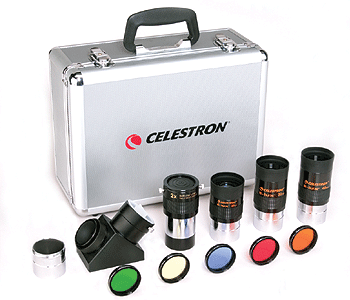 Celestron 2-inch Eyepiece Set. Illustation courtesy of Celestron International.
Some telescopes, such as the Celestron Edge HD 9.25", 11" and 14" CAT's come with two inch star diagonals and Celestron SCT's that come with the standard Celestron 1.25" visual back will accept the replacement Celestron 2" star diagonal that threads directly onto the rear cell of the telescope. Most of the better (especially ED and APO) refractors from many manufacturers are supplied with 2" focusers. Vic Maris of Stellarvue, for example, told me that most of his customers were using two-inch oculars.
Two-inch oculars typically offer a wider field of view in focal lengths over about 32mm than is possible with 1.25" mounting barrels. Thus, they are most advantageously used in long focal length eyepiece applications. There are, however medium and short focal length 2" oculars available. Many of the oculars with focal lengths shorter than about 24mm are designed to work interchangeably in either 2" or 1.25" holders, making them dual-size oculars. The field stop of such oculars, of necessity, is smaller than 1.25", meaning that there is no optical advantage to using them in a 2" focuser or star diagonal, although it may be more convenient to do so. The primary disadvantages of two-inch eyepieces are their cost, size and weight; ditto for the two-inch star diagonals they require.
If you are looking to purchase two-inch oculars, there are two ways to go. First, buy a packaged set, such as the Celestron two-inch Eyepiece and Filter Kit ($249.95 from Optics Planet) pictured above. This includes three inexpensive E-Lux series oculars, a two-inch star diagonal, a set of seldom used Wratten colored filters (no moon filter, unfortunately), a simple Barlow lens and a handy hard case in which to carry it all. This is the easy approach and it doesn't require much thought. The price is right, but the drawback is that these oculars are three element Kellner designs that are inferior to most of the two-inch oculars sold individually.
The second option is to carefully choose higher quality oculars that fit your specific needs. This costs more and requires some thought and research. In addition, you will need to purchase a case to carry your two-inch oculars and accessories; the Pelican 1450 medium size hard case with foam interior is usually about the right size for the purpose ($93.99 at Optics Planet). Needless to say, this is the approach I recommend and I compiled the list that follows to assist with the research.
All prices are approximate 2011 discount retail from major online dealers, such as Optics Planet, Oceanside Photo & Telescope and Woodland Hills Camera & Telescope. Prices vary among dealers and change frequently.
56-50mm focal length
Meade Series 4000 56mm ($89)
Tele Vue Plossl 55mm ($220)
Takahashi LE 50mm ($418)
Vixen NLVW 50mm ($279)
42-40mm focal length
Stellarvue E4012 42mm ($89)
Vixen LVW 42mm ($399)
Tele Vue Panoptic 41mm ($430)
Celestron E-Lux 40mm ($65.95)
Explore Scientific 68-series Waterproof 40mm ($249)
Meade Series 5000 40mm ($99)
Pentax XW 40mm ($509)
William Swan 40mm ($119)
38-34mm focal length
Orion Q70 38mm ($100)
Baader Hyperion Aspheric 36mm ($209)
Explore Scientific 70-series 35mm ($70)
Tele Vue Panoptic 35mm ($350)
Explore Scientific 68-series Waterproof 34mm ($249)
32-30mm focal length
Celestron Ultima LX 32mm ($160)
Celestron E-Lux 32mm ($56)
Meade Series 5000 32mm ($85)
Orion Q70 32mm ($100)
William Swan 32mm ($119)
Baader Hyperion Aspheric 31mm ($209)
Tele Vue Nagler-5 31mm ($594)
Explore Scientific 70-series 30mm ($60)
Explore Scientific 82-series Waterproof 30mm ($250)
Meade Series 5000 Ultra Wide 30mm ($299)
Pentax XW 30mm ($509)
Stellarvue ESV30 Wide Field 30mm ($89)
Vixen NLVW 30mmm ($289)
28-24mm focal length
Explore Scientific 68-series Waterproof 28mm ($199)
William Uwan 28mm ($339)
Tele Vue Panoptic 27mm ($310)
Celestron E-Lux 26mm ($66)
Orion Q70 26mm ($100)
Tele Vue Nagler-5 26mm ($568)
Explore Scientific 70-series 25mm ($50)
William Swan 25mm ($119)
Baader Hyperion 24mm ($129)
Explore Scientific 82-series Waterproof 24mm ($200)
Meade Series 5000 Ultra Wide 24mm ($249)
Orion Stratus 24mm ($140)
22-20mm focal length
Celestron Ultima LX 22mm ($160)
Tele Vue Nagler-4 22mm ($432)
Baader Hyperion 21mm ($129)
Orion Stratus 21mm ($140)
Tele Vue Ethos 21mm ($790)
Explore Scientific 100-series 20mm ($400)
Tele Vue Nagler-5 20mm ($415)
18-17mm focal length
Baader Hyperion 17mm ($129)
Celestron Ultima LX 17mm ($130)
Orion Stratus 17mm ($140)
Tele Vue Ethos 17mm ($690)
Tele Vue Nagler-4 17mm ($355)
Explore Scientific 82-series Waterproof 18mm ($180)
14-12mm focal length
Explore Scientific 100-series 14mm ($300)
Baader Hyperion 13mm ($129)
Celestron Ultima LX 13mm ($130)
Orion Stratus 13mm ($140)
Tele Vue Ethos 13mm ($588)
Tele Vue Nagler-4 12mm ($330)
10-8mm focal length
Tele Vue Ethos 10mm ($588)
Explore Scientific 100-series 9mm ($250)
Baader Hyperion 8mm ($129)
Celestron Ultima LX 8mm ($130)
Orion Stratus 8mm ($140)
Tele Vue Ethos 8mm ($549)
Vixen LVW 8mm ($289)
6-3.5mm focal length
Tele Vue Ethos 6mm ($535)
Baader Hyperion 5mm ($129)
Celestron Ultima LX 5mm ($130)
Orion Stratus 5mm ($140)
Vixen LVW 5mm ($289)
Baader Hyperion 3.5mm ($129)
Tele Vue Ethos-SX 3.7mm ($589)
Orion Stratus 3.5mm ($140)
Barlow lenses
Stellarvue High Contrast ED 2x Barlow ($149)
Tele Vue 2x Powermate ($265)
Tele Vue 2x BIG Barlow ($189)
Tele Vue 4x Powermate ($275)