Guns and Shooting Online 2009-2010 Handgun Awards
By the Guns and Shooting Online Staff
Among the new introductions and other products that we reviewed during 2009, we found a few that were particularly interesting and/or impressive. These are the products that we have singled out for our 2009-2010 Handgun Awards. They are listed below by category.
Handgun Accessory of the year
Holsters by A.E. Nelson Leather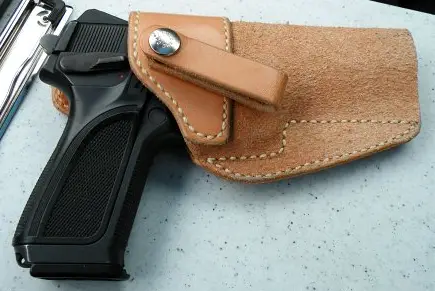 "Summer Special" type holster by A.E. Nelson. Photo by David Tong.
Gary Struckmeier and his wife Catherine (Kitty Nelson) Struckmeier own and operate A.E. Nelson Leather of Scio, Oregon. It is a third-generation small business with just three other employees. When you deal with A.E. Nelson, you get personalized service and a custom made holster. We highly recommend the company and its products. You can reach them at 38492 Gilkey Road, Scio, OR 97374, phone 503-394-3412 and visit their web site at www.nelsonleather.com
Handgun Ammunition of the Year
.327 Federal Magnum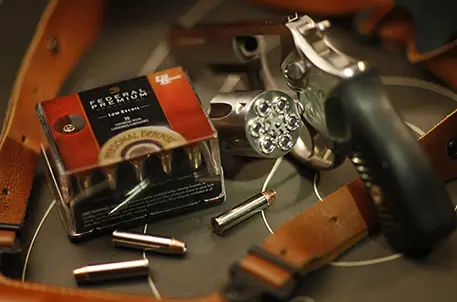 Illustration courtesy of Federal Cartridge / ATK.
Introduced for 2008, but yet to be offered in an appropriate revolver, according to lead design engineer Larry Head, "The 327 Federal Magnum is ideal for personal defense and has the potential for future application in field use. Using a slightly longer .32 H&R Magnum case and our advanced powder and bullet technology, we're able to offer more performance out of a smaller platform. And its recoil is milder than the 357 Magnum. We're excited to partner with Ruger and bring this product to market in the SP101 firearm."
As we discovered in our review of the .327 SP101, it is a singularly inappropriate revolver for this powerful cartridge. However, that is not the fault of the flat-shooting .327 Federal Magnum cartridge, which would have great hunting and field potential in a heavier, longer barreled revolver. The Ruger Blackhawk, for example, would be an excellent platform, allowing the cartridge to reach its full ballistic potential and taming its recoil. Come on, Ruger, let's give the .327 a chance in one of the world's great hunting revolvers!
Handgun of the Year
Ruger LCR (Lightweight Compact Revolver)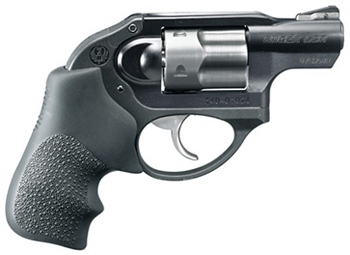 LCR with Hogue grip. Illustration courtesy of Sturm, Ruger & Co., Inc.
Ruger re-thought the DA revolver for the first time in over 100 years and the 13.5 ounce, concealed hammer, .38 Special +P Model LCR is the result. We regard it as, hands down, the best revolver on the market for daily concealed carry. You will be amazed by its smooth DA trigger pull. It is a new design using new materials and, like all Ruger handguns, it is made entirely in the USA. The Ruger LCR richly deserves to be our Handgun of the Year!