2009-2010 Guns and Shooting Online Rifle Awards
By the Guns and Shooting Online Staff
Among the new introductions and other products that we reviewed during 2009, some we found particularly interesting and/or impressive. These are the products that we have singled out for our 2009-2010 Awards. They are listed below by category.
Rifle Shooting Accessory of the year
Wheeler Engineering Professional Scope Mounting Kit Combo
Wheeler Engineering Professional Scope Mounting Kit Combo. Illustration courtesy of Battenfeld Technologies.
The name of this kit implies that it is put together for professional gunsmiths, but it also provides amateurs the tools to produce professional results. The impressive and complete Wheeler Scope Mounting Kit Combo contains a torque wrench, 10 screwdriver bits most commonly used on scope bases and rings, a magnetic action level, scope level, small tube of thread lock, two scope ring lapping bars (1" and a 30mm) with a handle for the lapping bars, two scope ring alignment bars (1" and a 30 mm), an instructional DVD and lapping compound. The kit carries a 2009 MSRP of $149.99. There is a lot more to this Kit than we expected and it garnered our 2009-2010 award as a result.
Rifle Ammunition of the Year
Remington Managed Recoil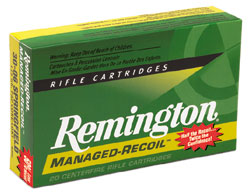 Illustration courtesy of Remington Arms Co., Inc.
The idea of reduced recoil factory loads was pioneered a few years ago by Remington and Federal, and a great concept it is. Remington is the company that has been the most committed to controlling recoil and they continued to expand their Managed Recoil line in 2009 with three more caliber introductions. Available cartridges/loads now include .260 Rem./140 grain,.270 Win./115 grain, 7mm-08/140 grain, 7mm Rem. Mag./140 grain, .30-30/125 grain, .308 Win./125 grain, .30-06/125 grain, .300 Win. Mag./150 grain and .300 Rem. Ultra Mag/150 grain.
Rifle of the Year
Winchester Model 70 Super Grade

Win. Model 70 Super Grade. Illustration courtesy of U.S. Repeating Arms Co., Inc.
Announced in 2008, the new Model 70 Super Grade, which we regard as the finest Model 70 production rifle ever made, did not hit dealer shelves until well into 2009. It was worth the wait, as our review of this American classic (see the Product Review Page) explains. Kudos to Browning/Winchester for finding a way to keep new Model 70 rifle production in the USA.