2021 Jeep Grand Cherokee Limited: Better than Most
By Randy Wakeman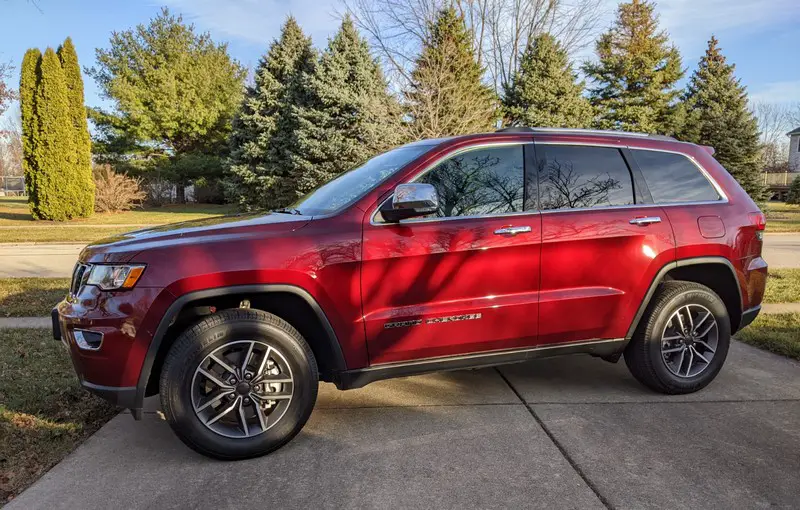 Better than most is the way to describe the Grand Cherokee Limited WK2 series SUV. It has better ground clearance than most (8.6 inches), a larger gas tank (24.6 gallons), a longer cruising range than most (615 miles highway), it is more comfortable than most, with a better infotainment system than most, and a better 4WD system than most (Quadra-Trac II w/ two speed transfer case). It also has 20 inches of water fording capability, a better tow rating than most (6200 pounds), a nicer interior (leather) than most, and is better-looking than most of the SUV's out there that look a bit more like painted eggs than anything else.
This is with the base components of the 2021 Grand Cherokee Limited which includes the 293 hp PentaStar 3.6 V-6. The 3.6 liter PentaStar has made Ward's 10 Best Engines list several times, including three consecutive years from 2011-2013. The only options on my example are the extra $295 for the velvet red pearl paint, and the $995 trailer tow group which also nets you a full-size spare tire, heavy-duty engine cooling, and a rear load-leveling suspension. The sticker price of $46,740 seems tragically high to me, but according to Kelly Blue Book, the average new car in America sold for $46,329 in November. At $5,392 more than one year ago, it amounts to a 13% increase. The average buyer paid more than $900 over sticker price. In December, 2021, a new car in the U.S. cost on average $47,077, not including taxes and fees, according to KBB.
The $46,740 sticker price does not include the grand tradition of Illinois sales tax, document fees, or title and transfer fees. $49,560.39 was the stunning "total cash delivered price" on my Greenway Motors of Morris, Illinois receipt. Apparently the Let's Go Brandon administration's transitory inflation is not transitory at all, but rapidly escalating.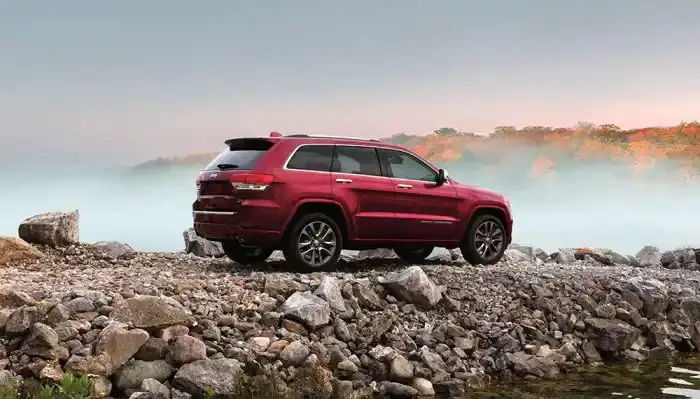 The Grand Cherokee Limited hasn't changed all that much from the 2017 refresh, shown above. Currently, according to the factory sticker on my vehicle, the engine is from the United States, while the transmission is from Germany, with final assembly in Detroit, Michigan. Ninety percent of the vehicle is comprised of parts from the United States, Canada, and Mexico.
This WK2 Grand Cherokee (4thGeneration) was introduced in 2010 for the 2011 model year and this 2021 completes its over ten year run. Back in 2011, the pokey 5 speed gearbox (5000 pound tow rating) resulted in a slower, 8.2 second 0-60 mph vehicle with somewhat weak fuel economy of 16 city / 22 mpg highway, as compared to the current model. The eight-speed was added for the 2014 model year, increasing the tow rating to 6200 pounds as well.
I'm told that for a while early in 2022, the 2021 and the new 2022 Grand Cherokee will both be produced. The full details are not out yet, but the 2022 Limited 4x4 appears to be at $47,900 or so with no options. The price spread for a 2022 V-6 Jeep Cherokee Limited is a salty one. The 2022 Laredo starts at $39,085, while the Summit trim is $59,060. However, Jeep is not alone as a 2022 Toyota Highlander XSE is $51,682 out the door in this area, and the base price of a Highlander Platinum is $48,775. The same can be said for Ford Bronco trim levels, and others. I was under the impression that $50,000 was generally luxury car territory, but times have changed.

The Grand Cherokee Limited has been a fairly pricey vehicle for a good long while. Back in 2017, MSRP was $39,090, and some now-standard features (blind-spot warning, 8.4 inch infotainment head unit, navigation) were extra-cost options. It is probably fair to call the Jeep Cherokee Limited a bit over-priced, anyway, at least as far as sticker price goes. However, the large factory incentives of two years ago have largely evaporated: the KBB report that the average buyer paid more than $900 over sticker reflects that. While Jeep is not as generous as they once were, I still received $3900 in "cash allowances" which aren't quite as good as they sound, as those are after you pay tax on the whole shebang. It is still enough to make the Grand Cherokee competitive with most other brands that offer a "today only $500 incentive" and the like. As I left with my new "made specially for Randy Wakeman in November, 2021" Grand Cherokee, I couldn't shake the "Just 637 more payments . . . and she's all mine!" feeling.
Illinois is hardly the land of majestic mountains and rock-climbing. However, we do have remarkable collection of mud, soft earth, cornstalks, rain, and snow from time to time. One of the more dedicated Canadian goose hunters in this area has already bagged 159 geese this year. That means going through a lot of slop, dragging a trailer with an A-frame blind, and some $4000 worth of decoys regularly. For the whitetail hunter, you'll also be pulling a trailer as deer crammed into the back of an SUV is less than elegant, so it is trailer or use a truck as the better options. Downstate has more gravel and dirt roads, as do neighboring states.
The standard Jeep warranty is nothing special, just the usual 36 months. Those looking for 5 year warranties might consider Kia, Hyundai, or Mitsubishi. Currently, they do include the "Jeep Wave Program" which is three oil changes and three tire rotations. The supplied tires on the Grand Cherokee are better than average OEM tires: they are eighteen inch Michelin Premier LTX, which I find a bit quieter and having a significantly better grip on wet roads than the Firestone Destination LE2 sets supplied as OEM on a 2019 Honda Ridgeline RTL and a 2019 Jeep Cherokee Latitude Plus.

The 293 hp 3.6L Grand Cherokee's EPA gas mileage of 18 city, 25 highway, is about what you would expect from similar 280 – 300 horsepower V-6 engines in fairly tall vehicles. It is not nearly as thirsty as the 2.7 liter turbo Ford Bronco, and roughly equivalent to the current 280 hp 3.5L Honda Passport. You can use the Grand Cherokee's annoying start / stop feature around town to squeeze out a bonus mile per gallon if you wish, but I don't wish.
For the record, the Passport AWD is rated for 5000 pounds of towing, the Bronco is rated for 3500 pounds, the Kia Sorento is at 3500 pounds maximum as is the Hyundai Santa Fe, and the Toyota Highlander is at 5000 pounds. As mentioned, this V-6 Cherokee Limited is rated for 6200 pounds maximum. This Grand Cherokee Limited does 0-60 in 7.0 seconds as tested. You can better that a tiny bit by losing 150 pounds of gas from its 155 pounds when topped off gas tank, but the acceleration is quite sufficient. The transmission is quite smooth, upshifting quickly when in default "eco" mode. You're in 8th gear by 45 mph, and you won't know how you got there so smoothly. If you hit the "Sport Mode" button, the vehicle hangs on to gears far longer: you're in 5th gear at 45 mph as opposed to 8th.
Why a 2021 Grand Cherokee vs. the 2022 or 2023?
Though both are in production as of December, 2021, The MSRP of the redesgned 2022 GC Limited 4x4 jumps to $47,505 while losing navigation from its 8.4 inch infotainment display, has a slightly smaller fuel tank, and adds a rotary drive selector that I have great disdain for. It also appears to lose a bit of ground as far as approach, breakover, and departure angles. They are not available yet, as of this writing. I have driven the 2021 Grand Cherokee L 3 row, which is the new platform. It is longer, slower, and slow-handling compared to the 2021 Grand Cherokee, and has both the obnoxious rotary drive selector and essentially worthless paddle shifters as well. The big pop is the price, for to get the two-speed transfer case and Quadra-Trac II, you'll need the GC Overland trim at over $60,000 sticker for 2023 . . . a nutty $14,000 dollar increase from December, 2021, for the same capability.
Runner-Up: Honda Passport EX-L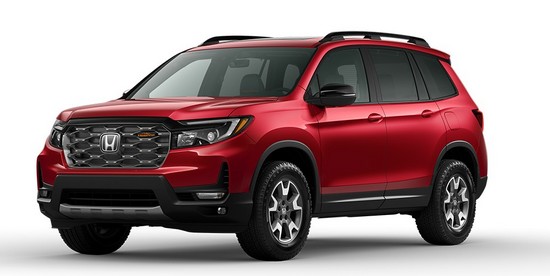 The runner-up in my several month search for a versatile soft-roader was the Honda Passport. A red 2022 Honda Passport EXL AWD stickers for $41,590. While a pleasant enough vehicle, the push-button shifter is a negative, the infotainment system is outdated, and the 9 speed transmission is turtle-slow to downshift. The 2022 Passport TrailSport (above) is a more competitive spec, adds navigation, but hits $44,090. The balky 9 speed transmission remains, as does the push-button shifter, but it has a far more aggressive, stylish look. The Passport TrailSport tows 5000 pounds vs. 6200 pounds for the Grand Cherokee Limited, lacks hill descent control, a two-speed transfer case, the full-size spare, a few niceties like a heated steering wheel, and falls short of the 615 mile cruising range of the Grand Cherokee Limited as well. While likely Honda's most overland capable, outdoorsy styled vehicle, it still falls short across the capability spectrum compared to the Grand Cherokee. Of note is that the best selling mid-size SUV's in the United States for 2021 thus far are the Toyota Highlander (3 row) and the Jeep Grand Cherokee.

According to the EPA, the 2021 Honda Passport nets 1 mpg more in the city, but 1 mpg less on the highway than the 2021 Grand Cherokee. As the above EPA data suggests, there isn't much difference in fuel economy from the 2019 6-speed Honda Ridgeline to the 8-speed Grand Cherokee to the 9-speed 2021 Ridgeline and 9-speed 2021 Passport. This is disappointing, as you might think the 500 lb. lighter weight of the Passport as compared to the Grand Cherokee, combined with the ZF 9 speed transmission, and the cylinder deactivation of the Honda V-6 (which will change to 3 cylinder or 4 cylinder operation under light load) would result in significantly better fuel economy . . . but, it gets you essentially nothing.
LIKES:
Class-leading ground clearance, blazingly quick ZF 8HP / 850RE 200 millisecond shift-speed transmission: the world's best. Quadra-Trac II 4WD system with neutral and 4WD-Low. Towing capacity, infotainment center, 600 mile plus cruising range, and highway comfort.
DISLIKES:
Needs a USB port in the center storage to keep your phone out of the way, nasty bait and switch navigation that requires a $14.95 / month subscription to use the voice-activated "Search and Go," auto climate control is fussy, 637 payments and she is all mine.
RECALLS:
There have been four safety recalls with the 2021 Grand Cherokee, one concerning inoperable air bags. My vehicle is not affected by any of them.
The only consolation to the Grand Cherokee's gut-punch pricing is that used vehicle prices popped once again in November, 2021: increasing 27.9% over the same period last year, according to iSeeCars.com. That's up from a 24.9% year-over-year jump in October. On average, buying a used vehicle would cost you $6,939 more in 2021 than it did this time last year. It sounds to me like it is cry now, or perhaps cry even more later.
As a Grand Cherokee Limited is what I personally bought, I do recommend them if your intended uses are in the same ballpark, or let's say the same muddy cornfield, as mine. More aggressive off-roaders would naturally want skid plates, tow hooks, even more ground clearance, and all-terrain tires which would be the Grand Cherokee Trailhawk trim.