2022 Retay Arms Gordion 20 Gauge Autoloading Shotgun

New for 2022 from Retay USA is this Gordion 20 gauge, with this specific shotgun retailing at $799. This isn't listed on the Retay website yet in 20 gauge, but it is the Retay Gordion "Extra Black" version, now chambered in 20 gauge. The Extra Black seems to indicated a black matte finish (black chrome) along with a black plastic stock set. For a hundred dollars more in MSRP, you'll be able to get a Gordion 20 in walnut or with a camo dip. Either way, it is more than worth the hundred dollars for additional corrosion resistance or better aesthetics. My example has a 28 inch barrel, but you should be able to get it with a 26 inch barrel as well, which is my strong preference for a hunting autoloader. This gun weighs in at 6 lbs., 6 oz.. I'll speculate that the 26 inch barrel Gordion 20 shaves a couple of ounces off of that.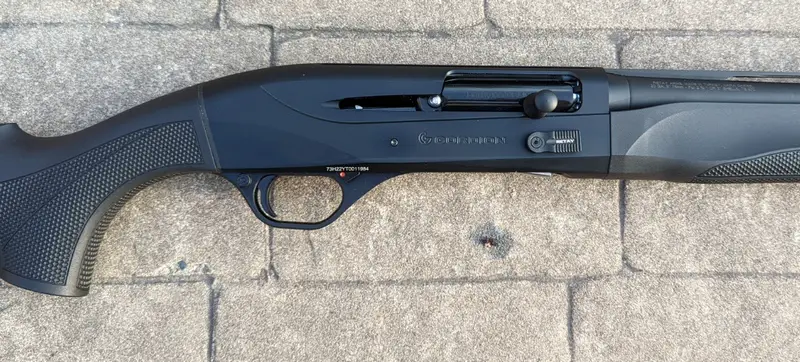 The trigger breaks at about 4-1/2 pounds, a reasonable hunting trigger as is. The Gordion 20 is easily the best 20 gauge out there for the money, and the best 20 gauge inertia gun you can buy. It is far easier to load than my thumb-busting Benelli M2, and Retay's patented inertia-plus bolt means no Benelli click as you can get (always at the wrong time) with a Benelli M2, Montefeltro, Browning A5, and so forth. The Gordion synthetic models have speed unloading as well: a quick tug on the oversize bolt release (shown above), and the magazine instantly empties. This Gordion was shipped in cardboard packaging, not the usual large Retay hard case, likely to save shipping costs. You also get a total of five choke tubes, stock adjustment shims, and a bottle of "Retay Gun Oil." The Gordion comes with a five year warranty.
The Retay Gordion, like the Retay Masai Mara, comes with a machined alloy trigger group: not cheap plastic. The cross-bolt safety is on the small side, but is extremely easy to get off. I prefer the rounded trigger guard on the Gordion 20 vs. the Retay Masai Mara 20 gauge style. About the only negative there is to a Retay is that the cross-bolt safeties are not reversible for left-hand shooters, at least not yet.
The Retay Gordion 20 is what most everyone says they want in an upland hunting gun: lightweight, more reliable than a Benelli, no action adjustments ever needed, and no gas system to clean. It is also under $900 in 2022 dollars, regardless of configuration. Retay USA should have no problem selling all of the Gordion 20 gauges they can possibly bring in this year.
Copyright 2022 by Randy Wakeman. All Rights Reserved.