BOG DeathGrip Tripod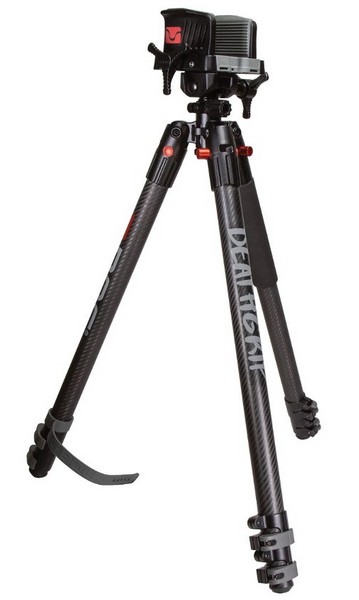 Illustration courtesy of BOG™
Over the past twenty-five years, we have probably purchased more tripods than most folks. We were always in search of the one unit that would function as an ideal shooting rest in the field. The DeathGrip Tripod is just such a device. It is engineered to be the most stable precision tripod on the market. The patented head clamp secures any weapon, hands-free, freeing the hunter to glass or call on the hunt with ease.
​
The DeathGrip by BOG does it all and then some. First off, the legs are constructed of high-strength aircraft aluminum for durability, hunt after hunt. The entire tripod weighs 8.5 pounds. Although that is a bit heavy to carry around in the field, given its functionality, it is worth the effort.
You adjust the length of the legs by disengaging the cam locks. When the legs are extended to the desired length, the cam locks are re-engaged. There is a 3mm hex screw on the back side of each cam lock to adjust the tension so that the legs do not slip when extended, can't have the legs suddenly change height when you're about to shoot.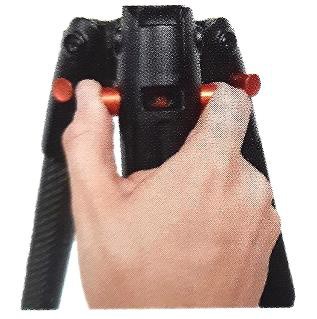 ​
The height can be adjusted from 7" – 59". The leg angle adjustment is accomplished with the red leg angle pin. There are three preset angles: 20 degrees = standing position, 45 degrees = sitting position, and 85 degrees = prone position. As well as custom angles between 0 degrees and 85 degrees. The center post may be adjusted, as required, based on the leg angle adjustment and desired height of the deathgrip head. The head has an elevation tilt range of 50 degrees and panning range of 360 degrees. The tension of the elevation tilt and panning is adjusted with the knobs on each side of the head.
With retractable steel spikes on the legs, an integrated bubble level and no-slip lever locks this tripod is secure, stable, quiet and ready for quick adjustments during that vital moment. And, the entire unit is covered by a limited 1-year warranty (which we doubt will ever be needed)
The MSRP is $164.99, but is available online for as little as $150. If you are a long distance shooter (target or hunter) you need to take a serious look at the DeathGrip Tripod.