Best Value Precision Screwdriver and Bits Set
by Gary Zinn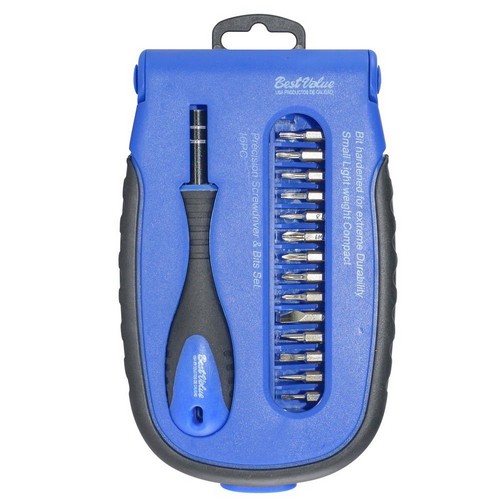 Illustration courtesy of Home Depot.

Sometimes it is easy to take small thing for granted. Recently I realized that I had done that with the Best Value Precision Screwdriver and Bits Set, a tool set that I have had for some time. This is a very handy and useful product for anyone who sometimes needs to do work on things that have small screws with Torx, Phillips, or slotted heads. I have used it mostly for adjusting pivot cap screws and repositioning pocket clips on modern style locking folder knives, and removing fishing reel side plates to clean and lubricate the gears, but the uses of a miniature screwdriver set certainly do not stop there.
The set has a nice-sized and -shaped handle with a magnetized bit socket, 14 bits in total, and a 4-1/2" extension rod to give the tool more reach if needed. All this fits into a flip-open case that measures a compact 6 x 3-1/2 x 7/8 inches.
Here are the bits included:
5 slotted bits: 1.5 mm, 2 mm, 2.5 mm, 3 mm, 4 mm
4 Phillips bits: #000 #00 #0 #1
5 Torx bits: T5 T6 T7 T8 T9

Besides the number of bits included, the thing that most impresses me about this tool set is that is just that — a tool, and a well made one. The bits are chrome vanadium steel, hardened for strength and durability. The slotted bits are hollow ground for a tight, runout free fit in the slots of common screw heads, and I can tell that the edges of the Phillips and Torx bits are precisely formed to contact firmly in the heads of screws of those types. I have never messed up the head of a screw I have used it on.

Two little things that further attest to the attention to detail built into this tool set is that the case lid is spring loaded to hold it open when one is using it and that the bit tray rotates upward when the lid is opened, to facilitate access to the bits. (See image below.) Whoever designed this package thought of everything.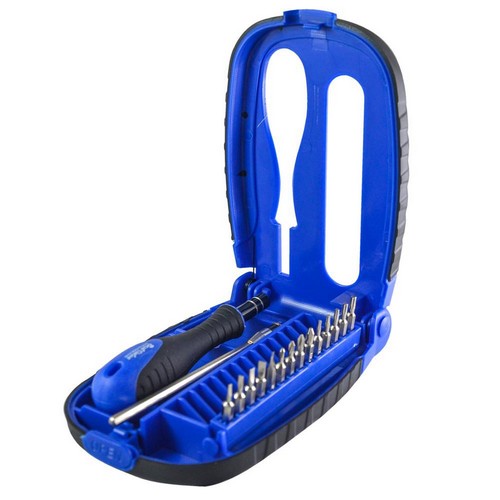 Illustration courtesy of Home Depot.

How much does this kit cost? Home Depot sells it for a bit less than $7. That is not a misprint. If you do not have a Home Depot store nearby or if your local store does not stock it, you can order it on the Home Depot website.

Before buying the Best Value Precision Screwdriver and Bits Set some time ago, I did enough on-line shopping to conclude that this product had the best combination of features, quality, and value that I could find. I rechecked the market for this review and still reached the same conclusion. Best Value is an appropriate name for this product.