The Column, No. 139:

Upcoming Reviews

As I write this, the NSSF has estimated that at least 5.4 million U.S. citizens purchased their first firearm in 2021: accounting for close to 30% of all new firearms sold. This is in addition to the 8.4 million folks that became first time gun owners in 2020: a whopping 13.8 million first-time gun owners in the last two years alone. Coupled with the well-known supply chain issues that have affected most things formed from metal and polymer, it is unsurprising that lead times for new firearms have stretched out. Numerous manufacturers have told me that they have a 12-14 month backlog on popular models.

This has resulted in delays of introducing new products, for even products that are announced are unlikely to have good availability quickly. In times past, manufacturers often announce "new for 2022" products early in the year, even though they won't be shipping until July or August. Currently, much longer delays than that are both likely and understandable. Some firearm manufacturers are of the opinion that erratic ammunition availability has hurt new gun sales a bit. Though it is hard to pin that down with any exactitude, they are probably right.

The next hunting season with widespread participation is the Spring Turkey season. Henry manufactures their single-shot "Turkey Camo" 12 gauge shotgun in Rice Lake, Wisconsin. Henry has continually grown and is now one of the top four or five long gun manufacturers in the United States. An example of their turkey gun is on its way. There are a couple of things I like about it already: the stock is camo-covered walnut, a welcome change from noisy hollow plastic stocks. Although it is a 3-1/2 inch chambered 12 gauge which sounds like high recoil, current TSS 12 gauge loads have taken that out of the equation. It sounds like it is ready to hunt as supplied with rifle sights, but you can easily add optics if you wish. Using Rem-choke style choke tubes means you can easily adapt it to the specific shotshell you choose to use, and the 39.5 inch overall length suggests that it will be great-handling in the blind. A typical 26 inch semi-auto or pump has an overall length in the 47-48 inch range: I'm looking forward to patterning this shotgun.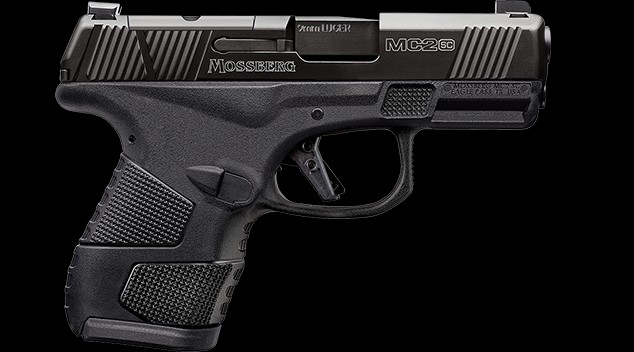 Mossberg is expanding their semi-automatic pistol line with their optics-ready MC2sc 9mm. The MC1 was introduced three years ago with a 6-Round Flush-Fit / 7-Round Extended magazine. The MC2sc bumps it up to far more substantial 11+1 Flush / 14+1 Extended magazine capacity in close to the same platform, with new double-stack magazines. This should make the MC2sc competitive with the SIG P365, which is likely the idea.
There are several Savage Arms offerings in the pipeline. I've been waiting for a Savage Impulse straight-pull bolt action for some time, but added to that now is an Accu-Stock Savage 220 slug gun, and an example of Savage's new entry into the handgun market, the 9mm Savage Stance. There are a few Impulse models out in the market, mostly "Hog Hunter" models, but hog hunting is likely one of the best fits for a straight-pull action. A Blaser R8 Pro S may well run you $3500 or so, while the Savage Impulse can be had in the $1200 range.
The new Savage Stance is yet another polymer frame, 9mm striker-fired pistol for concealed carry. This is an extremely saturated market, to say the very least, but it gives Savage their start. Savage offers the Stance with three color options (black, gray, flat dark earth) and three sight configurations (three dot, night sights, laser) so it does seem that Savage is serious about entering this market.

The Savage 220 is the top 20 gauge slug gun in the industry. The 220 Slug camo adds the Accu-Stock, Savage's Accu-Fit stock adjustment system, and is topped with a one-piece rail for your optics. The Savage 220 Turkey is essentially the same gun, but with a smooth-bore barrel that accepts Win-Choke style choke tubes.