Fabarm Elos 2 Elite Twenty Gauge: The Search for the Ultimate Upland Shotgun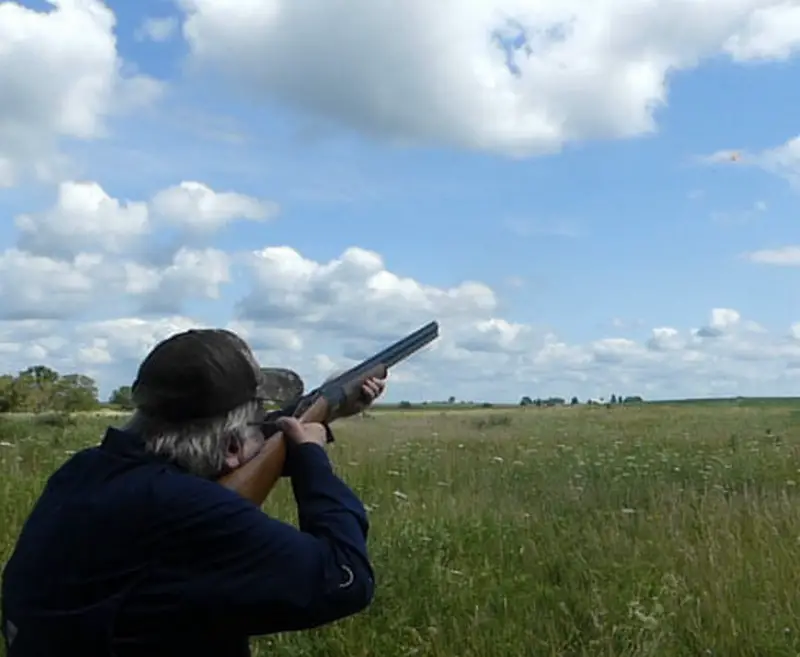 Photos by Randy Wakeman
For most of the last fifty years of wild pheasant hunting, I've used semi-autos. I've non-enjoyably lugged a Citori Grade II 12 gauge for a couple of years, along with a few Cynergy examples, Beretta 687's, DeHaan 16 gauges, Winchester 101's, Rizzini O/U's, and so forth. It doesn't take long to find out which guns are less than fulfilling. Others might be happy with some or all of them, but I wasn't: not even close.
I have a great disdain for cheap O/U's: the bargains with sloppy triggers, poor barrel regulation, ugly wood, and those that may need firing pin replacement after a couple of cases of shells. Weak ejection is also common, for without robust, sure-fire ejection of fired hulls, extractors are a better path, leaving flaccid ejectors as an irritation more than anything else. Exemplary field O/U shotguns are not easy to build, for apparently no one in the United States can do it.
For some, O/U shotguns are the last bastion of actual quality in a shotgun. There is a limit to what plastic can become, as evidenced by the common pinned in plastic trigger groups that are inherently sloppy and can stretch. The O/U has a tremendous potential advantage in this area, as the trigger sears are built upon a foundation of steel. While there is a trend towards highly polished plastic made by old world craftsmen, that approach is antithetical to what a quality vertical double can, and should be.
The slippery safeties of Beretta models (and miserable barrel regulation) caused an exodus away from both Beretta and Beretta clone stack-barrels in this area. That is unintended pheasant conservation: even the dog knows that "it ain't right." Auto-safeties are another stupid addition that some manufacturers insist on inflicting. They must think that their customers are truly dumb, far dumber than anyone that has hunted with an 870 or an Automatic-Five.
Regardless of the shotgun you select for upland hunting, the name of the game is "be ready." Nothing compensates for poor gun fit, so if a gun does not fit you superbly well and come up intuitively and smoothly, you won't enjoy it and you won't be successful with it. Pheasant hunting is not a pre-mounted sport, so snag-o-matic shotguns can stay home: forever.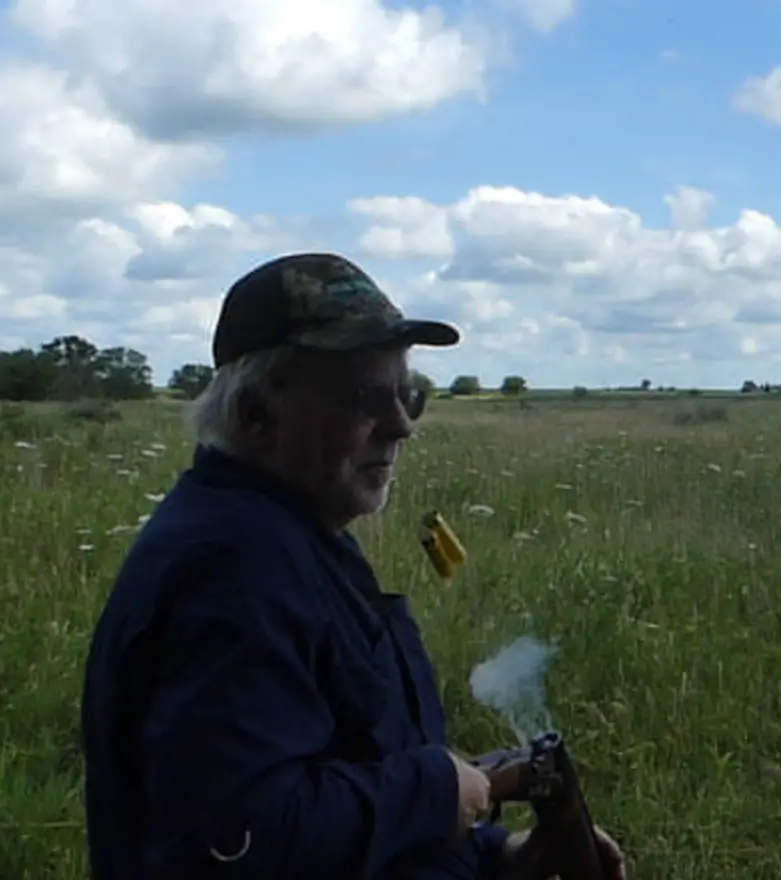 Ejection is crisp and satisfyingly strong.
Jack O'Connor wrote that he wouldn't have an upland gun that weighed over 7 pounds: Jack was right on the money. At the same time, going too light means you have a shotgun that you won't enjoy breaking clays with, or might not enjoy on a hot, busy dove field wearing a thin shirt. For decades, solid entry-level O/U's have begun with Beretta and Browning. The safety and 8-10 inch "within Beretta spec" barrel regulation makes Beretta a bitter pill to swallow. Browning / Miroku does have good safeties and reasonable 4 inch arena barrel regulation. The Browning nameplate generally goes with straight stocks, while many shooters can use a bit of cast. That's your choice, of course. There are other so-called features that I personally cannot stand, like light-pipes and center beads, but others don't mind them.
Ten years ago, I reviewed the then-new in the U.S. market Fabarm Elos Deluxe. Fabarm did not rest on their laurels, for since then the Elos has an improved forearm, stronger ejection, lighter barrels, upgraded wood, and a few other subtle refinements. Still 100% Made in Italy, with patented Tri-Bore barrels, the Elos 2 Elite was released in 2021, with a distinctive case-colored receiver and tasteful gold inlays, including the bottom of the receiver. Fabarm barrels are proofed to 1630 BAR, the highest standard in the industry, where many American and Turkish shotguns are not proofed at all. That's a shame, but that's what you get when the fox guards the hen-house: it is hard to find a trustworthy fox.
The Elos 2 Elite is available in 12 and 20 gauge, with 28 inch or 30 inch barrel sets. Alternatively, Orvis offers their exclusive Fabarm D2 in 12, 20, and 28 gauge with nickel plated receivers along with gold inlays: the gun is otherwise the same article. After testing seven or so Fabarm hunting O/U's, along with over two dozen other brands and models, I decided that the Elos 2 Elite was just too good not have as a personal pheasant smoker, so I ordered one. I made exactly one change from factory, requesting that a one inch thick Pachmayr SC100 recoil pad be ground, replacing the factory 12mm pad. Stock dimensions with the pad added are unchanged. My standard pheasant lead load is 1-1/4 or 1-5/16 oz. of #5s. While porting and forcing cone work are worthless to me, a good recoil pad is a delight.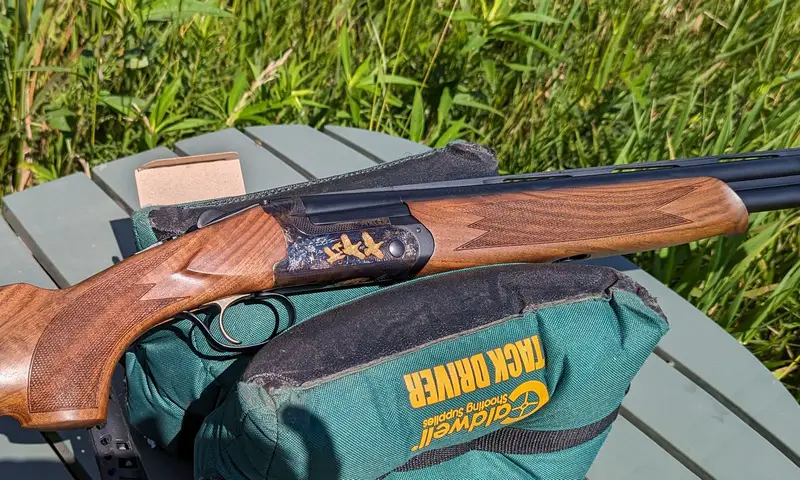 As supplied, unloaded, the final product weighs 6 lbs. 9.3 oz. The triggers are well-matched and crisp, breaking around 4-1/4 lbs. This gun is one of the few that lives up to promise of an Over/Under, which certainly has the potential to be the poetry of shotguns, but all too often falls short. For an O/U to be appealing, at least as far as I'm concerned, it needs be be good-looking, with crisp triggers so you can enjoy the fast locktime of the action, it needs to have excellent wood to metal fit, only hand oiled walnut will do, and the engraver's dream that is the O/U action needs to be tastefully addressed. Poor barrel regulation may ruin the vertical double experience, so excellent 2 inch or less barrel regulation at 35 yards helps make the gun. Fabarm and Caesar Guerini have always delivered on this, with this Elos Elite being no exception. Choke tubes also need to perform as marked. Not only do Fabarm tubes do their job as indicated, the chokes up to the 9/10 Extreme choke are steel shot rated.
There is a whole lot of things that can go wrong with an O/U: it is like buying two guns. After all, you have two sears, four forcing cones, dual ejectors, the triggers should be closely matched, the barrels need to be light and responsive. The action should lock up vault tight, without needing a crowbar to open or close it. It is a promise of the symphony of two barrels that swing and sing as one, a promise rarely realized. Perhaps you've seen the cheap, light machine engraving that is just barely visible, or looks either burned or melted. All of these things detract from what should be an elegant, immensely satisfying experience.
While high quality cheap O/U's do not exist, there is also a mythology that it takes $10,000, $15,000 or even $20,000 to obtain a superbly crafted and finished O/U. The Fabarm Elos 2 Elite is vivid proof that this is not the case, for MSRP is $3750 and your friendly neighborhood Fabarm dealer takes it from there. Left-hand stock options are also available. If you don't find that this is the best way to enjoy pheasant and wild rice under glass, Fabarm will be surprised . . . and so will I. More iufo is at https://fabarmusa.com/ .