Honda Ridgeline as a Hunting Vehicle


By Randy Wakeman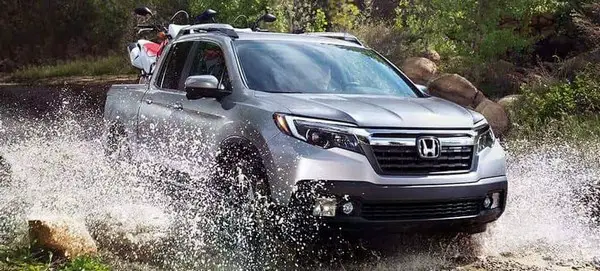 A study done by iSeeCars provides the stats on which trucks might last the longest. The Honda Ridgeline came in at first place in the category of trucks most likely to last 200,000 miles. About 3 percent of older versions of the Honda Ridgeline have reached the 200,000 mile mark.
Over two years ago, I purchased a new 2019 Honda Ridgeline RTL as a general purpose work vehicle. Today, you might consider options such as the Hyundai Santa Cruz or the Ford Maverick, options that were not available in 2019. Honda's only truck shares its basic platform with the Honda Pilot and the Honda Passport. For 2022, Honda has made some cosmetic changes to make its pickup appear more truck-like, and now calls the Ridgeline a "Mid-Sized Adventure Truck." The same 280 hp Earth Dreams V-6 is used throughout the line: with specs essentially unchanged from 2019. MSRP on the 2022 Ridgeline RTL is $41,095.
Honda Ridgeline
I settled on the RTL AWD trim as the up-charge for the RTL-E (in 2019) with a supposedly better stereo / infotainment center was exorbitant, if not insane. Honda, for the most, is still two-three years behind the pack when it comes to its slow, hard to use infotainment systems. My non-touch screen Made in Mexico Panasonic unit was very poor, but I knew that going in. I replaced it with a 6.95 inch Sony XAV-AX5000 unit, which wasn't a good purchase. Dissatisfied with the Sony, it was replaced with a far more satisfying Kenwood DDX9707S which has wireless Android auto, a DVD player, and is the unit I should have gone with in the first place. Let's just call that lesson learned.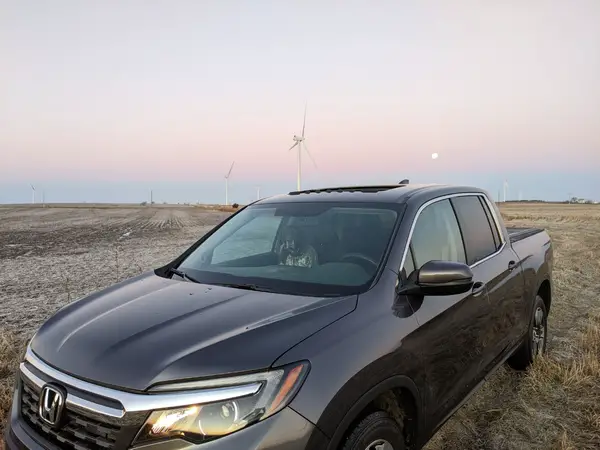 The Ridgeline has cylinder deactivation, turning your 6 cylinder into a 4 cylinder or a 3 cylinder under light load. You might think that with this sophisticated approach, gas mileage would be quite good, but that is not the case. Despite mostly sedate driving, 19-20 mpg highway is about all that I usually squeeze out of it. The Honda dash is optimistic by about 1 mpg. If it tells me I got 21 mpg, at the pump it is quickly revealed that 20 mpg, or a bit less, is reality.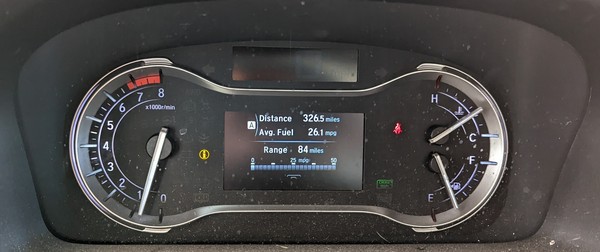 However, the gas mileage of the Ridgeline suddenly improved after 11,000 miles of use, hitting 26 mpg with 80% highway 73 mph use as shown above: a startling 30% improvement.
My example has plenty of power, and is reasonably quick as well (0-60, 6.7 seconds as tested). Extremely comfortable to drive with a cavernous interior compared to many, some of the Honda trim levels are a bit puzzling. Yes, it has heated seats, but no heated steering wheel. Normally I want both, or would save a few pesos by going with neither. For a 2022, you'll have to go with a $44,045 RTL-E, close to a $3000 up-charge.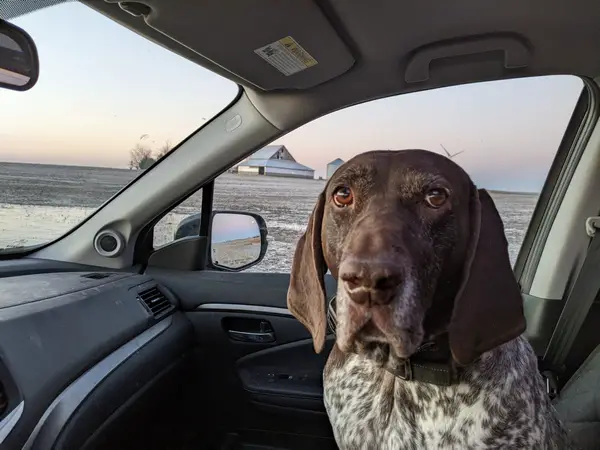 Honda has now gone with the ZF 9 speed in the Ridgeline, as opposed to my 6 speed, but the 9 speed offers scant little in the way of fuel economy and actually a bit slower and erratic. Tow capacity is still 5000 pounds, and AWD ground clearance is 7.87 inches. 20.1° / 19.6° / 22.1° are the respective approach, breakover, and departure angles. It is a good soft-roader spec, but no rock-climber. According to the EPA, the addition of the 9 speed transmission does nothing for the Ridgeline's fuel economy, actually decreasing highway mileage by 1 mpg.

The Ridgeline is very quiet, with a supremely comfortable ride, with more than enough capability to accommodate four adult hunters and gear. The innovative trunk in the bed has always been an enticing Ridgeline feature, as has been the torque-vectoring AWD system. The Ridgeline does superbly well in snow, mud, and rain.
LIKES
Luxury-level ride, roomy and comfortable cabin, peppy V-6, dual-action tailgate, lockable in-bed trunk, good cornering and handling for a 210.2 inch overall length vehicle.
DISLIKES
Poor infotainment system, initial weak gas mileage and low range (19.5 gallon tank, 20 mpg, about 390 mile highway range), dubious Econ-mode thst does little more than transform the vehicle into a sea-slug. Mileage improved dramatically after 11,000 miles to 26.1 mpg.
RECALLS
There have been seven safety recalls with the 2019 Ridgeline concerning fuel pumps, Honda Accessory Tonneau Covers, timing belts, roof pillar trim, air bags, and the latest being defective hood latches. My vehicle was affected solely by the hood latch issue, which has already been replaced.
Honda, like many other manufacturers, likes to shuffle included features on trim levels from year to year. Currently, the 2022 RTL-E spec is a better value than before, with its upgraded audio system, navigation, trunk-bed audio, wireless phone charging, auto high-beam headlights, heated steering wheel, and other included features such as LED trunk bed lights and parking sensors.
For 2022, there is competition for the Ridgeline. The snazzy but smaller Hyundai Santa Cruz hits $41,345 in its "Limited" trim level, With approach angle of 17.5 degrees and a breakover angle of 18.6 degrees, the Santa Cruz is a less capable vehicle. The Santa Cruz is fun to drive, but feels a bit cramped, uncomfortable and is sorely overpriced compared to the Ridgeline.
The 2022 Ford Maverick Lariat with the luxury package, off-road package, and Ford co-pilot 360 is $36,004. At $29,270, you can still get a 250 hp turbo Maverick XLT 4WD with an off-road package, 8.6 inches of ground clearance, 29 mpg highway, and the 4K tow package which appears to be the best value on the market today in an affordable, yet capable pick-up. While a shorter (199.7 inch OAL) vehicle and a 4,000 pound max towing capacity, the $10,000 or so lower sticker price gives many people something to think about. While the Maverick is not as roomy and has a shorter bed than the Ridgeline, it appears at least as off-road capable.