Meopta Optika5 2-10x42 PA Riflescope


By Mary Clary and Shannon Jackson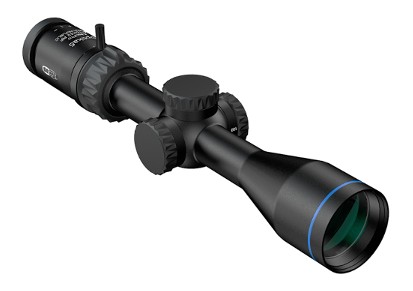 Illustration courtesy of Meopta USA, Inc.
When the engineers at Meopta were considering this scope, they envisioned it as a rimfire scope. Fortunately, one of them was a hunter who suggested making it for ALL guns (rimfires, centerfires, muzzleloaders and airguns). His reasoning was that a 2-10x magnification range was more than adequate for most hunting scenarios, and if someone wanted more, they could choose one of the tactical Meopta scopes. His point was well received and the scope was designed to be tough enough for all hunting rifles under most scenarios.
The side parallax adjustment (PA) from 10 yards to infinity is exceptional. We would like to see this feature on all rifle scopes. It delivers razor-sharp image focus at close ranges (rimfire and air rifle shooters will appreciate that), while giving hunters and target shooters the ability to dial in the focus at longer ranges. The Optika5 2-10x42 PA features a 1-inch main tube diameter, zero-reset turrets and advanced lens coatings for true color representation and superb low-light performance.
Meopta's proprietary MeoBright lens coating delivers maximum light transmission per lens surface while suppressing reflection and glare. This provides the hunter/shooter the advantage of crisp images with optimal contrast. Images are clear even in the rain due to Meopta's MeoDrop hydrophobic lens coating which repels water and makes it easy to wipe off grease, skin oils and dirt.
The capped hunting turrets are made of rubber-armored metal for durability and functionality. The rear-facing magnification display allows for easy viewing of the power setting from behind the scope. The zoom ring is equipped with a throw lever for quick adjustments of the power in the field. Windage and elevation adjustments are ¼ MOA. There are two second focal plane reticles available: Z-Plex or Z-Plus.
The Optika5 2-20x42 PA scope specifications are:
Magnification: 2-10x
Objective lens: 42 mm
Main Tube Size: 1 inch (25.4 mm)
Eye Relief (in): 3.6 inches
Adjustment graduation: ¼ MOA
Windage and Elevation Range: 63 MOA / 63 MOA
Parallax Correction: 10 yards to infinity
Length: 12.1 inches
Weight: 20.8 ounces
2022 MSRP: $349.99
This is one of the best scopes that the engineers at Meopta have ever produced. Jim only wishes that he had two more to mount on his. .300 Win Mag and CVA 50 caliber. He mounted our test scope on a Henry 17 HMR and it is superb.