Real Avid Accu-Punch Master Set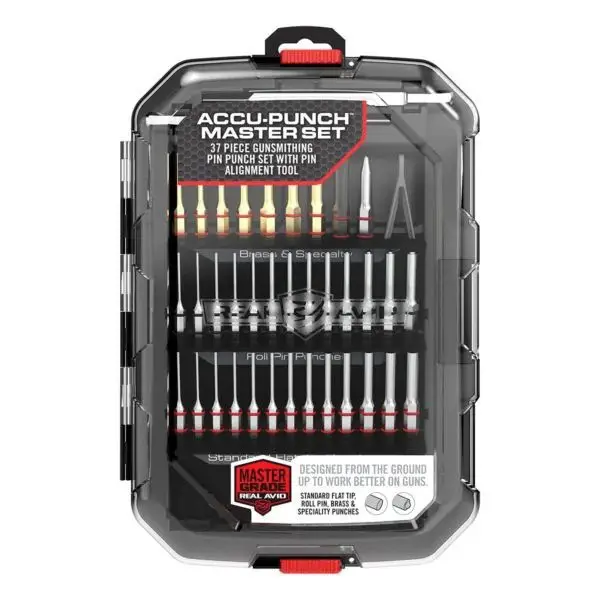 Illustration courtesy of REAL AVID, Inc.
Whether you are a professional or amateur gunsmith, you are going to need punches. There was a time in the past when only "standard" punches were used in the manufacture of firearms. Now, with modern manufacturing techniques, we have a mix of roll punches and standard punches. It is better to have the punches and not need them, than need them and not have them.
Most punch sets available today are generic repurposed hardware sets. The Accu-Punch Master set is designed from the ground up to work better on guns. The punches in this set include:
Hardened steel, nickel-plated, corrosion-resistant flat tip metal punch set for removing and installing solid pins.

Hardened steel, nickel-plated, corrosion-resistant roll pin punches for removing and installing hollow pins and tension springs

Soft brass, flat tip punches for minimizing the risk of damage of high-value collectibles

Elongated, flat on one side AR15 bolt catch punch and bolt catch pin starter

Auxiliary tools including staking punch and resin finishing punch

Proprietary Pin Alignment Tool for aligning and starting tiny pins, protects your fingers from smashing with a hammer
All punches are clearly labeled. Rubber o-rings ensures a secure grip, prevents slippage and reduces the risk of marring. The entire set is organized in a durable, easy-access case, helping you stay organized and eliminate clutter on your gunsmithing bench. The set is reasonably priced with an MSRP of $99.99.