Review: The Stunning Impala Plus 12 gauge Semi-Auto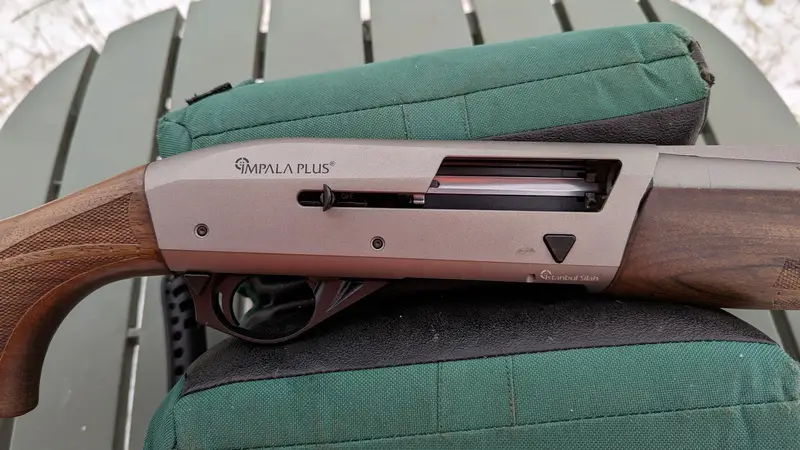 The Impala Plus has steel rails inside its alloy receiver, along with decently sized controls.
This shotgun, by veteran gun manufacturer Istanbul Silah, is a stunning, bargain-priced surprise. The tested model is the Emerald Impala Plus 12 gauge, which sports a 26 inch Invector Plus gray Cerakoted barrel and receiver, with a straight-grained walnut forearm and buttstock. Impala Plus does not do a good job listing the stock specifications in their literature. The nominal length of pull is 14-1/4 inches, with a 1-5/16 in. drop at the comb, 1-5/8 in. drop at the heel. My example measures 14-1/2 inches from trigger to the center of the pad.
This Emerald Impala Plus weighs in at 6-3/4 lbs., with a trigger that breaks at 5-1/4 to 5-1/2 lbs. The trigger is neither as crisp or as light as I would like it to be: this gun needs a trigger job. Five flush Invector Plus choke tubes are included. The background of the Impala Plus is covered here: http://www.chuckhawks.com/PreviewImpalaPlus.html . The barrel's inside diameter measures .741 inch. I'm delighted to say that the barrel is legitimately threaded for the Invector Plus style tube: I installed a Trulock Precision Hunter Modified extended choke (.720 in.) and it went in smoothly, actually noticeably easier than the factory tube. Istanbul Silah says, "Drilled from 4140 steel, each and every barrel controlled for internal tiny cracks with magnetic resonance. Tested with 1.550 BAR internal bore." That's not exactly the Queen's English, but I get the drift.
The DNA of the Winchester SXP production is clear, both from the Invector Plus barrel and chokes, the excellent recoil pad, and the top of the receiver itself, which is drilled and tapped, accepting a Winchester SXP scope base. Sling attachments are included in the box, as are adjustment shims for drop and cast. For the record, this gun is imported by DKG Trading, Sparta, Illinois, which is the home of parent company Zanders Sporting Goods. Zanders is the distributor for Impala Plus shotguns in the United States.

The inertia action of the Impala Plus features a patented six lug rotary bolt, as opposed to the common two lug design. There are also steel rails inside the alloy receiver for the bolt to ride on, purported to offer a higher level of durability. There is no evidence that I'm aware of to show this, nor can I find anything wrong with this Istanbul Silah approach, either. What is stated is, "lightweight aircraft grade aluminum receiver made with state of the art machinery of Istanbul Silah." "Stainless steel bolt moves in two steel rails mounted inside the receiver, this way hardened steel bolt isn't wearing out the aluminum receiver and works with less friction thanks to surface quality of the rails. Also, it prevents abrasion in the receiver to make the gun stay new for decades."
Istanbul Silah says, "Unlike most shotguns, lock attaches directly to barrel itself from 6 lugs. This feature gives bigger and safer locking surface and easy opening of the lock with 150's turn. Turn & remove cocking handle can be taken off the gun with 90 degree turn, this feature is an additional safety for storing the gun where there are kids around. Also it's quite handy in disassembly when you need to remove the mechanism from receiver." The twist and remove charging handle works like a charm, a good bonus feature. I'm not convinced that the six lug bolt is somehow "safer," however the bolt is quite smooth and very easy to unlock.
The owners manual supplied with the Impala Plus is remarkably clear, likely the reason I'm remarking about it. The manual has excellent color photographs throughout its 22 pages, all of which are in English. Of the five factory Invector Plus chokes supplied, what is noteworthy is that the "Full" choke is rated for steel shot. I measured its exit diameter at .711 inch, which yields a .030 inch constriction. All of the five supplied chokes are steel shot rated. The warranty is two years, as published in the supplied owners manual. As far a recommended loads, the owners manual says the Impala Plus is designed for 28 gram minimum to 52 gram maximum payloads. That's from just under one ounce (.9876) to 1.83 ounces of shot. Zanders told me that the cross-bolt safety is reversible for left-handed shooters: they suggest that a good gunsmith perform the work. Apparently, parts have to be ordered to do this, however, you cannot change the safety as supplied: you'll need to order an optional parts kit.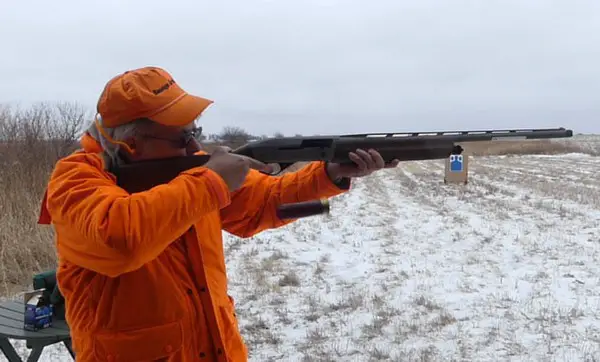 Right out of the box, this Impala Plus fired 1-1/8 oz. 1200 fps and 1 oz. 1300 fps shells flawlessly, the lightest 12 gauge loads I keep on hand, with robust 6-8 foot ejection. The patterns were well-centered and slightly high at 25 yards. The Impala Plus is extremely well-balanced, and recoil was manageable with 1-1/4 oz. 1330 fps hunting loads.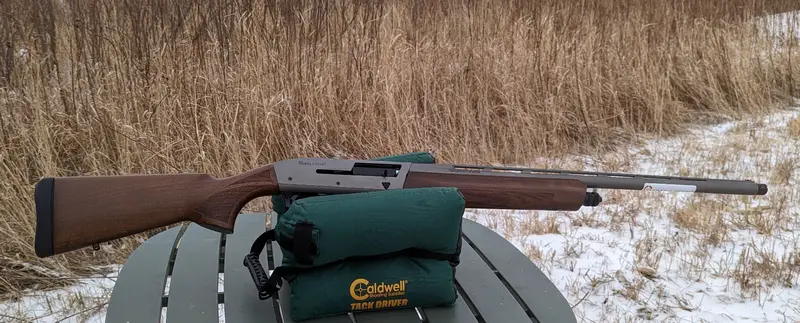 I'm impressed, to say the very least, with this Impala Plus Emerald model. This is what I have to say is the best bargain going in semi-auto shotguns. Considering the excellent recoil pad, Cerakote receiver and barrel, Invector Plus barrel, a sight picture similar to a slight step rib (reminiscent of the Browning BPS pump) this shotgun puts many $1400 inertia guns to shame, yet the street price is a stunning $499, with the blued / walnut ("Nero") and synthetic camo versions going for even a bit less . . . $435 or so. This gun is ready to hunt with out of the box. For my purposes, it is essentially ideal. The only modification in the cards for me is a trigger job from Dave at https://www.thefirearmsspecialists.com/contact, as a crisp 4 lb. trigger is what I prefer for hunting. As I write this, the trigger guard is already off to Dave for a tune-up. back, and reinstalled. Dave's notes showed a break weight of 3.516 lbs. outside of the gun. Testing with a straight pull with a Lyman gauge hit around a three pound break, while pulling the trigger at the exact angle my forefinger squeezes it at nets 3-1/2 lbs., just as Dave measured. It is now an excellent trigger, for the excessive take-up, grit, and sand is gone.
Congratulations to Istanbul Arms for offering the best sub one thousand dollar hunting 12 gauge semi-auto on the market today. At less than five hundred dollars, the Impala Plus is a breathtaking bargain: the "Bargain of 2022" in semi-auto shotguns.