Why Classic Revolvers are a Must for any Gun Collector
By Greg Brown
"God created man; Colonel Colt made them Equal," is a saying that has endured since Samuel Colt invented his revolver mechanism in 1836. Sam Colt received a US patent that enabled a gun to be fired multiple times without reloading. Colt's patent on the six-shot revolver revolutionized the gun industry.
The advantage of revolvers comes in their robust simplicity and the advantage of shooting larger calibers. Revolvers are heavier in most respects and can withstand the greater forces of magnum rounds with ease.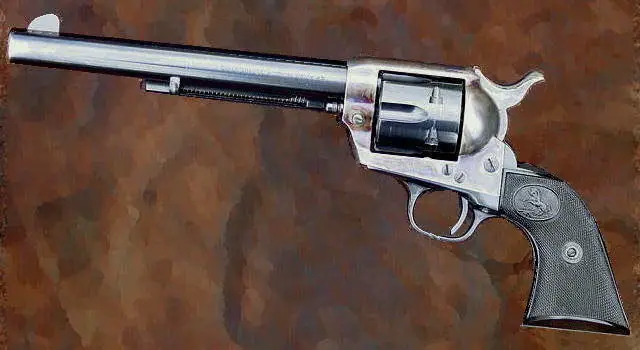 Colt introduced the most famous revolver of them all, the Colt .45 Single Action Army, shown above.
Colt Single Action Army 45 Colt (LC) 6rd. The Peacemaker was an iconic figure point in hundreds of movies for its stunning good looks and performance. This engraved edition features a 4.75 barrel, case hardened steel receiver, and authentic polymer grips. Fixed sights with an exposed hammer make this Single Action Army a must-have for any collection.

Ruger Blackhawk 357 Magnum is a rock-solid revolver and just as fun to shoot as they were sixty years ago. The Blackhawk was so popular because it could fire magnum rounds just as easily as smaller cartridges. Soon after the 357 magnum single action was introduced, Ruger produced the 44 Magnum. The stunning frame, barrel, and cylinder feature adjustable rear sights and a western-style grip. The cold hammer-forged barrel provides exceptional accuracy with its precise rifling.
In 1856, Daniel Wesson and Horace Smith got in on the action and produced a magazine pistol based on Lewis Jennings's rifle configuration. The handgun fired a self-contained cartridge that bundled a bullet, gunpowder, and primer. The name of their company, The Volcanic Repeating Arms Co, promptly went bankrupt and was sold to one Oliver F. Winchester.
In 1857, the inventors signed an agreement for a patented cylinder with chambers that were pierced all the way through. This design permitted the revolver to be loaded from the rear. The following year Smith and Wesson began production on the 22 caliber Model 1.
After Samuel Colt's patent expired, the two inventors rekindled their partnership and produced a revolver that could handle the new self-contained cartridge. With their invention began one of the most extraordinary firearms manufacturers in the world. Through the decades' Smith and Wesson perfected large magnum cartridges in revolvers.
Smith and Wesson Model 29 Classic, this K-Frame, 44 Magnum revolver boasts supreme stopping power in a manageable package. The Model 29 is a classic design with a deep-blued frame, barrel, and cylinder. Walnut grips complete the classic profile. A 4" barrel gives the 29 plenty of long-range accuracy with an adjustable rear sight and red ramp front sight.
Colt Python 357 Magnum 6" Barrel, Brilliant Stainless. Considered one of the finest revolvers ever to come off a production line, the Python is known for its outstanding ergonomics and exceptionally smooth action. Discontinued in the late 1990s, the supply of double-action Pythons has become scarce. A Python must be in your collection if you're a gun enthusiast.

Colt 1860 Army by Taylors & Co. is one of the most distinguished revolvers of all time. The 1860 Army is an ergonomic, practical weight repeating revolver. The 36 caliber features a blued 7.5-inch barrel, a case hardened steel frame, and distinctive walnut grips. The 36 caliber came before the goliath 44 caliber and was one of the great revolvers to fit comfortably in the belt. Every firearm enthusiast needs an 1860 Army Revolver.
Twice the Action
In 1851 Englishman Robert Adams invented the first double-action revolver, which allows for a greater rate of fire. It took decades for the handgun to catch on and start spreading to the masses. This delay was largely in part due to civil war manufacturing, which was primarily accomplished by hand, so most components were uneven and of low quality.
By the early 20th century, Colt and others were turning out double-action revolvers, and they replaced most single-action weapons. Single action revolvers are a much-loved design and are still produced today.
Ruger Super Redhawk 44 Magnum, 7.5-inch Barrel, if you need a powerful double/single action revolver for your collection, the Redhawk should be the choice. This stunning brilliant stainless steel revolver features a ramp front sight and fixed rear. The Super Redhawk offers a patented transfer bar and loading gate interlock for maximum security. The handgun has a western-style grip for ultimate comfort.

Charter Arms Undercover DAO, 357 Magnum is a double-action that packs a lot in a small package. Charter Arms has an excellent reputation among law enforcement as a reliable service weapon. The DAO 357 Magnum features a 2.2-inch barrel, stainless steel frame, and black rubber grips. This 357 magnum is one of the best home defense weapons with its small size and large caliber.
Final Word
Collecting firearms is an exciting endeavor involving knowing the impact of certain revolvers on history. Thousands of revolvers manufactured today began their existence at a time when the world was either in turmoil or enlightenment. Inventors such as Samuel Colt or Daniel Wesson and Horace Smith designed a revolver's inner workings, making them much more efficient. Concepts for revolvers that began over 150 years ago are still being used and perfected in the modern era.