Why You Need a .350 Legend Rifle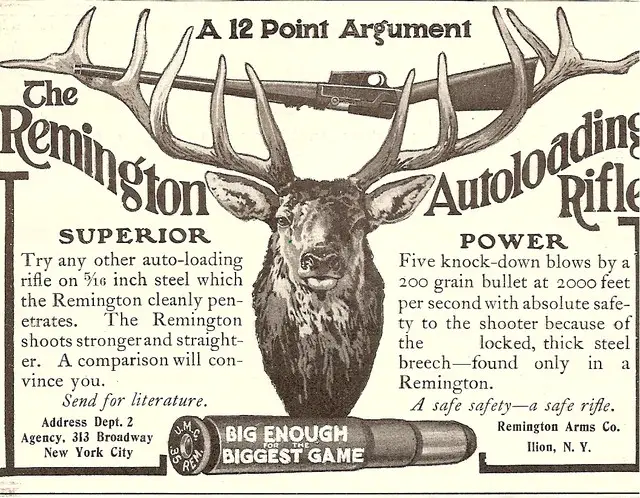 Our saga begins 122 years ago, when John Browning patented his self-loading rifle design which became the Remington Autoloading Rifle, renamed the Remington Model 8, then again renamed the Remington Model 81 Woodsmaster. It was recoil-operated with a rotating bolt head, and Remington introduced four new cartridges for it, of which the .35 Remington still endures. The idea of a semi-auto sporting rifle isn't at all new, for the Remington Autoloading Rifle was introduced in 1905.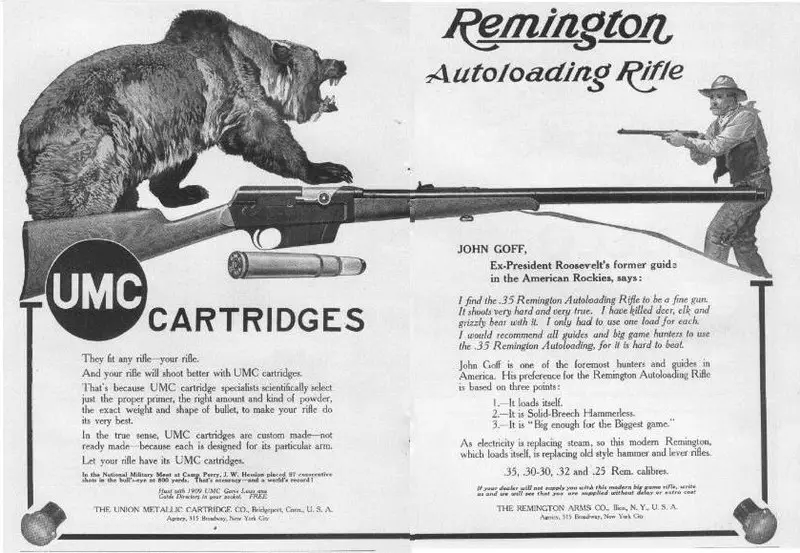 A bit complicated and heavy, but thoroughly reliable and durable, like many Browning designs, it was about a 2-1/2 inch to 3 inch 100 yard rifle which was competitive with several bolt and lever action guns of the time, using the ammunition of the time as well. Touted as a good for everything, ad copy of the era showed the Remington Model alongside moose, grizzly bear, and a hapless hunter surrounded by a pack of bloodthirsty wolves... with presumably his Model 8 the only key to make good his escape. The most popular cartridge over the years is one shown as "unavailable" on the Remington ammo website: the 2080 fps 200 grain Core-Lokt with a static .192 B.C. At 100 yards, the velocity is 1697 fps, dropping to 1374 fps at 200 yards.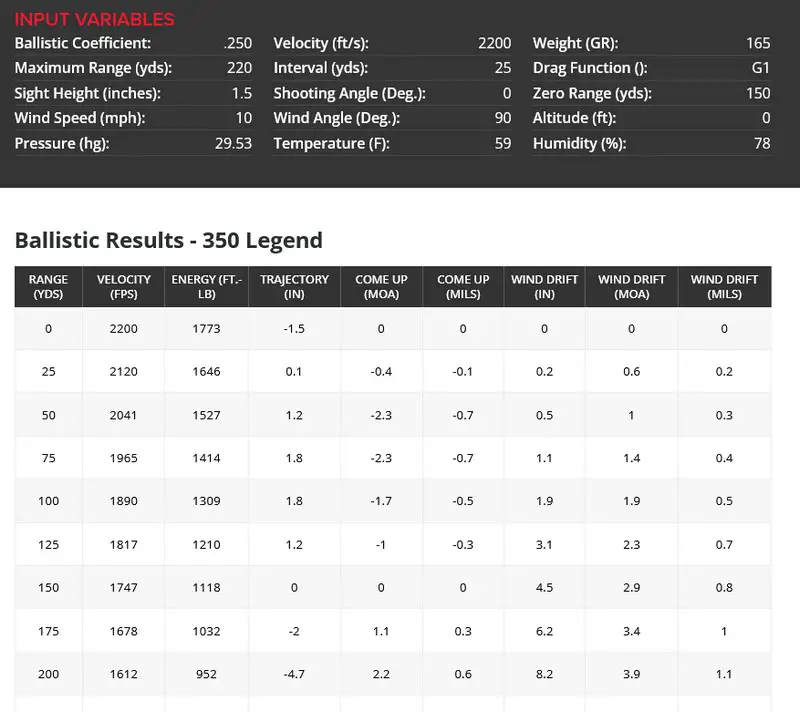 A Hornady 350 Legend 165 gr FTX® Custom round (.250 G1 static B.C.) fares significantly better, maintaining a 1612 fps strike velocity at 200 yards. As the chart suggests, with a 150 yard zero it is just pull the trigger to 175 yards and go pick him up, even with small kill zones. The soft-shooting .350 Legend is an economical cartridge, which no one complains about, and bolt-action versions can be both economical (Savage Axis II, $479 MSRP), and light weight at 5.83 lbs. unscoped for the same Axis II.
Magnumitis is an unfortunate malady that afflicts too many folks. I was amused to read of cartridge recommendations for driven boar hunts on a Browning blog, suggesting a .30-06 or a .300 WinMag. Driven boar hunts are 25-50 yard shots, ideal for a .350 Legend. Of course, they don't like the recoil from their .300 WinMags, so they then suggest muzzle breaks. It is just plain goofy to think a .300 WinMag is what you need or want, to whack a 190 lb. pig at 40 yards. I've taken hogs and mouflon with a .357 Magnum revolver with a six inch barrel, for example. Yet, a 180 grain Swift A-Frame leaves the muzzle of a six inch vented barrel at 1130 fps. Velocity and energy fanatics would have you believe that it is next to impossible to kill a wild boar with a .357 Magnum handgun, yet I can tell you from personal experience that is not at all the case. With about a 2100 fps launch velocity from the .350 Legend with a 180 grain bullet, you would think you've died and gone to heaven by comparison.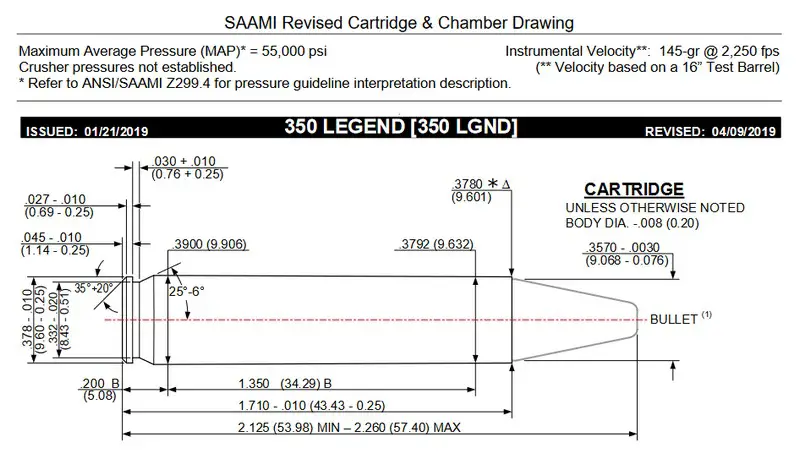 The .35 Remington has a SAAMI MAP of 35,000 Copper Units of Pressure. The more modern .350 Legend is a more efficient cartridge with a 55,000 PSI MAP. You'll note that the 145 grain / 2250 fps is with a 16 inch test barrel.
The .350 Legend resolves many common complaints: uncomfortable recoil, expensive ammo, excessively heavy rifles, high muzzle blast, and do forth. There is also locktime. Dvorak Instruments' "Triggerscan" instrumentation has been used to more closely define and improve triggers. Triggerscan was used in the development of the Savage Accu-Trigger, one of the most notable examples at this time.
The 1903A3 has a locktime of somewhere around 6.5 milliseconds, contingent on mainspring. The Remington long action has a locktime of 3.0 milliseconds, the Remington short action 2.6 milliseconds. According to Dick Metcalf (who also uses Triggerscan), even with the far lighter hammer weight of most pistols compared to rifles, anything nearing a 5.0 millisecond locktime is exceedingly good. You just won't find any factory hammer type rifles that can compete with the 6 to 7 millisecond locktime of even the classic 1903A3. The weight of the hammer and the long throw prohibit it.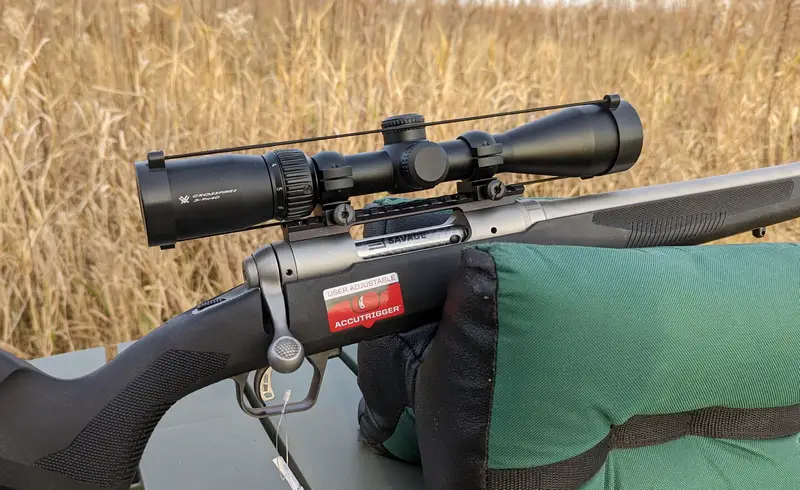 Above: Savage 110 Apex Storm XP .350 Legend, about 7.4 lbs. scoped and ready to hunt. Recoil is just 6.93 ft. lbs. with a Hornady 165 grain FTX: about 62% less than a .308 Winchester.
Fast locktime actions and low recoil make rifles more accurate and more pleasant to shoot. While being an ideal cartridge for moose and grizzly bear (like the old Remington Model 8 ads suggest) is wishful thinking, inside 150 yards with the .350 Legend not much can live on the difference: deer still don't care how fast you miss them.