A.E. Nelson Leather of Scio, Oregon
By David Tong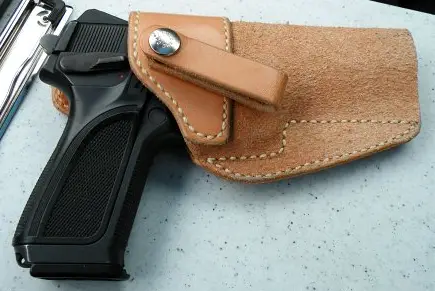 "Summer Special" type holster by A.E. Nelson. Photo by David Tong.
In my continued quest to find good quality leather goods for carrying pistols, I stumbled upon A.E. Nelson. While perusing a used holster bin at a local gunsmith's shop, I found one of their products and it appeared quite workmanlike, simple, elegant and functional.
It intrigued me enough to visit their shop several months ago and I have become a repeat customer. Gary Struckmeier and his wife Catherine (Kitty Nelson) Struckmeier own and operate this third-generation small business with just three other employees and they indeed build good kit.
The holster pictured below is one they made for me for a pistol that will be the subject of a forthcoming article for the Guns and Shooting Online readership, the little-known Browning BPM-D 9mm. After I acquired it, I found out that it was built for only two years and in very limited numbers. Its related cousins, the Models BDM and BRM were also in production less than a decade, so it is unlikely that any major holster company will ever bother to build something for them, leaving only the custom makers.
I am a great admirer of the late Bruce Nelson's (no relation) "Summer Special." It is an inside-waistband design of two-piece construction and features a rough-out natural finish for its natural friction within the trousers and a stiffening additional piece of leather, often with a steel reinforcement, to allow one-handed re-holstering of a discreetly carried concealed handgun. In addition, the leather strap pivots about its "one-way" snap to allow for some angle adjustment within one's waistband, for both comfort and concealability.
While A.E. Nelson had not made a holster of this design before, I entrusted my Browning to them for use as a pattern and two weeks to the day later, my holster was completed. This sort of service is unheard of by any other holster maker with whom I am familiar.
Moreover, the leather they use is Hermann Oak, a type and thickness of leather that is ideal for long, useful life. The holster is comfortingly familiar. I have carried a 1911 in a similar holster from an out of business maker for over 20 years and this example is simply superb.
I highly recommend the company and its products, without reservation. You can reach them at 38492 Gilkey Road, Scio, OR 97374, phone 503-394-3412 and visit their web site at www.nelsonleather.com
Please let them know you read about it on Guns and Shooting Online. I am very grateful that this small business exists to support the shooting community with fine work and excellent customer service.