Remington / Accurate Innovations Model 798 Custom Rifle
By Chuck Hawks
When I reviewed the .30-06 Remington Model 798 rifle (see the Product Review Page), which is based on a commercial Mauser 98 barreled action made in Serbia, I commented that in many ways this was actually Remington's finest (although far from most expensive) hunting rifle. I also noted that it would make an excellent basis for a custom rifle. Because the Serbian barreled action is well turned out and nicely polished, all that is necessary to upgrade the Remington 798 is to adjust the trigger and fit a custom stock, and I had already attended to the trigger.
Remington Model 798 with factory supplied laminated stock. Illustration courtesy of Remington Arms Co.
There is nothing wrong with the brown laminated stock supplied on Remington Model 798 rifles and it is far superior to the injection-molded stocks supplied on most rifles in the 798's price class. However, it is intended to be utilitarian rather than deluxe and I found the pistol grip to be overly thick and too tightly curved. Like almost all factory stocks, it retains too much wood, presumably in the interest of strength against extreme mishandling. I wish that Remington would supply the style of stock on the 798 that they use for the Model 700 Mountain Rifle LSS.
I very much liked the Remington Model 798 rifle and after the review was completed, I purchased the test rifle for my own use. Ben DeRuyter, then President of stock maker Accurate Innovations (www.accurateinnovations.com), read my review and wrote to me asking if I would like to have A.I. make a custom stock made for my Model 798. (A.I. was already offering drop-in replacement stocks for commercial Mauser 98 rifles similar to the Model 798.) A deal was quickly struck and my order placed for a slender, classic style stock. I sent my Model 798 barreled action to A.I. so that the new stock could be properly fitted.
Unfortunately, before any wood was cut, there was a management change at Accurate Innovations and Jeff Roller became the new President. Jeff was largely unaware of the deal Ben had made with me and at the time A.I. was flooded with new orders, so several months slipped by before I inquired about the fate of my stock, only to find that nothing had been done and the work order had been lost.
An exchange of telephone conversations with Jeff resulted in a new order for a stock with the following basic characteristics:
Classic style with straight comb and shadow line cheekpiece
Length of pull 13-5/8 inches
Ebony forend tip and pistol grip cap
Three panel (two grip panels plus wrap around forend) hand checkering at 24 lpi
Pachmayer Decelerator 1" Old English recoil pad (black)
Studs for detachable sling swivels
Hand rubbed oil finish
"A" grade English walnut
All A.I. stocks feature a proprietary, full length, CNC machined 6061 aircraft grade aluminum bedding block, a steel rod reinforced wrist and a free floated barrel channel, so these features were automatically incorporated in my new stock. "A" grade English, although attractive, is not the fanciest of walnuts, but it remains the best stock wood on the planet.
In due course, Jeff sent me the new stock, unfinished and uncheckered, for my approval. It was nicely shaped, but too thick for my taste, especially through the forend and pistol grip. Guns and Shooting Online's Gunsmithing Editor, Rocky Hays, suggested that it would be simpler to do the slenderizing job ourselves than to explain what I wanted to Jeff on the phone. An hour or so in Rocky's shop produced a stock shaped exactly as I wished. I then returned the stock to A.I. for checkering, final finishing and installation of the sling swivel bases.
When the finished stock arrived I installed the barreled action, mounted a Leupold VX-L 3.5-10x50mm scope in a Leupold STD one-piece base and rings and the result is as you see in the accompanying photos. The VX-L is extremely bright, clear, sharp, mounts low and is purged and filled with inert argon/krypton gas (instead of the usual nitrogen) for reduced thermal shock. It incorporates such nice features as a one-piece main tube machined from 6061-T6 aluminum bar stock, index matched lens system with Diamondcoat exterior lens protection and blackened lens edges, titanium nitride/stainless steel ¼ MOA fingertip adjustments, lockable fast focus eyepiece and Leupold's excellent Duplex reticle. Custom rifles deserve, and are almost always seen wearing, Leupold scopes.

Accurate Innovations "A" grade English walnut stock with ebony forend
tip on Remington Model 798 barreled action. Photo by Chuck Hawks.
My Model 798 now weighs in at 9 pounds 6.4 ounces and measures 42-7/8 inches in overall length to the muzzle of its 22" barrel. This is about the right weight to ameliorate the recoil of the powerful 180 grain .30-06 cartridges that it will be shooting. (The US Army's famous M1 .30-06 service rifle weighed 9.5 pounds without a scope.) Everyone on the Guns and Shooting Online staff agrees that it is a handsome rifle. It is, however, not just a showpiece; rather, it is intended to be a "go to" all-around rifle that will get plenty of use in the field. Why take the trouble to build a rifle to your specifications if you're not going to use it?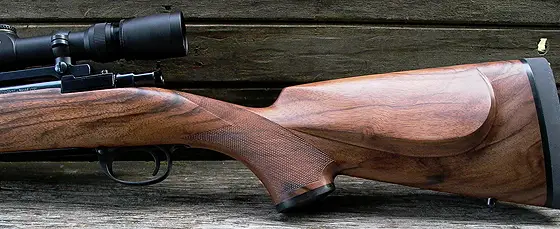 Remington/A.I. Model 798 showing shadowline cheekpiece and pistol
grip with 24 lpi checkering and ebony cap. Photo by Chuck Hawks.
The next step, of course, was to take the Remington/A.I. 798 to the range to see how it shoots. Technical Advisor Bob Fleck accompanied me to the Izaak Walton range south of Eugene, Oregon. It was a mostly sunny day with minimal breeze and a high temperature of about 60 degreed F. The Izaak Walton rifle range offers covered shooting benches and target stands at 25, 50, 100 and 200 yards. I did the test firing with the Model 798 from a Caldwell Lead Sled DFT weighted with two 25 pound bags of lead shot. Test firing a new custom stocked rifle inspired Bob and I to bring four other custom Mauser 98 rifles (two each) from our collections. I could not resist the opportunity to photograph the rack of five beautiful rifles while we were at the range.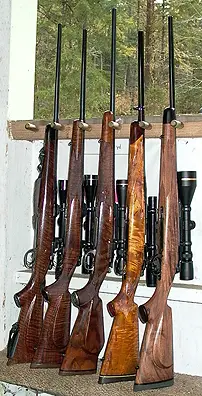 From left: Bob's custom 7x57 Mauser 98, Chuck's 7x57 Husqvarna by Larry Brace, Chuck's .270 Mauser 98 by Larry Brace,
Bob's .358 Mauser 98, Remington/A.I. 798 at far right. The three rifles at left wear high grade American black walnut stocks,
the blond stock (2nd from right) is Oregon myrtle wood and the A.I. 798 is stocked in English walnut. Photo by Chuck Hawks.
Before it got its new stock, the Model 798 had been zeroed using Remington Express 180 grain Core-Lokt PSP factory loads, so that is the load I used during the range session. The first shot with the A.I. Model 798 at 100 yards hit about 9" low and about 3" to the left. Clearly, the change in stocks and bedding drastically affected the point of impact. Using the Leupold VX-L's accurate adjustments, I "walked" the bullets up and into the vicinity of the central bull's eye on a Champion Score Keeper target. After that, I shot five three shot groups to get the rifle zeroed. The final group was five shots and it centered 2.5" above the point of aim at 100 yards, exactly where I wanted it.
The average 100 yard group size was 1.5", good performance with factory loaded ammunition, particularly since only one brand and load was used. The odds are that if I tested, say, a dozen different factory loads I might find one or more that produced tighter groups in this particular rifle. (All rifles have their own particular ammunition preferences.) I am practically certain that if I tuned a handload for this rifle I could shrink the group size somewhat. However, 1.5" at 100 yards (1.5 MOA) is plenty good enough for big game hunting with a .30-06 rifle and there is something to be said for a hunting rifle that is sighted-in for a commonly available factory load. In addition, the Remington Core-Lokt bullet is an excellent killing bullet, proven on every sort of big game that I would conceivably hunt with a .30-06 rifle. I've used a lot of Core-Lokt bullets, in many calibers and weights, and I have great faith in this bullet's terminal performance.
For now, I'm leaving well enough alone. My custom Model 798 is ready to go hunting and it is an attractive and deadly rifle.