African Sporting Creations Shooting Sticks
By David Tong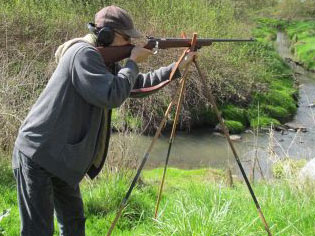 Photo by David Tong.
African Sporting Creations is a company dedicated to the creation of hunting accessories. They manufacture many products of African native hardwoods, including folding safari furniture much like those sold a century ago by the British "Army-Navy" stores for the intrepid souls of the East African safari trade. Like them, they offer products for the discriminating hunter/sportsperson.
Among these products are their tripod shooting sticks. These are mainly available in a wood named "Shedua," also known by its Latin species name Guibourtia arnoldiana. Its color is usually in two forms, a more prevalent medium dark brown with fine black grain, as well as yellow-grey sapwood.
Both types are very dense and tough to turn or machine, because it chips easily. The company uses this wood for their products because of its subtle beauty, especially in the matte finishes so typical for period items.
Shooting sticks have been used by (mostly) open country hunters for generations. These may be mono-, bi-, or tri-pod designs.
Most shooters would agree that a monopod is handy (but not very steady), due to its ability to be used as a hiking staff, as well as a method of rifle stabilization. A bipod is both reasonably steady and fast to erect and use. However, ASC's tripod sticks are best from the stability perspective, no question.
The sticks are sectional and threaded together before use. The company tried many threaded couplers after deciding this was the best way to provide compactness for airline luggage requirements. However, company president Jim Morando was unsatisfied with off the shelf items, because they lacked the ability to remain threaded tightly together.
This may seem odd, but keep in mind that one of the issues facing the African hunter is having his sticks at the ready, even while bouncing around in a Land-Rover. The company's solution was to have a specialty fittings engineer design a custom threaded aluminum alloy coupler using both pointed ends to increase friction when seated, as well as a compressible rubber O-ring. These are machined from billet and black anodized.
These connectors also help make the stick's natural wood hardness even stiffer by offering them support. Most of the usual sticks offered are all aluminum or fiberglass and bungee-like elastic cords hold stick sections together. These can indeed be faster and more convenient, but are also noisier and less stable.
In addition, the company offers several grades of these sticks. Most commonly they have hand-stitched leather fore-end pads that slide onto the two sticks forming the bipod support, but also offer Cape buffalo and Zebra skin pads to add a bit of character.
The staffs and connectors are of matching diameter and the wood is hand sanded and finished in matte polyurethane for a measure of moisture protection. Gold Grade sticks have these connectors simply pressed onto the wood shafts, while Platinum Grade are pinned at top with bamboo, while their bottoms are secured using a concealed screw.
Sticks are available in different lengths to accommodate hunter requests. They come in an attractive green canvas zippered case that fits within hard rifle cases.
A set of Platinum Grade size large sticks were sent to me by Mr. Morando for my 5'10" height, as most appropriate according to his sizing chart. He recommends grasping both the rifle fore-end and the stick's "V" to provide best stability, while the front leg is oriented in the direction of shooting.
The three sticks intersect near your rifle's forestock and are conveniently tied together using a length of nylon paracord that is knotted securely in place. This makes deploying the sticks a fast and repeatable process.
He claims on his website that one can expect groups pretty similar to what one can expect from a bench. A heady claim, indeed, so off into the field I went.
My outing included my father in law and his old Winchester Model 69A bolt-action .22 LR aperture-sighted target rifle. We used some Remington Golden HP rounds at a bulls-eye target at approximately 30 yards.
Both of us rather easily achieved 1" or better 5-shot groups from the sticks. Lacking any significant recoil, I merely rested the forestock on the stick's "V" and held their intersection with my support hand to achieve this. All rounds remained in the 1.5" diameter black bullseye.
A quick second shooting exercise with his Winchester M70 .270 and Remington Core-Lokt 130 grain soft points at 80 yards created a nice 2.6", three shot group while kneeling, thus validating field hunting type conditions. The instructions advised to grasp both the firearm's forearm as well as the intersection of the sticks with the supporting hand and this method was used in this instance.
There is little question in my mind for open country hunting, or even sighting in your rifle at deer camp, that African Sporting Creations' shooting sticks are a classy and handy accessory. They may not mitigate recoil as a Caldwell Lead Sled does, but they are easy to set up, stable lightweight and they can be quickly adjusted to heights suitable from kneeling to standing. The fact that they are a classy accessory is not lost on me, either. They are a little piece of African plains hunting technique for the American shooter.