Belgian Best Shotguns
By Chuck Hawks
Let's start by reviewing the definition of "best gun": As used here, best gun means a double-barreled shotgun of the highest quality. One of those few shotguns intended to compete in the marketplace primarily on the basis of quality, design, workmanship and finish rather than just price. A best gun is intended to be competitive with the best that any other shop can build. Most best guns are decorated with engraving, fine line hand checkering, etc. and they are usually available with different levels of adornment. Best guns are typically bespoke guns, or are at least available as bespoke guns.
Liege, Belgium has been a gunmaking center for centuries. The Liege proof house was established in 1672 and it is the oldest European proof house still in operation. Since the evolution of the modern side-by-side and over/under hammerless shotguns in the late 19th Century, Belgian gunmakers have turned out some of the best.
Today Belgian made guns have a deservedly high reputation, but this was not always the case. From the late 1800's through the decade immediately following the Great War (W.W. I), in addition to best guns, a great number of relatively low grade guns and also double gun barrels were manufactured in Belgium. (This was much the same situation as occurred with Spanish guns in the decades immediately following W.W. II.) Belgian twist barrels, especially, were viewed with suspicion, sometimes with good reason. American high grade guns, for example, usually came with British, German, or American made barrels. Only lessor quality American guns were made in Belgium or supplied with Belgian barrels and large numbers of cheaply made private label (house brand) shotguns were imported from Belgium. In the 1930's this situation slowly improved.
I think that, for American shooters, the introduction of the Browning Superposed shotgun (B-25), the last gun design of the great John Browning before he died in 1926, was the turning point. The Superposed was introduced in 1931 and to this day it is produced by the arms making giant Fabrique Nationale (FN) in Belgium.
This boxlock O/U gun became the most popular double barreled, high grade gun in the U.S. It worked as intended and no one could reasonably question the quality of materials or workmanship employed in its manufacture.
The Superposed was produced in 12, 20, 28 and .410 bores. There were Field, Magnum, Trap, and Skeet versions. Barrel lengths of 26.5", 28" and 30" were offered for field guns. The 12 gauge Magnum Model had a 30" barrel and the Trap Models were available with 30" or 32" barrels. Any combination of Full, Improved Modified, Modified, Improved Cylinder, Skeet and Cylinder chokes was available in all models.
Superposed shotguns featured ventilated rib barrels that were struck full length, French walnut stocks, hand cut checkering and hand engraved receivers. A gold-plated, selective single trigger and selective ejectors were standard. The manual safety also served as the barrel selector. A glossy stock finish and highly polished, luster blued barrels made the guns standouts in any company.
In my youth Browning Superposed guns were offered in four grades. The entry level was the Grade I (a very nice shotgun), followed by the Pigeon, Diana, and Midas grades. All of these guns were functionally identical. The difference was in the grade of wood and the increasingly elaborate checkering and engraving patterns. The Grade I featured a blued receiver and the Pigeon and Diana grades had silver gray tone receivers. The Midas grade featured a blued receiver set off by gold inlays. Most Superposed guns came with semi-pistol grip stocks and rounded forends, although pistol grips and semi-beavertail forends were supplied on some models.

Browning Superposed Special Duck. Illustration courtesy of Browning Arms.
Today the FN/Browning Custom Shop in Herstal, Belgium offers bespoke Superposed shotguns on a special order basis. The Pigeon, Diana, and Midas grades are still offered, along with a myriad of other engraving designs, some with false sideplates. In addition, practically any special engraving pattern or custom enhancement is available on one of these guns. Typical delivery time is 6-8 months.
Also available from the Browning Custom Shop in Herstal is the BSL side-by-side shotgun. This is a bar action sidelock in the British game gun tradition. It comes standard with double triggers, selective ejectors, straight hand stock and splinter forend. Gauges are 12 and 20 and available receiver finishes are case colored or French gray. The LC1 grade features scroll engraving and the LC2 features an engraved hunting scene. Special engraving patterns can also be accommodated. For further details on these and other Browning Custom Shop guns, visit the Browning web site at: www.browning/custom
FN/Browning guns are not the only best guns made in Belgium, of course. FN is the industrial giant of Liege, the 500 pound gorilla of Belgian gunmaking and the only surviving major manufacturer, but there are still a few small specialty firms.
Representative of these and best known in the U.S. is Francotte. Auguste Francotte & Cie was founded in 1805 in Liege to produce military arms. Later they turned to sporting arms, and soon garnered attention as a builder of best guns in the British tradition. Francotte guns became well known in the UK and were imported into the USA by Abercrombie & Fitch.
Today all Francotte shotguns are bespoke. (Francotte also builds bespoke bolt action and double rifles, the latter with back-action sidelocks.) There are no standard models beyond generic "hunting" and "pigeon" types. Both O/U and side-by-side configurations are offered.
Actions are formed from forged chrome-nickel steel in the Francotte workshop. Actions can be either an H&H type bar action sidelock or Anson & Deely type boxlock. Action finish can be case colored, French gray, or blued. Double triggers are standard but selective and non-selective single triggers can be ordered. A manual or automatic safety is optional.
Barrels are also formed in the Francotte workshop. Francotte barrels are drawn from metal bars and are of the chopper lump type. A matted rib and automatic ejectors are standard. Barrel lengths and chokes are to customer order, and the customer may specify the exact shell and load with which the gun is to be patterned.
Stocks are hand made. Straight hand or pistol grip stocks are available in the grade of walnut selected by the customer. Forends can be either splinter or beavertail type with an Anson forend latch. Fine line checkering is hand cut in point or custom patterns and stocks gleam with a hand-rubbed oil finish. Multiple gun and multiple barrel sets are a Francotte specialty.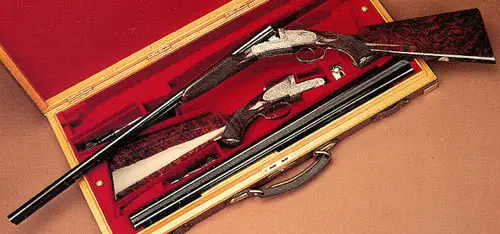 Cased pair of Francotte sidelock shotguns. Illustration courtesy of DoubleGunshop.com.
A myriad of special features such as assisted opening, special engraving, gold or silver inlays or medallions, hand detachable locks, special sights and so forth are available on Francotte double guns. Typical prices start at $18,000 and run to $80,000 (or possibly beyond), depending on customer requirements. Customers are invited to observe their gun being made at any or all stages. Information about Francotte guns is available online from: www.doublegunshop.com/francotte
The Belgian gun trade today is but a shadow of its former self. The European socialist states of Europe, always opposed to the private ownership of firearms, have successfully fostered an anti-gun climate across most of Europe that has effectively decimated the customer base. But, as is often the case in such circumstances, the very best firms are the last survivors and today the reputation of Belgian shotguns in the U.S. is probably the best it has ever been.