First Look: Benelli Super Black Eagle 3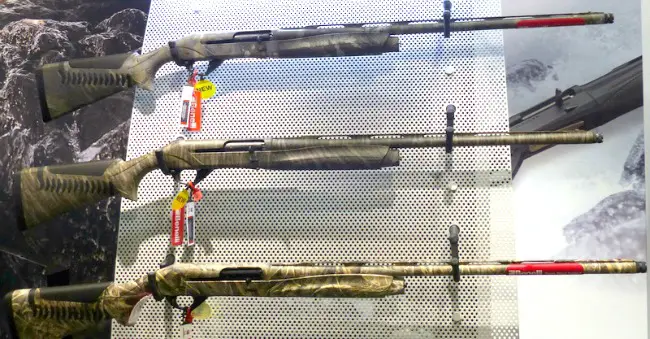 Photo by Randy Wakeman at 2017 SHOT Show.
It is hard not to notice the current, trendy shotgun hyperbole. It is like all marketing departments ride in the same bus. Just what doesn't have better ergonomics, point-ability and swing-ability? When all else fails, just claim "advanced ergonomics" and call it good seems to be the order of the day.
Lately, many autoloading shotguns have larger trigger guards, extended bolt handles and larger bolt release buttons. Who really thinks that hunters and shooters over the last century didn't care about pulling the charging handle on autoloading shotguns, loading it and hitting the bolt release button?
If you read enough ad-copy, you'd have to believe that everyone's father, grandfather and great-grandfather spent their lives living under a rock, not understanding how to swing a shotgun or kill a duck. I am trying to remember when, over the last 50 years of hunting and shooting, I found myself having an actual problem opening or closing an ancient Browning Automatic-Five, and it hasn't happened yet.
The Super Black Eagle has been the Benelli standard bearer for the last 25 years. In fact, Benelli lists the Super Black Eagle II - 25th Anniversary Limited Edition 12 gauge, 3-1/2 inch for $1999 on their website. This gun weighs 7.3 pounds.
The Super Black Eagle 3 is a refinement of the Super Black Eagle, answering two longstanding gripes about Benelli in general, the Benelli click and the Benelli thumb. Along the way, the Super Black Eagle 3 has become about a quarter pound lighter and the Comfortech stock has also been revisited.
Certainly, a brief stint with 1-1/8 ounce target loads at the 2017 SHOT Show in Las Vegas is a long way from a full review. I cannot speak to how the gun feels and works with game loads or goose loads, much less monster two ounce, or 2-1/4 ounce lead turkey loads. These are very uncomfortable fired out of anything and everything.
Nevertheless, it seems to me that Benelli got it right with the SBE 3. I like the new forearm, the SBE3 is very easy to load and it appears the Benelli click has been eliminated. Although it weighs right at seven pounds, it is the softest-shooting Benelli I have ever fired. Apparently, the Comfortech 3 stock is working well.
Of course, I have not done any patterning and so forth and this, as a result, cannot be a full review. However, I have no problem saying that the Super Black Eagle 3 appears to be the best inertia gun on the market and the best Benelli so far.