Beretta 90-two Pistols
By Chuck Hawks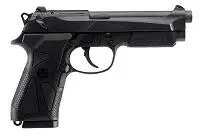 Illustration courtesy of Beretta USA Corp.
Beretta, the world's oldest gun maker, produces some of the best and most advanced service pistols in the world. Their new top of the line model is the successor to the famous Model 92 line, and is appropriately named the Model 90-two.
Model 90-two pistols share certain basic characteristics. Among these are improvements to form, fit and function compared to the previous Beretta 92 Series. 90-two pistols feature a removable polymer wraparound grip in two sizes (standard and slim), rounded and snag-proof external surfaces, rounded trigger guard, integral accessory rail, increased magazine capacity, internal recoil buffer, captive recoil spring guide assembly, ambidextrous safety, reversible magazine release button, luminescent night sights, and quick assembly feature. All incorporate an automatic firing pin block safety and will fire with the magazine removed. The open-top slide configuration of earlier Beretta pistols was, thankfully, retained. The pistol's construction is a blend of polymer, aluminum alloy, and phosphated/Bruniton coated steel.
There are three variations in the 90-two series, the Type F, Type D, and Type G. The differences are in the trigger and safety. The Type F is the basic model, a double/single action (DA/SA) pistol with a manual safety lever that also serves as a hammer decocking lever. It operates just like the famous Beretta 92F (M9) service pistol. Pushing the slide mounted safety lever down safely returns the hammer to its lowered position and also disconnects the trigger so that the pistol cannot be fired until the safety lever is pushed up to the "fire" position. There is a hammer half-cock safety notch.
The Type G is a DS/SA pistol similar to the Type F, but the manual safety feature is absent. The "safety" lever serves only as a hammer drop device. This type of action mimics the operation of most SIG pistols. This is, to me, a sensible alternative, since a DA pistol is inherently safe with the hammer down, just as is a conventional DA revolver. There is really no need for a manual safety lever per-se.
And the Type D is a "double action only" pistol. The hammer follows the slide down to the uncocked position after every shot, requiring a double action trigger pull for the next shot. There is no manual safety, half cock hammer notch, or hammer drop lever, as none are needed. The Type D is a self-loading pistol that operates like a "hammerless" double action revolver. The Type D retains an exposed hammer, but it cannot be manually cocked.
Here are the general specifications of the 90-two pistols:
Caliber -
9mmx19, .40 S&W
Maximum Magazine capacity -
17 (9x19); 12 (.40)
Barrel length -
4.9"
Rifling Pitch -
250 mm (9x19); 400 mm (.40)
Rifling -
R.H., 6 grooves
Operation -
Semiautomatic, short recoil of barrel
Locking system -
Locked-breech, falling block
Sights - Dovetail mounted
Superluminova luminescent front and rear sights on the slide
Sight radius -
6.4"
Frame -
Light alloy
Slide -
Steel, phosphatized and Bruniton coated
Barrel -
Steel, sandblasted and blued; Internally chromium-plated
Length -
8.5"
Height -
5.5"
Overall width -
1.5"
Weight unloaded -
32.5 ounces with magazine
2006 MSRP -
$798
The Guns and Shooting Online staff was favorably impressed by the Beretta 90-two F pistol that we received for review. (See the Product Review Page.) It's styling, quality, and features got a lot of positive comments. I thought that the standard grip did an excellent job of spreading recoil across a wide area of my shooting hand. It's a comfortable gun to shoot.
For a long time Beretta has been among the "Top Three" service pistols that I regularly recommend to correspondents, and the 90-two only reinforces that opinion. I don't see how anyone needing a full size service pistol could go wrong by choosing the 90-two model that best fits his or her needs.
Note: A Complete review of the Beretta 90-two F pistol can be found on the Product Reviews page.