Beretta's PX4 Storm 9x19mm Pistol--A Mite Unusual
By David Tong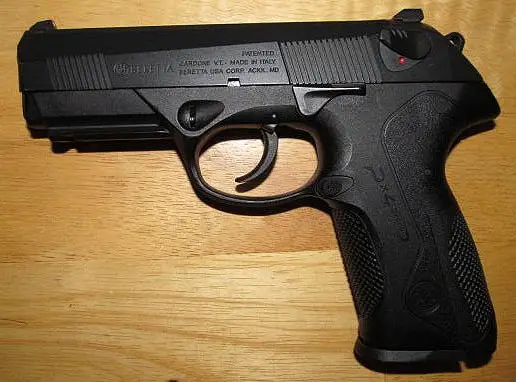 Photo by David Tong.
As a "historical technologist," interesting locked-breech handgun designs fascinate me. Typically, this means semi-automatic pistols, as they are the ones who receive the most R&D money, because of hoped-for law enforcement and military contracts and the sales hotbed of civilian ownership.
In the century plus of self-loading pistols, there has been dropping block (Mauser C96, Walther P38, Beretta 92), toggle cam (Luger P-08), rotating barrel (Roth-Steyr 1912), blowback with gas delay (H&K P7, Steyr GB) and gas-operated rotating bolt (IMI Desert Eagle). However, most of these designs have passed into obsolescence, as the predominant Browning style, tilting barrel is the overwhelming favorite of the world.
Having recognized this primacy doesn't mean that I do not appreciate other designs or dismiss them as meritless. If the design functions well, then it is merely a matter of how well its wielder can use it.
John Browning himself designed a rotary-barreled pistol that was the subject of U.S. Patent 580925, in April of 1897. A very slim design with a low bore axis, it was probably one of the patents purchased by a major American manufacturer without any intention of producing it, a common practice of the day to preclude others from building something using that operating system or other features.
These old patent drawings showed perpendicular, interrupted locking lugs and I wonder how the system would have provided the appropriate camming rotation to function. These are familiar looking to anyone who owns a Baby Browning .25ACP, Colt Pocket 1903 or 1908 in their appearance and layout during field stripping.
Beretta itself now offers more pistols of different locking systems than any other builder. The subject of this article is the PX4 Storm, which replaced the similar M8000 Cougar of the 1990's. It was introduced in 2004. A .45ACP version took part in the aborted Joint Services Pistol request for proposal of 2006.
Specifications
Country of Origin: Italy
Catalog Number: JXF9F20
Length: 7.55"
Height: 5.51"
Width: 1.42"
Empty Weight: 27.7 oz.
Barrel Length: 4" (chrome-lined bore)
Twist: 1: 9.8" (6-groove, right hand twist)
Finish: Slide is proprietary corrosion resistant sprayed-on Bruniton finish over phosphating. Barrel and magazines are blued.
Frame Material: Fiberglass-reinforced thermally-molded plastic
Magazine Capacity: 17 (Two magazines included)
Trigger pull: 12 lbs. DA, 4.5 lbs. SA
Sights: Steel, Patridge w/white painted 3-dot
2013 MSRP: $575.00
Warranty: One year from original purchase date
Ergonomics and Observations
Unlike the Model 92 that uses the dropping block of the P38, the PX4 uses a rotary 3-lug system. The advantage of this is that the barrel is simpler, but has similar straight-line recoil. This works by using both the rifling rotation to start unlocking, plus primary camming by the cam lug located on the recoil spring seating block. In theory this can provide superior accuracy, compared to a barrel that tilts. However, some tolerances are present in both the M92 and the PX4, because both barrels slide backward under recoil, so there is some built in imprecision.
As can be gleaned from the above specs, the pistol fits right into the standard template of a 4" barreled service auto pistol, except for its width, which is a few tenths wider than the norm these days. This is mitigated, somewhat, by the company's rounding off of the muzzle end of the slide and angular cuts on the slide's top and rear corners. No sharp edges are present, though the lines are crisp.
Beretta should be commended in their attempt to mask the bulk of the PX4 in the choice of machine cuts that they made on the slide. While the top and sides are flat, a number of facets sweep into gentle curves to break up the outline. It may be big and thick, but it works.
One advantage of striker-fired pistols is the lack of a hammer strut and spring behind the magazine well. In contrast, the Storm has a rather thick grip and may print easier than some others when worn concealed behind the hip, due to the size of the butt behind the magazine well.
The pistol comes with the now prevalent interchangeable rear strap inserts. There are three: small, medium and large. These are retained in the pistol with a U-shaped spring wire clip inserted into the rear of the magazine well. I left well enough alone with the installed size medium. Please note that these do not fill the hollow of one's palm, but merely increase the length of pull.
There is molded checkering on the nicely rounded front strap and rear strap inserts. I found the grip shape comfortable, if a tad over-styled in the modern idiom. The trigger guard is pleasantly rounded in shape and somewhat oversized to facilitate gloved use, and the accessory rail is M1913 Picatinny standard with one cross-slot, to allow fitment of a flashlight or lasers.
The stock trigger is actually pleasant, at least compared to its striker-fired brethren. The DA pull is a stated 12 pounds, but feels lighter than that. It is smooth without noteworthy stacking. The SA squeeze is crisp and also feels a tick lighter than the stated 4.5 pounds. The semi-skeletonized hammer must improve lock time slightly and perhaps disturbs aim a bit less. I'd rank these pulls better than a CZ75, SIG P226, or its M92 stable mate. The polish of the metal surfaces used to operate the trigger mechanism appears to work well. The take-up is as somewhat lengthy 5/16" and reset is the same 5/16". There is about 3/32" over-travel, but it is not noticeable when shooting.
Disassembly of the pistol is by very small Glock style serrated pull-down plates and pulling the trigger is not necessary. The slide must be forward, then pull down the plates and push the slide group forward and off the frame.
Be careful when cleaning of the frame, as the slide stop is held in place by a small, blued music wire spring. The spring is easily lost if the slide stop is lifted up and moved more than about 1/8" away from the frame. It might behoove PX4 owners to obtain spares. It might also be wise to use a small piece of masking tape to retain the slide stop while cleaning; peeling it off only after the pistol's slide has been replaced.
The frame is modern normal, in that it uses molded-in steel slide rails, stamped steel and MIM parts, as well as small clothespin-style tiny springs throughout. Off putting to the traditionalist, they have proven reliable.
The steel magazine catch is reversible. The magazine has a modern feed angle that all but bypasses the frame's ramp and directs the loaded rounds straight into the chamber.
The most common version of the PX4 is the "F", as with the Model 92. The "F" model, featured here, has the usual bilateral safety/decocking levers mounted on the slide, to accommodate left-handers. A "C" model is single-action only and has no slide levers. The "D" model is double-action only with a spurless hammer and the "G" model is DA/SA with decocking lever function only.
The most interesting part of the PX4 is the rotating barrel locking system. There are relief cuts in both slide and frame that permit rotation of the lugs during recoil and this feature makes the slide a bit taller and wider than a Glock 21, S&W M&P, or even the SIG P229, as the lugs extend beyond the base diameter of the otherwise cylindrical barrel forging.
Camming of the angular-cut lugs is accomplished by a small lug machined onto the recoil spring's non-reciprocating seating block. This lug engages a diagonal track that imparts counter-clockwise rotation (when viewed from the rear) to the barrel and allows the slide to recoil when pressures have dropped to safe levels. The barrel also features a slightly oversized muzzle end, to permit closer tolerance to the slide orifice and improve accuracy.
While the interior cuts of the slide and the frame are fairly simple looking, they require a very high degree of machining accuracy and this system uses a minimal number of parts. It is more complicated than most tilting barrel systems, because of their vertical and longitudinal motions.
The action operates with the same slick feel that one associates with the M92 and the company proclaims it their "strongest pistol action." However, they also advise against the extensive use of +P or +P+ 9x19mm ammunition. It can accelerate wear to the mechanism due to increased slide velocity causing (I surmise) higher than normal shear forces on the locking lugs, as well as impact forces that must be absorbed by the receiver group.
Styling-wise, beauty is in the eye of the beholder. While I appreciate the fact that the Beretta folks did not make their pistol into a "block," there is simply not much that can be done to make one-piece black plastic moldings attractive. At least it is not relentlessly rectilinear.
Shooting Results
Per the usual G&S Online criteria, three 5-shot groups were fired with each type of ammunition at 25 yards from an arm rest off a bench. However, some shorter-range rapid-fire groups were also fired to check function, as well as the recoil control properties of this tallish pistol. Ammo fired included Federal Champion 115gr ball, Remington 115gr JHP, and Winchester 115gr +P+.
Range conditions were 40 degrees F, 10-12mph wind and raining. I started the test session wearing gloves and removed them for the final group of Remington JHP and all the Winchester ammunition. It was a crummy day to go shooting, but hey, we do it for you guys and gals.
Federal ball = 3.25", 3.25", 4.25"; Mean average = 3.6"
Remington JHP = 4.25", 4.25", 3.6", Mean average = 4.1
Winchester +P+ = 2.5", 2.5" 3.25", Mean average = 2.75"
MEAN AVERAGE GROUP SIZE = 3.5"
I think it is apparent that the first two types of ammunition, purchased at Wal-Mart, did not shoot as well as the premium law enforcement grade Winchester ammunition. The Beretta has combat style sights, relatively well-regulated for point of aim, point of impact shooting approximately 3" high at 25 yards. However, the amount of light surrounding the front sight, as well as the sight's small size, meant that alignment was more difficult than with some other pistols.
I then shot silhouette targets at ranges between five feet and seven yards. Even with the +P+ ammunition, it was easy for me to shoot a rapid three shot group within three seconds, measuring 2.5" at six feet within the eye box of a silhouette from a DA first shot.
Despite that tall bore axis, the rotating barrel design provides a soft recoil feel. While no 9x19mm service pistol, plastic lightweight or not, recoils much, it does seem that the rotary locking system softens it still further.
The 17 round standard capacity magazines were easier to load than most other designs I've encountered, with no loading tool required. The slide was relatively easy to rack, though those somewhat pointy safety levers did not make it as pleasant as it otherwise might be.
I did find, as with the earlier Beretta 92, that the sights seem too small for such a large pistol and are harder to acquire in a hurry, compared to most other designs these days. The now discontinued factory luminescent sights, charged by exposure to bright light, can stay lit for up to 30 minutes and worked well enough for a brief range session.
Conclusion
I tend to prefer hammer-fired semi-automatics, as I believe they provide slightly better ignition reliability with hard primered ammunition. Usually, and more importantly, they usually offer a superior trigger pull.
The Beretta Storm offers a safe trigger system, simple maintenance and a unique operating system. Its capacious standard capacity 17 shot magazine makes it competitive in the marketplace and it feels good in the hand for such a large and thick handgun.
Since there is no such thing as perfection, I can pick a few nits. The PX4's width would be my primary concern for legal concealed carry, even more so than its weight. At least it has rounded contours that allow it to be drawn from and replaced into its holster slickly.
The small safety levers are too small to hit easily and have some sharp edges. They should be enlarged and rounded if one is planning on carrying the pistol on safe. In addition, they get in the way of the also slightly too smooth slide serrations, though the effort involved in racking the slide, even with the hammer down, is slight. Since this is a DA/SA pistol, the safety levers could (and should) be omitted. My brain and my left thumb are fully capable of lowering a cocked hammer and a slick slide would greatly improve handling.
If you like a pistol that is a little different, combining precise technology and Italian flair at a very attractive price point, the PX-4 Storm just might be your cup of tea. I like it a lot.