Bersa Thunder .380 CC (Concealed Carry)
By David Tong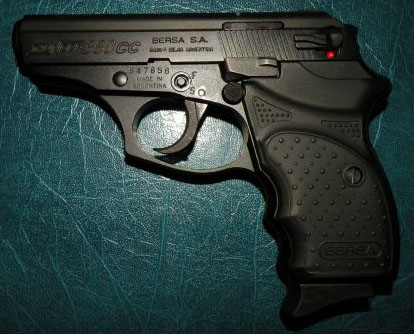 Photo by David Tong.
The Argentinean firm Bersa is a now well-known maker of what used to be called "medium autos." Typified by their DA/SA trigger system, a slide-mounted safety/decocking lever mounted on the left rear slide and of steel and aluminum alloy (receiver) construction, it differs from the predecessor Walther PP blueprint only in its use of a take down lever instead of the hinged trigger guard.
While sub-compact .380's with plastic frames and double-action-only triggers are all the rage, I disagree. I believe that, while one gains comfort and convenience from sub-compact, relatively low powered self-defense handguns need all the help they can get. I prefer pistols that are less difficult to use, with larger controls, cleaner triggers and better sights.
To illustrate this, I would suggest the reader go to his or her local firearm emporium and handle one of the sub-compact DAO .380's and note where one's pinky finger rests (in space, generally) and how easy (or difficult) it is to effect a magazine change. With the shop's permission, squeeze through that gritty trigger stroke while trying to hold the ultra-light pistol steady via the sights.
With any handgun, shot placement is crucial and nowhere is this more emphatic than with handguns dispensing of limited stopping power. With sub-compact pistols, practical accuracy is egregiously compromised for those central nervous system or upper thoracic cavity shots so needed by the small calibers.
I call attention to the smallest member of the Bersa family of .380's, introduced in 2006. Although the magazine capacity is a generous eight rounds in a single column, the makers have managed to make the butt feel even shorter than their standard pistol, added machined grasping grooves to the front strap and recontoured the two-piece, wrap around plastic grip that provides a good grip while still remaining small and snag free, no easy matter. I find this the most ergonomic .380 out there at the moment regarding grip feel. It is that good, though I wish they'd recontour the recurved trigger guard.
Specifications
Caliber: .380 ACP

Length: 6.0"

Width:

 

1.07"
Height:

 

4.54"

Weight: 16.4 oz. without magazine; 18.2 oz. with magazine

Magazine Capacity: Eight rounds

Finishes: Blue or Matte Nickel

Safeties: Manual safety/decocker; magazine interruption; firing pin; internal frame with key

MSRP:

 

$340
The Walther-like fixed barrel provides all the accuracy the little .380 round is capable of, though this pistol's sights have been reduced in size compared to Bersa's other offerings. This makes the sights hard to acquire and maintain. I would have preferred the company's standard sights.
This PPK-size pistol provided no surprises at the range, groups running under three inches, hand held, at 20 feet with hardball ammunition. While some might want 25-yard groups, I think that this range is far more likely in the defensive circumstances envisioned by both the makers and users of a .380 pistol. Accuracy is sufficient for the intended use.
At a street price of under $300, Bersa's newest offering is slick, flat, reliable and reasonably priced, particularly considering its traditional construction. I'd consider it a good back-up gun for the money.
Note: A full length review of the Bersa Thunder .380 can be found on the Product Reveiws page.