Winchester Model 1895 .405: T.R.'s "Big Medicine"
By David Tong
A century has passed since our 26th President and avid hunter, Theodore Roosevelt, went on his post-Presidential African safari of 1909. He went with the trappings of royalty and no less than renowned British hunter Frederick Courtenay Selous was his professional. The safari's avowed purpose was to return the specimens shot by Roosevelt and his son Kermit to American natural history museums. T.R., a noted conservationist and author, also planned to write a book about the experience. That book, African Game Trails, became a best seller.
He took a battery of firearms with him, including a sporterized Model 1903 Springfield rifle in .30-06, a Holland and Holland double rifle in .500-.465 caliber and Winchester Model 1895 lever actions in .30-06 and .405 caliber. All his weapons were fitted for T.R.'s build and dimensions. He liked lever actions because of his myopia and once joked that, if he wasn't a good shot, at least he could shoot often!
Winchester lever guns were among his favorite rifles and TR owned a number of them over the years. He selected the Model 1895 for his safari, because it was capable of handling high-pressure smokeless powder cartridges. He figured that the .405 Winchester caliber would be suitable for buffalo and the big African cats, particularly lion.
T.R.'s .405 rifle featured a custom stock that included a comb with full cheek piece, a recoil pad and high-grade wood. The rifle's metal was not engraved. He called this rifle his "Big Medicine," and it turned out to be perfect for lion hunting. I was able to photograph this rifle at the Cody Firearms Museum in Cody, Wyoming while it was on loan from his former estate, Sagamore Hill in Oyster Bay, N.Y. It was awesome to read about such a fabled piece and more so to see it in person.

T.R.'s famous Big Medicine .405 rifle. Photo by David Tong.
Winchester has had a long history of building commemorative rifles and the 100th anniversary of T.R.'s safari was no exception. The Japanese firm Miroku, which has worked closely with Browning/Winchester for decades, built the TR Model 1895 commemorative. It differs greatly from the original rifle's stock design and features engraving, gold inlays of game animals taken during the safari and a likeness of T.R. I was fortunate to find a dealer that had one in stock for photographic purposes and I was able to examine it closely.
The Model 1895 commemorative has a 24" barrel and its stock lacks the cheek piece and recoil pad of the original, although both rifles have barrel mounted open sights, checkering and a Schnabel forend. The retail price is approximately $1,600. I wish I could have one to give to my son, who I named after T.R.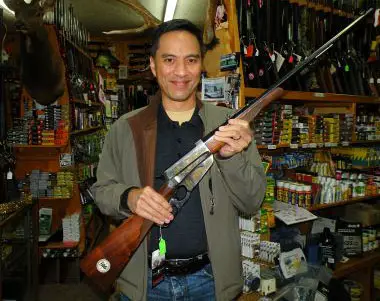 The author holding a new Model 1895 Commemorative rifle in .405 caliber.
I have included photographs of both the original and commemorative rifles. I hope that FN, who now owns Browning and Winchester firearms, will continue to offer high quality, lever action rifles. Winchester lever actions continue to be revered by American shooters, just as they were over a hundred years ago by our beloved President.