BOG-POD CLD-2 Camo Legged Devil Tall Bipod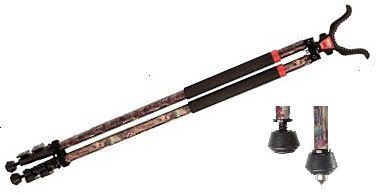 Illustration courtesy of BOG-POD.
There are many bipods, tripods and shooting sticks on the market and they range in price from $40 to almost $200. It should be rather obvious that the cheaper ones are probably not worth your money. They are mechanically inferior with loose or flimsy joints that cannot be tightened, spindly legs and are fabricated from inferior materials.
While the most expensive ones are usually well made, they are frequently over priced. This brings us to the question, how do you know which bipod is the best value for the money?
Until recently, we could not have answered that question to everyone's satisfaction. However, that changed after we had an opportunity to review the Bog-Pod at the 2015 SHOT Show. We asked the folks at Battenfeld, Bog-Pod's parent company, to send a CDL-2 for testing.
Now, before I continue, let me be clear. I prefer tripod shooting sticks, which provide greater stability. This is probably due to my age. Mary and the rest of our crew prefer bipods or monopods. However, I must admit that the Bog-Pod bipod was almost as stable for me as their tripod.
That is quite an admission; as I said, I am biased towards tripod sticks. With that being said, I decided to find out why the CDL-2 bipod was so stable.
The secret of the Bog-Pod stability is not only due to the high strength aluminum used to fabricate the legs, but also the way the legs are connected to each other. Most of the shooting sticks with extendable legs have poor internal reinforcement at the joints, which is why they wobble and tend to bend when you lay your rifle onto the top rest.
Not so with a Bog-Pod bipod. Their joint areas are well reinforced and solid. There is no wobble or flex and we tried, almost to the point that if we had continued we would have broken a fine piece of equipment.
Each three-section leg can be adjusted independently and locked into position with their rapid-adjust level locks. The legs can be adjusted out to a 40 degree angle. This adjustment is very positive, as the tension can be user adjusted with the Allen wrench tool included with the CDL-2.
The CDL-2 adjusts from a useable height of 22 inches to 68 inches when the legs are spread, permitting one to shoot from a sitting, kneeling, or standing position. Even when extended to their maximum height of 68 inches, there is no wobble or bending at the joints.
The inch marks on the middle leg sections permits one to quickly set up the bipod to your preferred height. The universal shooting rest on top swivels a full 360 degrees and is covered with rubber to prevent damage to the rifle's forend.
The rubber feet screw up to expose a steel tip for better grip on ice or other very low traction surfaces. That is a feature you can only appreciate if you have used other shooting sticks which do not have them. Bob-Pod refers to this feature as an "all terrain foot system" and we have to agree with their description. They work very well.
The Bog-Pod CDL-2 comes with a carry bag equipped with a shoulder strap. The closed height is 31 inches and it weighs 32 ounces. The 2015 MSRP is $129.99.
Bog-Pod has two series of tripods/bipods. The only difference between the CDL and TAC models is the finish on the legs (camo vs. black). The CDL-2 is also compatible with the Bog-Pod Switcheroo Shooting System that allows one to quickly change accessories in the field. This is discussed in more detail in our article about their TAC-3S Tripod.