BOG-POD CLD 3 Camo ShootingTripod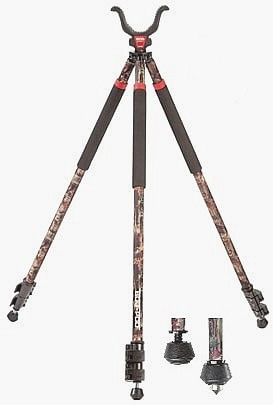 Illustration courtesy of BOG-POD.
Over the years we have acquired and tried out a lot of shooting bipods and tripods, ranging in price from $50 to $150. They all worked, sort of.
Some were constructed of such thin aluminum that they resembled the shock-corded supports on cheap dome tents. They were anything but stable.
As a result, we gave up on trying to find a solid, yet portable, shooting platform. That is, until we saw the Bog-Pod. After examining one of their tripods at a recent trade show, I knew that we had to get one. Through our contacts with Battenfeld (Bog-Pod's parent company), we received the CDL 3 Camo Tripod for testing and evaluation.
The CDL 3 legs are constructed from high strength aluminum that is very resistant to bending (we tried). However, it is light in weight. Each three-section leg can be adjusted independently and locked into position with their rapid-adjust level locks. The legs can be adjusted out to a 40 degree angle. The adjustment is very positive, due to the user's ability to set the tension with the Allen wrench tool included with the CDL 3.
Even when the legs are extended to their maximum height there is no wobble or bending at the joints. The rubber feet screw up to expose a steel tip for better grip on ice, snow or soft ground.
As one would expect, the universal shooting rest swivels a full 360 degrees and is covered with rubber to prevent damage to the rifle's fore end.
Bog-Pod refers to the variety of top mounts available for their tripods and bipods as the Switcheroo Shooting System. You can even get a Bog-Pod cover to set up a portable blind in the field (TIPI-G).
Features
Switcheroo Shootiong System accessories.
Three-section, lightweight aluminum legs with camo finish.
Universal Shooting Rest (rubber covered) that swivels 360 degrees.
Rapid-adjust lever locks with adjustable tension.
Inch markers on middle leg sections for rapid height reset.
All-terrain rubber feet with screw up steel tips for ice.
Adjusts from 22" to 68" for sitting, kneeling or standing positions.
Carry bag and wrench included.
Specifications
Length closed: 31"
Weight: 40 oz.
2018 MSRP: $142.99
The CDL 3 comes with a carry bag equipped with a shoulder strap and an allen wrench for adjustments. The closed height for carrying is 31 inches and it weighs approximately 40 ounces. The only difference between the CLE and previously reviewed TAC series is the color on the legs (camo on CLD, black on TAC).
With a 2018 MSRP of $142.99, it isn't cheap, but quality products usually aren't. Because this unit will last a lifetime and maybe more, it is worth the investment.