Bog-Pod Hiking & Shooting Q-Stik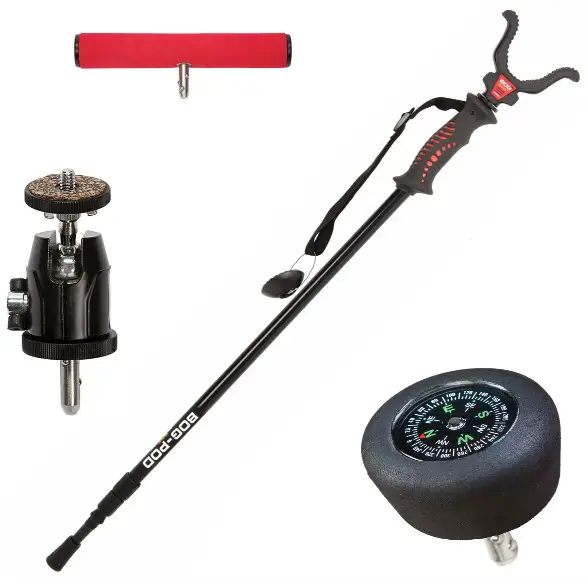 Illustration courtesy of BOG-POD.
Anyone who has ever gone hiking or hunting in the mountains is aware of the benefits of a walking stick. Likewise, shooters know that a monopod or bipod shooting stick is invaluable when the opportunity for a trophy animal arises.
There have been multiple attempts over the years to combine the two concepts. Most of them have failed miserably. They are either too bulky, too heavy, or too flimsy. Finally, the folks at Bog-Pod have gotten it right.
The Q-Stik is just what the doctor ordered. It consists of a three section, very high strength, yet lightweight aluminum leg. Okay, we know there are a lot of aluminum shooting sticks out there. However, there is aluminum and then there is aluminum.
Quality and hardness are the operative words here. We have tested several shooting monopods over the years and rejected them because of the poor quality aluminum. They were unstable at best and wobbly beyond compare at worst.
The three section leg on the Q-Stik is adjustable with rapid twist locks. There are inch markers on the middle leg section to assist in rapidly setting up the correct height. Adjustment ranges are from 29.5 inches to 68 inches, not including any accessory or the shooting rest.
The ergonomically designed hand grip provides positive and comfortable control of the Q-Stick. The Universal Shooting Rest swivels a full 360 degrees and is rubber covered to prevent damage to gun stocks.
As an extra added bonus, the Q-Stik includes a foam covered binocular rest to make glassing in the field a lot easier. There is also a camera adaptor that is designed to fit just about every compact camera on the market today.
To make sure that one stays on track in the field, there is a compass top. This is not a cheapie, it is precise and well protected, should you trip and fall.
The entire Q-Stik package includes a carrying bag for the accessories that are not in use, as well as the Q-Stik itself. The entire setup weighs only 15 ounces. To let you know the designers of this handy device thought of everything, the rubber foot unscrews to expose a carbide tip for better grip on ice or packed snow.
All in all, this is a quality and well designed piece of equipment that is well worth the 2016 MSRP of $119.99. You can spend less or you can spend more, but you will not get the value of the Bog-Pod Q-Stik. It is now a part of our regular hunting gear.