Bog-Pod Xtreme Shooting Rest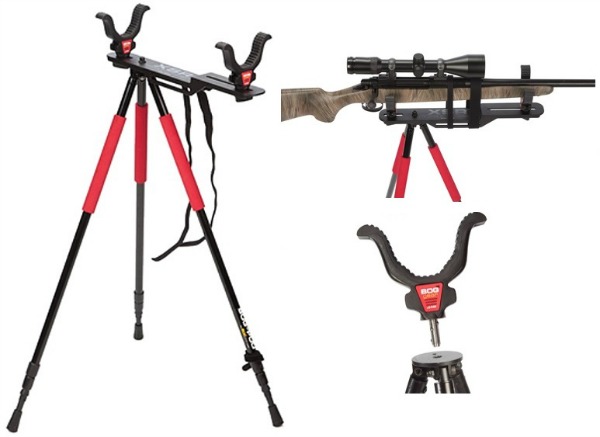 Bog-Pod Xtreme Shooting Rest Combo. Illustration courtesy of BOG-POD.
As more folks become interested in long range shooting, it is only logical that Bog-Pod would design and introduce their Xtreme Shooting Rest (XSR). The Xtreme Rest is designed to perfectly fit on any Bog-Pod tripod. However, when installed on the CLD-3S, TAC-3S or HD-3S tripods it will not rotate fully when in the prone position.
Since most folks will not be using a tripod for long range shooting in this position, those Bog-Pod tripods work fine for sitting, kneeling or standing positions. Hence, if you already own a Bog-Pod tripod, you do not need to purchase another Bog-Pod tripod to use the XSR.
The Xtreme Shooting Rest (XSR) is constructed from high-strength, but lightweight, aluminum. It comes with two specially designed U-shaped rests, the spacing between which can be adjusted to fit most rifles. Two Velcro strips keep the firearm securely locked down on the XSR, permitting the shooter to step away if desired. When installed on the Bog-Pod RLD-3 tripod, it can be rotated a full 360 degrees for target tracking.
The XSR is 15.5 inches long by 2 inches wide, weighs in at about 18 ounces and can be easily stored in your backpack. This is a versatile piece of equipment that can also serve as a bench rest in the field.
However, its primary purpose is to provide a stable platform for shooting or hunting from ground blinds. Once set up and your firearm has been attached, it can remain in a ready position until needed. With a 2017 MSRP of $69.99, the Xtreme Shooting Rest is reasonably priced.
Unfortunately, the Xtreme Shooting Rest is not designed to be mounted on a regular photo tripod (Bogen, Slik, etc.), unless you are willing to modify the XSR. It is intended to be used only with a Bog-Pod tripod. If you do not have a Bog-Pod tripod, the Red Legged Devil Tripod Tall (RLD-3) is the one to purchase for use with the XSR. As with all Bog-Pods, it is designed to accept accessories as part of the Switcheroo Shooting System.
RLD-3 tripod Features
Three-section, high-strength, lightweight aluminum legs with matte black finish.
Universal Shooting Rest (USR) swivels 360 degrees; rubber covered to prevent damage to gun stocks.
Rapid-adjust twist locks loosen or tighten legs with just a couple of turns.
Legs adjust independently out to a 40 degree angle with adjustable tension.
Inch markers on middle leg sections help to quickly reach a set height.
Removable rubber feet unscrew to a reveal carbide tip for better grip on ice.
Use in sitting, kneeling, or standing positions.
Expands from 022 in. to 68 in. usable height when legs are spread.
Height when closed for carrying is 033 in.
Carry bag and Allen wrench included.
Weighs approximately 33 oz.
Purchased separately, the RLD-3 has a 2017 MSRP of $129.99 and comes with the Y-shaped Universal Shooting Rest (USR) at no additional cost. If you purchased the USR separately as part of the Bog-Pod Switcheroo attachments it would cost $24.99.
If you do not already have a Bog-Pod tripod, you can purchase the Super Steady Combo for $189.99 (see photo at top of page), which includes:
Red Legged Devil -3 tripod (RLD-3)
Universal Shooting Rest (USR)
Xtreme Shooting Rest (XSR)
This is an especially useful accessory for varmint shooting, where the targets are small and some sort of field rest is a normal requirement. The Super Steady Combo can be carried into the field to form a reasonably stable shooting position for the varmint hunter.
If you are considering long range big game hunting, remember the slightest breeze can blow your bullet off target at extreme distances, no matter how good a shot you are or how flat-shooting your rifle. This means missed shots and wounded animals that escape to die in agony later, because long range hunters are too far away to track wounded game in a timely manner.
(Most long range hunters are too lazy to even try, writing off wounded animals as "missed" and leaving it at that. If they were willing to track and stalk, they would not take long shots in the first place. -Editor)
This is why, from a personal viewpoint, we do not endorse long range hunting. Before everyone gets too upset, remember, Mary and I have both shot F-Class competition at 1,000 yards and understand the challenges and difficulty of getting on target at extreme ranges.