British Best Shotguns
By Chuck Hawks
E.J. Churchill Premier shotgun. Illustration courtesy of E.J. Churchill Group Ltd.
Let's start by reviewing the definition of "best gun": Best gun is a term used to describe a double-barreled shotgun of the highest quality. One of those few shotguns intended to compete in the marketplace primarily on the basis of quality, design, workmanship and finish rather than price. Most best guns are adorned with engraving, fine line hand checkering, etc. and they are usually available with different levels of adornment. Best guns are typically bespoke guns (or at least available as bespoke guns).
The breech-loading shotgun was perfected in the 1860's and the British game gun as we know it today developed from that point. The early breech loading guns were external hammer guns and these rapidly evolved into the fully developed sidelock hammer guns of the late 1800's that incorporated low profile rebounding hammers, underbolts to lock the gun closed and top lever opening by means of a Scott spindle. These were all British innovations.
Hammerless (actually internal hammer) designs came from the leading British firms in the last 20 years of the 19th Century. British gun makers used the movement of the barrels to cock the hammers on opening and developed safety intercepting sears, automatic ejectors, assisted opening and single selective triggers. The barrels were built on the chopper-lump system, the most difficult and expensive method of attaching two barrels. This method of barrel construction, however, allows the narrowest and lightest possible gun, a fixation with British best gun makers.
British gun makers set the standards for best guns. To this day a "London best" is considered to be the epitome of the gun makers' art. A new London best is just about the most expensive shotgun in the world, and their used prices are also very high.
British gunmakers developed the hammerless boxlock and sidelock actions still used in almost all double guns to this day. World famous London gun makers like Boss & Co., Holland & Holland and Purdey & Sons brought the modern hammerless double gun to perfection and all three are still very much in business. Other London makers also turn out superb best guns today. Among the best known are E. J. Churchill, John Rigby, William Evans, Atkin Grant & Lang and John Wilkes. These are London firms recognized all over the world as "the best."
Not all British best guns are made in London, however. David McKay Brown of Scotland, for instance, builds a superb round action double in the style of John Dickson & Sons, also of Scotland. From Birmingham comes guns with famous names like Westley Richards, A. A. Brown & Sons and William Powell. The new Boss & Co. Robertson gun is also built in Birmingham.
The traditional British best gun features fine rose and scroll or leaf and vine engraving and plenty of fine checkering in simple diamond patterns. The coin finish or case-colored action is impeccably and gracefully filed and the trim, thin-shell walnut stock is precisely inletted. The chopper-lump barrels are perfectly struck and deeply blued. The finished gun is made to balance between the hands. These are functional, lightweight, understated and elegant guns.
To exemplify the modern British trade I am going to use Boss & Co. This is not intended to slight any other maker of British best guns, but is done simply for reasons of space. Although a shadow of its former size, the UK best gun trade is still too large to cover in its entirety in an article of this kind. I recommend Geoffrey Boothroyd's book Sidelocks & Boxlocks to those who would like to read at least a bit about a great many UK gunmakers.
Boss & Co. claims to date back to 1812. Thomas Boss, the founder, worked with Joseph Manton and later with James Purdy before leaving to establish his own firm in 1830. Boss has always concentrated on building the finest gun possible, regardless of expense. To this day, they are makers of best guns only. A quote from the Boss web site (www.bossguns.com) is illustrative:
"When asked if he had ever considered a Boss, King George VI replied, 'A Boss gun, a Boss gun, bloody beautiful, but too bloody expensive!' "
John Robertson joined Boss & Co. as a partner in 1891 and it is he who is primarily responsible for the towering reputation of Boss guns that endures to this day. He was primarily responsible for the design of the successful Boss single trigger mechanism in 1894 and the Boss selective ejector in 1898. In 1909 Robertson patented the Boss O/U shotgun, which might be called the first modern O/U design. The Boss sidelock O/U is still being made and it may well be the best such gun in the world. 2007 Prices start at approximately $149,426 (75,000 GBP) and go up from there. Boss side-by-side guns, which are bar action sidelocks, start at approximately $109,579 (55,000 GBP).
A new development from Boss & Co. is the Robertson gun. The idea for a more economical gun dates back to John Robertson's tenure as Managing Director of Boss. Robertson had a boxlock game gun built in Birmingham that bore his name as a more affordable alternative to a Boss best gun.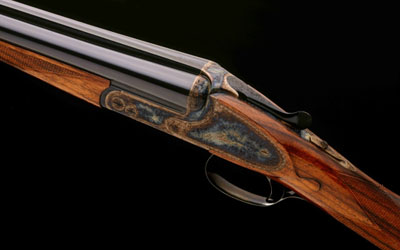 Robertson SxS shotgun. Illustration courtesy of Boss & Co. Ltd.
Today the owners of Boss have followed suit and in 2007 introduced a modern Robertson 20 gauge gun in both O/U and side-by-side form. Other gauges will be forthcoming. In a conversation that took place about two years before the introduction of the Robertson gun the present owner of Boss & Co. told me quite candidly that the Robertson was primarily intended to recover some of the UK domestic market from the Spanish best guns. He asked me if I though there would be a market for such a gun, built in England, at around the price of a top of the line Spanish double. I told him that I most certainly thought that there would be. Now the gun is here, so I hope that I was right!
Here is what Boss literature says about the new Robertson guns: "The concept was to build quality shotguns using CNC technology, but keeping the balance and handling characteristics with the classic looks and fine lines of a best gun. Robertson shotguns and rifles are designed and made in England in our Birmingham factory."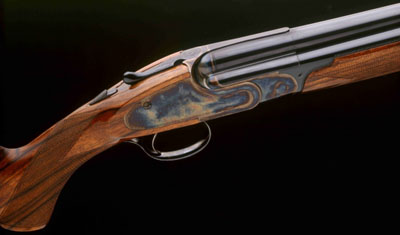 Robertson O/U shotgun. Illustration courtesy of Boss & Co. Ltd.
The Robertson O/U uses monoblock construction, while the side-by-side uses saddle (through lump) construction instead of the chopper lump barrels of Boss best guns. The side-by-side is fitted with false sideplates. It uses a "unique design with tightening insert, disc set strikers and removable joint pin. Heat treated high tensile steel. Based on proven Anson and Deeley action with Scott type lever work and an Anson push rod forend closure. Top tang automatic safety. Southgate ejector work. Semi-round style body. Selective ejectors. Single trigger models have internal safeties whilst double trigger models have an interception safety fitted."
The Robertson comes with a French walnut stock and a splinter forend. Robertson guns are, "Finished in the same way as Boss best guns with hand engraving, best colour case hardening and oil finished stocks." As I write these words, Robertson SxS guns run $11,950-$19,917 (6000-10000 GBP). O/U guns run $15,937-$23,906 (8000-12000 GBP). As King George VI said, Boss guns are bloody expensive; they are also bloody good!