First Look: Browning Black Label 1911-.380 Pistol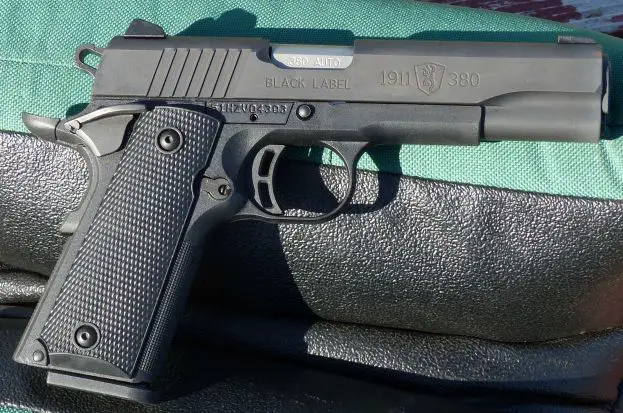 Photo by Randy Wakeman.
The new, highly hyped, Browning Black Label 1911-380 attempts to build upon the popularity of the Browning 1911-22 and the general 1911 look and feel. This is a compact service pistol, rather than a sub-compact like the SIG P238 and Colt Mustang Pocketlite. It is 85% of the size of John Browning's original 1911 45 ACP model. The grip is long enough for three fingers to fit below the trigger guard.
Features include an extended ambidextrous thumb safety, extended slide lock, loop hammer, beavertail grip safety, flat mainspring housing and a heat-treated steel magazine. There is also a skeletonized trigger and combat style fixed sights. Coarse gripping serrations adorn the rear of the slide. The overall finish is matte black with checkered, black plastic grips. The pistol is made in the US and comes with a handy ABS carrying case.
Specifications
Item Number: 051904492
UPC: 023614044451
Caliber: .380 ACP
Barrel Length: 4-1/4 in.
Overall Length: 7-1/2 in.
Weight: 18 oz.
Magazine Capacity: 8
Sight Radius: 5-3/8 in.
Metal Finish: Matte Black
Sights: Combat Patridge type
Grips: Black Composite
Magazine Type: SingleStack
Trigger Guard Material: Composite
Case: ABS
Country of origin: USA
2015 MSRP: $669.99
At its current MSRP of $669.99, it is hard to accept the Browning's cheap plastic sights and it is supplied with only one, single stack magazine. The trigger is barely adequate, with plenty of grit, take-up and false starts. The 1911-380 comes with a magazine disconnect that serves no purpose, except to frustrate.
The Browning 1911-380 works and feels like a modern 1911 pistol. It is comfortable to shoot and generally reliable, with only one failure of the slide to hold-open after the last round was fired from the magazine during my testing. The slide is under light spring tension and is easy to rack, unlike most .380 pistols. While certainly accurate enough for intimate self-defense work, it was not as accurate as a .380 Baikal IJ-70 Makarov that I shot along side.
Accessory imitation ivory, pearl, rosewood and gray hardwood grips are available at $62 or $78 retail, which strikes me as a bit salty. Extra magazines are priced at an exorbitant $56 MSRP.
All in all, I have to categorize the Browning 1911-380 as a forgettable, overpriced .380 that has a lamentable trigger and lacks high-quality sights. While not a disaster, it is no bargain.