Browning Citori 725 Field 20 Gauge O/U Shotgun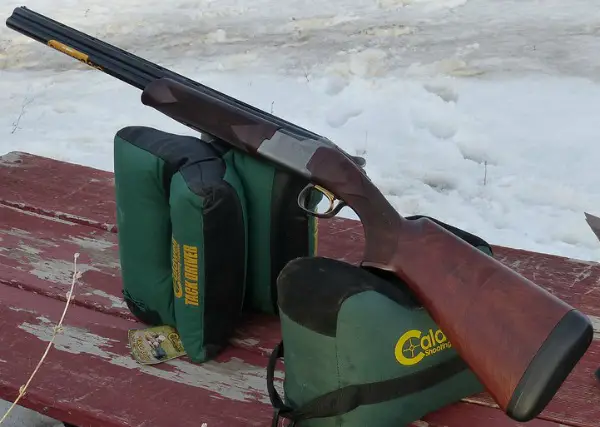 Photo by Randy Wakeman.
At this writing, the Herstal Group (Browning/Winchester) offers five Over/Under actions to choose from: the Winchester Model 101, special order Browning B-25 Superposed, Browning Citori, Browning Cynergy and now the Browning 725 Citori. As it turns out, the new Citori 725 20 gauge reviewed here rates as the best hunting 20 gauge O/U Browning has ever offered.
It is an extremely good-looking gun (unlike the Cynergy) and reasonably lightweight (unlike the classic Citori). The silver-nitrided receiver shows off its game scene engraving, while the barrels are highly polished and deeply blued. The Grade II/III walnut forearm and buttstock are nicely matched in color with generous four panel cut checkering and a gloss oil finish. The wood to metal fit is generally good. Other features include a selective single trigger, selective ejectors, ventilated rib and an excellent Inflex recoil pad.
The 725 action carries on the classic look of the Citori, but has been redesigned. The receiver has a lower profile for reduced muzzle jump and a faster second shot. The 725 retains the basic Citori attributes of hard-chrome plated chambers, the transverse mounted tapered locking lug, coil-spring powered hammers and full width hinge pin. It also has the latest Vector Pro forcing cones.
Browning introduced a new single selective trigger in the 725 series, the mechanical Fire Lite trigger. The trigger on the tested 20 gauge 725 field model breaks at 3 pounds 11 ounces for both barrels, far lighter than the current classic Citori trigger. Barrel selection is via the tang mounted safety, in typical Browning pattern.
The tested shotgun, a 28 inch barreled 725 Citori Field, weighs 6 pounds 9.5 ounces out of the box, some 3.5 ounces heavier than specified. Browning would undoubtedly credit the difference as due to different wood density. An approximately 6-1/2 pound gun is easy to carry and with 7/8 ounce target/field loads you can shoot a 725 all day. Here is what Browning publishes as the basic specifications.
Specifications
Gauge: 20
Item Number: 0135306004
Barrel Length: 28 inches
Overall Length: 45-3/4 inches
Length of Pull: 14-1/4 inches
Drop at Comb: 1-1/2 inches
Drop at Heel: 2-3/8 inches
Approx. Weight: 6 lbs. 6 oz.
Choke tubes: Invector Double Seal
Chokes Included: Full, Modified, Improved Cylinder
Chamber Length: 3 inches
Rib Width: 1/4 inch, ventilated
Trigger: Single selective
Safety: Top tang; incorporates barrel selector
Ejectors: Selective
Barrel Finish: Polished Blue
Stock Finish: Gloss Oil
Wood: Grade II/III walnut
2014 MSRP: $2,469.99
In this gun, the 20 gauge version of the new Invector Double Seal (DS) choke tubes makes its debut. Part of the appeal of the DS choke tube barrels is that they are lighter and more responsive than standard Citori barrels. The longer DS tube gets rid of the barrel bulge at the muzzle and the DS tubes do not shoot loose. They also shoot cleaner than conventional tubes. While the 12 gauge DS tubes I tested are horribly mis-marked and do not perform as promised in the Improved Cylinder to Improved Modified range, that problem appears to have been addressed in the 20 gauge DS chokes.
Only three chokes are supplied with the 725 20 gauge field, but all three (IC, MOD, FULL) throw patterns in line with their markings. All three chokes mount flush. According to Browning, only the IC and the Modified chokes are approved for steel or tungsten shot.
Via a Skeets bore gauge, the diameter of the upper barrel measures .625 inch, while the lower barrel measures .624 inch. The constrictions on the DS 20 gauge tubes are far greater than the 12 gauge DS tubes, measuring .007 inch (IC), .015 inch (Mod) and .029 inch (Full), based on the upper barrel bore.
It is no surprise that these constrictions work about as advertised. In fact, the 20 gauge Invector DS uses more constriction than the old 20 gauge standard Invector. A twenty standard Invector tube used .023 inch for a Full pattern, .006 inch less than the new Invector DS choke tube.
There really isn't much to niggle about here, except that I do think O/U shotguns should all come from the factory with a minimum of five choke tubes: Skeet, IC, MOD, IM, Full. Many folks will want a pair of more open chokes for skeet and something in the Improved Modified area for trap, dove, or pheasant. When you buy this gun, you'll likely be in the market for more choke tubes right away.
Up until now, my favorite Browning twenty gauge was the Cynergy. The 28 inch Citori 725 weighs about the same, kicks about the same (soft for an O/U gun), has dramatically better triggers and is far better looking. The MSRP of the Cynergy Field is currently (2014) at $2849.99. The new Citori 725 lists at $2469.99, a difference to which no one will object.
Although not remotely the most expensive O/U I've tested, the 725 Citori 20 gauge is one of the most pleasurable. it is fun, comfortable and easy to shoot. Browning has done an excellent job with this model. It is easily one of the best shotguns of 2014.