Browning 725 Citori Field 20 Gauge O/U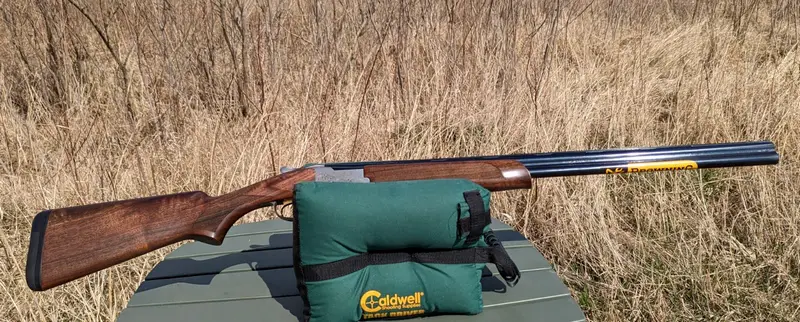 Photo by Randy Wakeman.
The tested gun is a 2023 Browning Citori 725 Field 20 gauge with 28 inch barrels, the "Field" designation has a steel receiver as opposed to the alloy Featherlight models. MSRP is $2879.99 U.S. The published Browning specs follow.
| | |
| --- | --- |
| Item Number 0181656004 | UPC 023614736684 |
| Gauge 20 | Chamber Length 3 |
| Barrel Length 28 | Overall Length 45 3/4 |
| Length of Pull 14 1/4 | Drop at Comb 1 1/2 |
| Drop at Heel 2 3/8 | Weight 6 lbs 9 oz |
| Magazine Capacity 0 | Rib Width 1/4 |
| Barrel Finish Polished Blued | Stock Finish Gloss Oil |
| Wood Grade Grade II/III | Chokes Included Full, Modified, Improved Cylinder |
| Receiver Finish Silver Nitride | Chamber Finish Chrome Plated Chamber |
| Front Sight Ivory Bead | Choke System Invector-DS Flush |
| Barrel Material Steel | Stock Material Black Walnut |
| Recoil Pad Inflex 2, Large | Checkering Cut 20 LPI |
| Sling Swivel Studs None | Receiver Material Steel |
| Trigger Finish Gold Plated | Trigger Guard Finish Silver Nitride |
| Trigger Material Alloy | Trigger Guard Material Steel |

The tested example weighed in a bit lighter than stated, at 6 pounds, 6.3 ounces, unloaded, with factory choke tubes installed. This is lighter and livelier than many other steel receiver 20 gauge vertical doubles, a very good thing for a long day afield. The Browning hybrid mechanical triggers are outstandingly good, breaking crisply at 3 lbs, 3 oz.
Although this 725 is generally an attractive shotgun, the grade of walnut is just above average, with little figure. It isn't as pleasing to the eye as the stock set on the 725 Feather: https://www.chuckhawks.com/browning_725_feather_20ga.html . A beautifully balanced shotgun, this specific 725 Field example was marred a bit by an excessively stiff tang safety, a very difficult to get off safety that I consider an anomaly for no Browning O/U I've ever tested has had a safety nearly this stiff. Browning Customer service in Arnold, Missouri suggested that it could be a burr or old grease, but I test shotguns as supplied and unmodified. As with most Browning field doubles, the stock is neutral cast.
I'm not a fan of center beads on hunting shotguns, but the pressed-in bead on the 725 is tolerable, as it blocks out about half of the front bead. This gun is remarkably soft-shooting with 7/8 oz. 1200 fps Remington Clay & Field loads. The Browning Inflex 2 recoil pad is exemplary. There is scant little to gripe about here with the 725, except that supplying only three choke tubes is a lot less than generous with a brand name O/U. Browning Invector-DS tubes do pattern a notch or two more open than marked, so you can consider more choke tubes as part of the basic purchase cost.
Browning has very good barrel regulation in general compared to other competitive brands, notably Beretta. With superb balance, a pleasingly light carry weight, terrific triggers, and low recoil, this is a shotgun that belongs on everyone's short list for an upland over and under.