Browning Announces New A-5 and Citori 725 Shotguns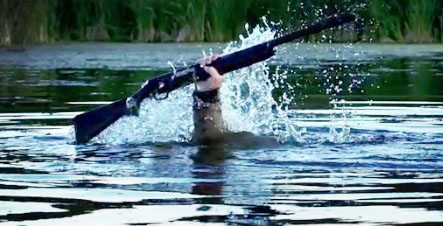 Photo courtesy of Browning Arms.
Two new 2012 shotgun offerings have been announced from Browning Arms, the Citori 725 O/U and the A-5 autoloader. Both incorporate a new screw-choke system from Browning, the Invector DS meaning "double-seal." A long choke tube, it has threads at the muzzle and a brass seal on the opposite end.
The 725 is presented as a lower-profile, better triggered Citori. According to Browning, "The 725 showcases an all-new mechanical trigger (FireLite) that offers unmatched feel and lighter pull weights than ever before. Inflex Technology has also been added to make shooting more comfortable. And the new Invector-DS choke system moves to a new level of performance." The Citori, the most popular O/U ever made, has long been in need of losing some weight for upland hunting and a better trigger would naturally be appreciated.
The new A5 is an A-5 in name only, as the short-recoil action is called the kinematic drive system. Browning has this to say, "The all new Browning A5 is built to be the most reliable, fastest cycling, best performing and softest shooting recoil-operated (yes, recoil-operated) autoloader on the planet. And we are so confident in the A5, we are standing behind it with a 100,000 round or five year guarantee that this shotgun will work, come hell or high water. Standing firmly behind this claim is the ultra-reliable, honed to perfection Kinematic Drive System." With a mainspring behind the breechblock, many will feel that this new action is Browning re-engineering of Benelli's so-called inertia action.
It all looks like fun. Somehow, it isn't exactly the first time we have heard "most reliable, fastest cycling, and softest-shooting," though. Most autoloading shotguns made today are presented as coming with this, by now, fundamental and very basic feature set. That would include whatever Beretta, Benelli, Remington, Winchester and Browning happen to have for sale at the moment. Actually, the original Auto-Five was reliable and cycled fast.
For the new "A5," the use of the model number is a misnomer, as it has nothing in common with J.M.B.'s Automatic-Five. It is confusing to consumers to hang that designation on a new model, just as the "A500 / A500R / A500G" was presented as the successor to the long-recoil A-5, which it clearly wasn't. To be fair, though, Herstal Group has relied on one basic autoloader (the "Gold family") since 1993, with countless variations. After nearly twenty years, it is likely past time to offer more than just a gas autoloader. Certainly the "Beretta Group" has had little trouble populating it offering with far more variety over the same time frame. The new A5's logical competitor is the Benelli M2. The promise of being able to cycle 7/8 ounce loads holds great appeal for many shooters in the new A5 and I'm glad to see that it retains the Browning Speed-loading. While part of me laments the lack of attention to the 20 gauge from Browning, it is good to see that the A5 Hunter model offers polished blue and walnut.
Naturally, it is too early to tell what will be the case in terms of the real-world performance of either model.