Browning Ammunition, October 2017 Update
By Gary Zinn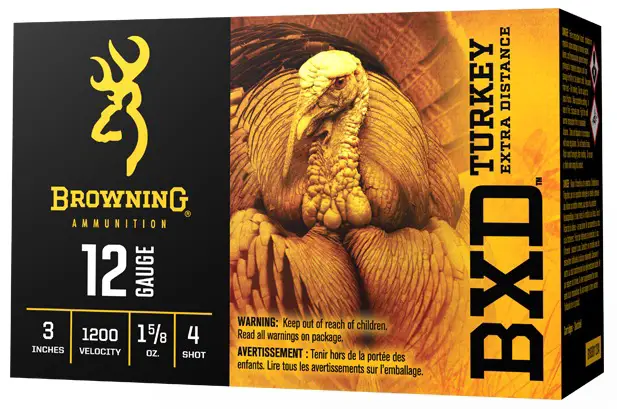 Browning BXD Turkey loads. Illustration courtesy of Browning North America.
It has been almost a year since I reported on the new line of ammunition from Browning. (Browning Enters the Ammo Market with a Bang!) The company has added seventeen more items in the meantime, so an update as of October 2017 is in order.
Let's begin with shotshells, where there are seven new loads for hunting turkey. BXD Turkey loads are available in 12 and 20 gauge, with most of the action in the former. Three each, 12 gauge, 3-1/2" loads and 3" loads, and a single 20 gauge 3" load are available, using buffered, nickel plated lead shot. The two sizes of 12 gauge loads are available with number 4, 5, or 6 shot, while the 20 gauge load is offered with number 5 shot only.
All turkey loads are rated at 1200 fps MV. The 3-1/2" 12 gauge loads carry 1-7/8 ounces of shot, the 12 gauge 3" loads have 1-5/8 ounces, and the 20 gauge load throws 1-1/4 ounces. Needless to say, these "Roman candle" shells kick like the very devil.
Browning also offers new loads for the shotgun deer hunter, in 12 and 20 gauge with BXS sabot slugs. Both loads are 2-3/4" shells, throwing 1 ounce (12 gauge) and 3/4 ounce (20 gauge) slugs at a muzzle velocity (MV) of 1600 fps. The projectiles are copper, with a polymer tipped hollow point. The shoulders of the hollow point slug are supposed to expand into petals on impact.
The new turkey and deer loads expand the Browning shotshell offerings into new hunting applications. Meanwhile, the upland and target shotshell loads originally introduced remain unchanged.
There is also a new line of centerfire rifle "predator" (Class 1 animal) loads, launched with one load each in four calibers. These all use a polymer tipped, rapid expansion bullet design called the BXV, including:
.223 Remington - 50 grain bullet at 3400 fps MV
.243 Winchester - 65 grain bullet at 3400 fps MV
.22-250 Remington - 50 grain bullet at 3800 fps MV
.22 Hornet - 35 grain bullet at 3100 fps MV
The .22-250 Rem. and .243 Win. loads are no-brainers for serious varmint or predator hunting. I had speculated that Browning might decline to join the already crowded .223 Rem. ammo market, but I guess they wanted a toehold there.
The most surprising varmint load is for the .22 Hornet. This has merit as a light, moderate range round, I guess. This .22 Hornet load is identical in ballistics to the Winchester Varmint X load, which leads me to suspect that it is simply the Winchester load, in a different box.
Time will tell whether Browning expands this varmint ammo line, by offering other bullet weights or additional .22 or .24 caliber cartridges.
Two of the four new items introduced in the BXR big game ammo line are the:
6.5 Creedmoor - 129 grain bullet at 2850 fps MV
.270 WSM - 134 grain bullet 3175 fps MV
These cartridges did not surprise me at all, for Browning makes rifles in these two calibers. It makes sense to offer ammo for them. The BXR bullet is specifically designed for hunting deer and similar game and these loads are highly suitable for all Class 2 game, although the 134 grain bullet weight in .270 caliber (.277") is unusual.
Somewhat more surprising are two new BXR loads in 7mm Remington Magnum:
7mm Rem. Mag. - 144 grain bullet at 3100 fps MV
7mm Rem. Mag. - 144 grain bullet at 2800 fps MV
The Browning big game ammo line, with controlled expansion BXC bullets, includes a 7mm Rem. Mag. load with a 155 grain bullet at 2950 fps MV. This load is suitable for elk and other Class 3 game, so adding a lighter weight BXR bullet load, for use against Class 2 game, was not really a surprise. The surprise is that Browning would go for two loads here, again using bullets of unusual weight.
The load with a 144 grain bullet at 3100 fps is a full power load for the cartridge, while the load at 2800 fps is more a reduced recoil load in the 7mm Rem. Mag. caliber. In fact, the only difference between this and the Hornady Custom Lite 7mm Rem. Mag. load is that the Hornady load uses a 139 grain bullet, while the light Browning bullet weighs 144 grains.
The point is that anyone who hunts with a 7mm Rem. Mag. rifle can stoke it with Browning BXC ammo suitable for Class 3 game, or can use full power or lighter (but still very capable) BXR Class 2 game loads. This makes for nice versatility, which I presume is what Browning had in mind when they introduced two BXR loads for the big 7mm.
Are there more ammo introductions from Browning pending? Almost surely.
The obvious hole in the centerfire rifle ammo lineup is the lack of a 7mm-08 Remington load in the BXR line. In addition, I fully expect the Browning line of handgun ammo (.380 ACP, 9mm Luger, .40 S&W and .45 ACP at present) will be expanded to include .38 Special, .357 Magnum and .44 Magnum loads. Loads for these three cartridges would be my nominations for top priority in 2018 introductions.
Finally, I have a less obvious wish for new products from Browning. The company would really get my attention if they were to chamber one or more of their rifles for the .338 Federal cartridge, along with at least one each of BXR and BXC loads in the caliber. The .338 Federal is an under-appreciated and under-promoted cartridge.
(The BLR, BAR and X-Bolt rifles are obvious candidates for the .338 Federal, along with a 180 grain bullet at 2450 fps in a moderate recoil BXR load and a 200 grain bullet at 2700 fps in a full power BXC load. -Editor)