BSA 140 Lumen LED Tactical Flashlight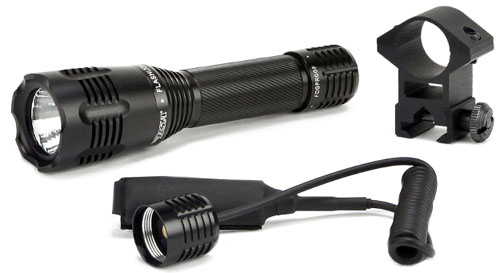 Photo courtesy of GAMO Outdoor USA, Inc.
The BSA Tactical Light comes in its own carrying case, complete with mounting ring, momentary pressure pad for intermittent use and two 3v lithium batteries. The 140 lumen power output of the flashlight is comparable to other brands selling at twice the price.
The flashlight is made of heavy gauge aircraft aluminum and is water resistant and fog proof. The latter are essential for use in humid or wet environments, especially snow… which most of the country is experiencing as we write.
When most folks hear the term "tactical flashlight," police and military units come to mind. However, this flashlight also has benefits for the outdoorsman. I mounted this unit on both our Ruger Mini14 Ranch Rifle and Ruger 10/22. With the high base, see-through mount, both rifles are perfect for night use against the predators that linger around our place. We no longer have to hold a flashlight against the forend of the rifle while trying to find a moving target in the dark.
The 5.2" flashlight weighs a mere 2.4 ounces and has a LED lifetime of 5,000 hours. It can be detached for hand use in the field or mounted with the pressure pad that allows one to light up the target with a continuous beam or flashing beam. The only disadvantage is the lithium batteries, which are costly compared to regular alkaline batteries. (We admit this is a personal bias.) When lithium batteries die, they go instantly, compared to the slow dimming characteristic of alkaline batteries. The latter gives you some warning that it is time to change the batteries. Given the CREE technology and lumen output available in modern LED lights, alkaline batteries are definitely the way we prefer to go.
Having voiced our opinion on batteries, this BSA product is an excellent package. The online price has been reduced from $109.95 to $69.95. The unit is also available online with 160 and 180 lumen options. Whether you use this BSA Tactical Flashlight on your rifle or as a handheld flashlight in the field, it is a good buy.