BSA Contender 6-24X40 RGB Riflescope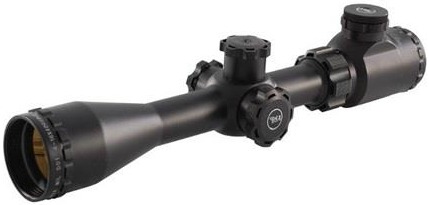 Illustration courtesy of BSA Optics.
We ordered this scope to mount on a Remington Model 700 (.22-250 Rem) that we use for coyote and prairie dog hunting. We wanted a medium priced scope with enough magnification for long shots at small targets.
The scope comes with a matte black finish to eliminate reflections from the scope body. It was shipped in a sturdy box, well packaged with foam to prevent possible damage during shipping. Thank goodness, not a blister pack.
Features and Specifications
Exterior finish: Matte black
Mil-Dot Reticle
Illuminated Reticle with Rheostat Knob on Ocular bell (Red-Green-Blue)
Battery: CR2032 Lithium (included)
Magnification: 6x-24x
Ocular Bell Outside Diameter: 45 mm
Fast Focus Ocular Bell
Objective Bell Outside Diameter: 49mm
Objective Lens Diameter: 40 mm
Optimum Eye Relief: 4 inches
Parallax Focus: 10 yards to Infinity via side knob
Adjustment Graduation: 1/8 MOA
100 yard FOV (feet): 4.2 (24x) to 16.7 (6x)
Internal Adjustment Range: 35 MOA
Main Tube Diameter: 1 inch
Length: 14 inches
Weight: 17.37 ounces
Fully Multi-coated Optics
Waterproof - Fogproof - Shockproof (Climate Xtreme Protection)
Nitrogen filled tube to prevent internal fogging
Push/Pull Turrets with Zero Reset
Ocular bell and Objective Lens dust covers
Threaded 3 inch Sun Shade included
Limited Lifetime Warranty
Country of Origin: People's Republic of China
2014 MSRP: $229.95
We would have liked an internal adjustment range of 45 MOA instead of 35 MOA, since elevation is the major adjustment required for long range shooting. However, a 20 MOA rail takes care of that quite nicely. We use 20 MOA rails on our F-Class target rifles, even though their scopes have 45 MOA adjustment range.
The 1/8 MOA adjustments are ideal for a long range scope, potentially allowing for small changes in elevation and windage. The push-pull turrets for elevation and windage, with their zero-reset capability, worked well. It was nice not having remove turret caps or use coins to make adjustments. The design of the turrets allows for smooth and easy adjustments. They may not be as sleek looking as conventional turrets, but we will trade that for the convenience of the "gear head" design.
The side parallax focus turret is also push-pull. The adjustment values, which face the shooter, are easily read in the window on the turret. No more reaching for the front of the scope to change the parallax on the objective bell.
The magnification adjustment is on a separate ring in front of the ocular bell. It is essentially a flattened gear ring (which can be seen in the illustration). Because of its design, magnification changes can be easily made when needed. The fast focus on the ocular bell is easy to use and positive enough so as not to jarred out of adjustment by recoil. The scope's internal construction proved more than adequate to handle the recoil of our .223 rifle.
The illuminated reticle is a nice feature for low light conditions. There are three intensity settings for each color. We felt the adjustment turret that controls the illumination required excessive effort to turn. The engineers at BSA are working on the problem as we write. This is a relatively minor issue.
The field of view at 24X (only 4.2 feet at 100 yards) proved adequate for finding a target at 200 yards. There is a slight loss of resolution at the edge in the field of view at 24x magnification; otherwise, the contrast and sharpness are good. All of the optical elements are multi-coated with anti-reflective coatings designed to provide optimum low light wavelength transmission.
The tube is purged and nitrogen filled to prevent fogging. This scope carries the BSA Climate Xtreme Protection, meaning that it is waterproof, fog proof and shockproof under all normal conditions to which a riflescope would be subjected. Should one of these scopes fail under normal circumstances, BSA Optics will repair or replace it at no charge.
The BSA Contender 6-24X40 RGB is a reasonably priced scope and it was thoughtful of BSA to include a sunshade for the front objective, as well as lens caps. A friend informed us that a chap in Africa bagged three crocodiles with a Contender mounted on his rifle. We will be keeping this one.