BSA Tactical Riflescopes: The Contender 4-16x40mm and Tactical Weapon TW2.5-8x36mm
We decided to add a couple of riflescopes to our inventory that would meet three criteria: First, they had to be adequate for mid-range tactical use. Second, they had to be able to serve as hunting scopes out here in the western U.S. Third, they must be of good quality and not savage our budget, preferably with MSRPs under $250.
Given our experience with F-Class shooting, we determined that the scopes needed to have at least 40 MOA elevation and windage adjustments. That tactical requirement narrows the field considerably. However, adjustments in that range are essential for competition shooting.
Having had an excellent experience with the BSA Edge pistol scope, we decided to check out the catalog of BSA riflescopes to determine if any met those specifications. We found several that appeared to meet our requirements. We selected two scopes for testing:, the BSA Contender 4-16X40RGBGE Tactical Scope and the BSA Tactical Weapon TW2.5-8X36 scope.
For those readers who have not read our review on the BSA Edge pistol scope, we will say again, "Today's BSA scope is not the BSA scope of the past." When Lou Riley took over as CEO of GAMO, he was determined to improve the quality and make BSA scopes competitive with other mid-range scopes, such as Weaver, Sightron and Burris. Long story short, he completely changed the way BSA scopes were made, insisting on only quality components, internally and externally. Not wanting to take anything at face value, we ordered the above tactical scopes for testing on our Ruger Mini-14's. Granted, Mini-14's are hardly target rifles, but they work for us. We use them for predator hunting and mid-range tactical shooting. They perform very well after they are given a trigger job.
Before we get into the actual field tests of the scopes we would like to chat a bit about mounting the scopes. Everyone knows that it is important to level a scope in the rings and properly torque down the screws. Then comes the task of bore sighting. For more years than we can count, we used the Sweeney bore sighter with an assortment of spuds. It worked, as long as you did not use high rings. Unfortunately, it was of no value on AR platforms.
We tried the Laser Lyte device in the end of the barrel. It never seemed to work very well for us and the small plastic end pieces were always getting misplaced. At Mary's urging, I moved into the 21st century and bought a Wheeler Professional Laser Bore Sighter. Where was this when I needed it decades ago? Ok, they didn't have lasers in the dark ages. Thanks for reminding me. Now, with the PLBS, bore sighting is fast and accurate. For details on this slick tool, see the review on the Guns and Shooting Online Rifle Information page under the "Accessories" heading.
Both BSA tactical scopes had excellent contrast and resolution. We believed the optics to be superior to other riflescopes in the same price range. There was very little distortion and the edge-to-edge sharpness was excellent. From a purely optical standpoint, we found no deficiencies. With all of the optical elements being multi-coated, each scope was sharp and clear through the full range of magnification adjustment.
Contender 4-16x40RGBGE Specifications and Features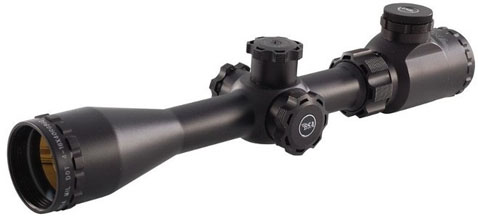 Illustration courtesy of Gamo Outdoor USA.
Magnification: 4-16x
Obj. Lens diameter: 40mm
Exit pupil: 10mm (4x) to 2.5mm (16x)
Field of View @100 yards: 30'- 7.3'
Light Transmission Day/Night: 88%
Eye Relief: 4"
Reticle: Illuminated (Red/Green/Blue), Glass Etched, Mil-Dot Crosshair
Adjustment Controls: Illuminated for night or low light adjustments
Battery: CR2032
Click Adjustment Value: 0.125 MOA (1/8" at 100 yards)
Max. Elevation/Windage adjustment: 40 MOA
Side Parallax Setting Knob: 10 yards to infinity
Weight: 16.95 oz.
Tube Diameter: 1"
Length: 12.59" (without included 3" screw-in sunshade)
Fast Focus adjustment on Ocular bell
Push/Pull Turrets with Zero Reset (ball & coil retention system)
2013 MSRP: $209.95
Mary really liked the Contender and it is now permanently mounted on her Ruger Mini-14. However, both of us felt that the adjustment knob for the illuminated reticle was much too hard to turn. While the detent was very positive, too much effort was required to change the illumination settings.
As a tactical shooter, Mary especially really liked the 1/8 MOA adjustments and Zero Reset on the turrets. The sunshade was a nice extra, especially with its screw-in feature.
Tactical Weapon TW2.5-8X36 Specifications and Features

Illustration courtesy of Gamo Outdoor USA.
Magnification: 2.5-8x
Objective Lens Diameter: 36mm
Exit Pupil: 13.3mm - 4.5mm
Reticle: Mil-Dot Crosshair
Field of View @ 100 yards: 37.2'-10.9'
Eye Relief: 4"
Parallax Setting: 100 yards
Click Adjustment Value: 0.25 MOA (1/4" at 100 yards)
Max. Elev./Windage adjustment range: 45 MOA
Transmission Day/Night: 95% / 90%
Twilight Factor: 9.48 - 16.97
Eyepiece Diopter Compensation: +/- 3
Main Tube Diameter: 1"
Length: 12.28"
Weight 13.74 oz.
Push/Pull Turrets (ball & coil retention system)
Fast Focus adjustment on Ocular bell
Weaver-style medium ring mounts included
MSRP: $125.95
I preferred the Tactical Weapon 2.5-8X scope. All of my other scopes have 1/4" MOA adjustments, so this one fits right in. It has the 45 MOA elevation/windage that I am used to on my other tacticals and is uncomplicated.
As for not having an illuminated reticle, I've never had one in the past and don't need one now. That being said, Mary really likes the illuminated reticle on the Contender. This is the difference between the old guy and a younger woman: she wants all the extra options she can get, whether it be on her rifles, scopes or cell phones. She has truly embraced modern technology. She does her best to drag me along, sometimes even successfully.
Only you can determine if the extra features on the Contender are worth the extra bucks. From a purely value point of view, we believe they are, which is one reason Mary choose the Contender. Both scopes carry Mr. Riley's signature guarantee of "Extreme Climate Protection", meaning that they are waterproof, shockproof and fogproof. They carry a lifetime limited warranty against defects. These scopes are a good buy and should provide many years of reliable service for both tactical shooters and hunters.