First Look: BSA Tactical TW 3.5-10x40mm WRCP Riflescope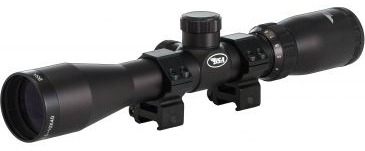 Illustration courtesy of Gamo Outdoor USA.
We received this scope for inspection in advance of its availability in stores. BSA states it is specifically designed for military and law enforcement use. While we are not currently in the military or active in law enforcement, we concur. Compared to BSA's sporting scopes, this appears to be a heavy-duty scope designed to stand up to the rigors of a tactical environment.
The two-piece, 30mm main tube is heavier than those found on most sporting scopes, although probably not as strong as a one-piece main tube of the same (unspecified) aluminum alloy. Naturally, the actual alloy used in the scope tube has much more to do with determining its strength that whether it is 25mm or 30mm in diameter.
The primary advantage of a 30mm main tube is that (potentially, at least) it allows greater windage and adjustment range. Sadly, many mass produced rifles today (especially the proliferating economy models) have their scope base mounting holes improperly aligned with the axis of the bore, which requires scopes with increased internal adjustment range to compensate. That is why 30mm main tubes are increasing used by riflescope manufacturers. Oddly, in the case of the Tactical TW 3.5x10x40 WRCP, BSA failed to take maximum advantage of the 30mm main tube.
The Tactical TW 3.5x10x40 WRCP has 40 MOA of windage and elevation adjustment range, which is about average for a riflescope of this magnification built on a 25mm (one inch) diameter main tube. For example, riflescopes of similar magnification built on 30mm main tubes from Sightron have 70 MOA adjustment range and those from Leupold have 65 MOA adjustment range.
Appreciated convenience features include a fast focus eyepiece ring and fingertip windage and elevation adjustments. Fully multi-coated optics help to suppress lens flare. The windage and elevation adjustments click in 1/4 MOA increments and the scope is adjusted to be parallax free at 100 yards. Parallax correction is not user adjustable for other distances.
Specifications and Features
External Finish: Matte Black
Mil-Dot Reticle
Magnification: 3.5x-10x
Tube Diameter: 30mm
Eye Relief: 3.5 inches
Fast Focus Ring
Fixed 100 yard Parallax Setting
100 yard FOV: 34.4 feet
Adjustment Graduation: 1/4 MOA
Internal Adjustment Range: 40 MOA Elevation / 40 MOA Windage
Tactical Finger Adjustable Turrets
Two-piece Aluminum Body
Length: 12.3 inches
Weight: 17.4 ounces
Fully Multi-coated Optics
Haze Filters
Weaver-style medium mounts included
Waterproof / Shockproof / Fogproof
Limited Lifetime Warranty
2014 MSRP: $169.95
As you can see from these specifications, the eye relief should be adequate for medium recoil cartridges on the order of the .308 Winchester. However, it is deficient for use with powerful magnum numbers. Many tactical scopes have at least four inches of eye relief and some have considerably more.
Having previously reviewed several other BSA scopes made for military and law enforcement, we have to say that this one apparently tops them all for construction. It doesn't have all the bells and whistles found on some tactical scopes. However, if you ask the men and women in the field, they will tell you that all they need is a reliable scope with a mil-dot reticle that provides them with enough magnification to get the job done.
This scope accomplishes exactly that. It reminds us of the Nightforce tactical that we reviewed several years ago; same features, except the BSA costs considerably less.