2002 Buell XB9R Firebolt - A Last Idiosyncratic Hurrah
By David Tong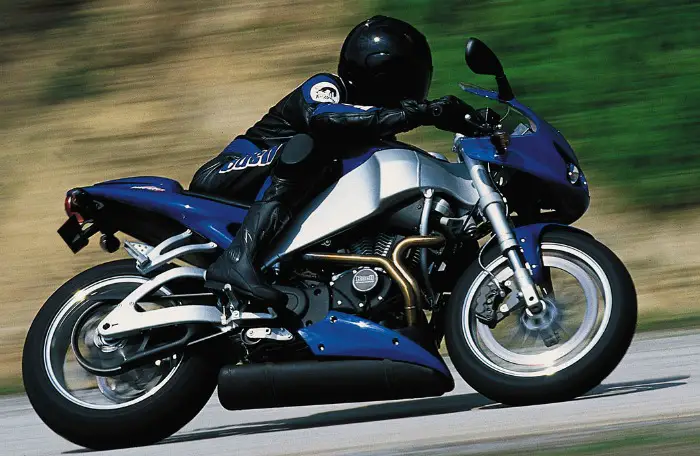 The Buell Company was one that showed founder Erik Buell's racing roots, as well as his engineering chops. I vividly remember his print ads in the bike rags of the time, talking about his "Trilogy of Tech." The tenets were mass centralization, chassis rigidity and very light unsprung weight.
While earlier Buell naked sport bikes used tuned variations of the 1,200cc Sportster engine, the XB9R distilled this into a very compact and unusual machine, indeed. The prior X1 Lightning used a tubular steel frame, cast aluminum bolt-on seat frame and the engine put out about 100 horsepower at the rear wheel. The riding position and the bike's attitude were eerily similar to a Ducati Monster, which I had owned, although the feel differed greatly.
I had ridden the X1 out of Glendale Harley-Davidson on a test and the sales guy knew how to sell the thing to me, as he took me up the Angeles Crest Highway for a short spin. Those of you from Southern California recognize that piece of tarmac as one of the most entertaining in all of motorcycledom, replete with switchbacks and properly cambered sweepers, with a few long straights thrown in for good measure.
While the fuel-injected machine had a great mid-range, being a long stroke OHV mill means that it cannot rev safely beyond 6,500 in street trim, but it was very predictable and linear in its steering and braking. The odd underslung rear shock operates by extension as the rear wheel strokes upward, but after riding it on the Crest, I thought having owned the Monster without having tried one of these was a mistake.
The Firebolt was a magazine test bike for Motorcyclist and Sport Rider. It had pretty radical dimensions: 52 inch wheelbase, 21 degrees of rake, 3.5 inches of trail, 420 pounds wet and ready to ride. It had a Sportster engine variant displacing 984cc and this put out about 76 rear wheel horsepower and 60 ft. lbs. of torque. The power band was so broad it would accept full throttle from as little as 2,000rpm.
Erik Buell was also big on reducing mass height, so what he did here was an indicator of the out of the box thinking of which he was so capable. He realized that placing the fuel on top of the twin spar frame meant that the CG was going to be quite high, so in the name of bending and torsional rigidity, he made the aluminum twin spar frame into the fuel tank. It held some 4.4 gallons of gas, enough for sprint races, as well as afternoon street rides.
He also installed some attractive, feathery aluminum wheels that featured another engineering tour de force: a front rim mounted disc nearly as big in diameter as the 17 inch hoop onto which it was float mounted. Reducing mass by increasing the geometric advantage of the large diameter, lightweight rotor meant he could dispense with the second brake rotor and caliper of a more traditional set-up. Said brake had a linear feel and plenty of power.
Moreover, the triangular box he designed for the rear swing arm became the bike's oil tank. This removed it from proximity to the engine's heat and lowered the CG by about a foot, compared to a more normal location level with and aft of the rear cylinder.
The bike was physically tiny, nearly three inches shorter than a Yamaha R6 super sport. That bike was, and is, one of the quickest handling sport bikes ever made and still dominates AMA racing in its displacement class to this day.
Yet, as with other Buell's, the Firebolt has its quirks. The riding position is very compact. With the handlebars being quite far forward, if not particularly low, I felt a bit like a crouching frog when assuming the position. With my 32 inch inseam, the knee bend means this is not your dad's Sportster.
I remember some grumbling about how the mass centralizing and suspension action caused the bike to stand up in turns under braking, more so than other bikes. I guess that depends on one's skill level and bravery on the street. I thought it was tack-sharp, especially in the Santa Monica Mountains, whose small paved goat paths to the beach are a never ending descent of switchbacks and decreasing radius turns that seemed tailor-made for a short, light motorcycle. To put the Firebolt's weight in perspective, we are talking about a motorcycle with a Harley Sportster engine and its wet weight was only about 30 pounds more than my 1979 Yamaha RD400 two stroke twin!
This was not one of those bikes that you bought for bragging rights about quarter mile trap speeds, top end, or as a club racer. This was just a very good street bike that flattered the smooth rider who understood how to apply throttle and brakes, so as not to interrupt the flow of the roadway passing beneath the wheels.
It was a bike made for the pure joy of straightening corners, with elegant and iconoclastic engineering to make it happen. Sadly, the enterprise ended in 2012 when Harley-Davidson closed the Buell subsidiary it had owned for nearly a quarter century. I think the motorcycle world is poorer for it.