Burris 2-7x26mm Compact, Short Mag and Timberline Riflescopes
By Rick Ryals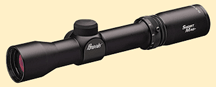 Illustration courtesy of the Burris Company.
The subject of this review is a Burris Compact 2-7x26mm variable power riflescope. According to the specifications page on the Burris web site and the Burris 2007 catalog, this scope is identical to the Burris 2-7x26mm Short Mag scope in every particular, except it lacks the "Short Mag" logo on the ocular bell. In 2008 this line was renamed "Timberline" and got yet another logo on the eyepiece, but the Burris 2-7x26mm scope remains the same regardless of which name it is sold under.
Burris has acquired a good reputation for reliability. When reading the print gun magazines you will be hard pressed to find products being called by name when negative qualities are discussed. (Not true, however, here on Guns and Shooting Online! -Ed.) However, there is no reluctance to mention names when positive qualities are noted. I have seen Burris scopes mentioned often where ruggedness and reliability was discussed. Since I don't have a selection of hard kicking rifles of my own to test this quality, I have to take their word for it.
Burris scopes are also well regarded for their optical quality. This feature is more easily verified by the average person than ruggedness or reliability. I have found that the Burris Compact 2-7x26 provides very clear and crisp views of the target.
Overall length is 9.5 inches. Weight is 11 ounces. Eye relief is a generous 3.75 to 5.0 inches. Objective diameter is 26 mm. Exit pupil is 10.4 to 3.8 mm. Field of view is 32 to 14 feet at 100 yards. Adjustments are by 1/4 minute of angle clicks. Overall adjustment range is 60 moa for both windage and elevation. Lenses are fully multi-coated. The scope reviewed here came with a standard Duplex type reticle, but a ballistic plex is also available.
Based on the foregoing, the Burris scope is a good value for the price. In early 2007 the 2-7x Compact is priced around $250 to $270 from several mail order suppliers. However, the Burris 2-7x Compact, along with nearly the entire Compact and Short Mag riflescope lines, has some drawbacks that must be noted. This scope is very oddly shaped. (See photo at top of article.) The objective end (forward of the adjustment turrets) it is very short and stubby. Length from adjustment turret to front of objective bell is 2.8 inches. The space for ring placement between the turret and the beginning of the objective bell is only 1.0 inch! On the opposite end of the scope, the eyepiece seems overly long at 3.5 inches. Space for ring placement behind the adjustment turret is 2.1 inches. Because of this user-unfriendly design I have been unable to mount this scope on any rifle without some kind of extension rings or bases.
I initially purchased this scope to mount on a Ruger Compact short action rifle. I excitedly mounted the Ruger rings supplied with the rifle. Then I removed the scope from the box and tried to set it in the rings. Imagine my disappointment when I discovered that it did not fit. "What the heck kind of person," I asked myself, "would design a compact rifle scope that would not fit on one of the most popular short action rifles in America." So I had to buy extension rings from Burris for $50.
I hunted with it for a season mounted in the extension rings. However, I never liked the look of the scope/ring combination. The rear extension ring, all by itself, added a quarter-pound to the little Compact rifle. I eventually replaced the Burris with a Leupold Compact 2-7x28mm scope in the Ruger rings.
Since then I have determined that the Burris 2-7x26 scope also will not fit a Winchester Model 70 or a Remington M 700 without special bases or rings. At least for those rifles you can purchase extension bases and use standard rings. For a while I mounted it on a Winchester M 70 with a rear extension base. However, I never liked the base sticking out over the receiver opening and removed it from that rifle. The only rifle I have found this scope to fit without special rings or bases is the Ruger No. 1 single shot rifle. It fits perfectly in the Ruger rings and has at last found a home.
This is a serious design flaw. Why should I purchase a scope that requires a makeshift mounting arrangement when there are many others that do not? Burris should at least point this out in their catalogs so we know we will need to add the cost of special rings or mounts to the price of the scope. Unfortunately, we all know that will never happen.
The extra long eyepiece contributes to this problem. To effectively use the generous eye relief the eyepiece needs to be moved further forward than normal rings will allow. Once again, we are back to the need for extension rings or bases.
Another drawback to this scope is its weight. At 11 ounces it is not exactly a heavyweight, but one of the selling points of a compact scope is less weight along with the smaller size. For example, the Leupold Compact 2-7x28 only weighs 8.3 ounces. In the 10-12 ounce range there are numerous standard 2-7x variables from which to choose. Examples include the Bushnell Elite 3200 2-7x at 12 ounces, the Leupold VX-I and VX-II 2-7x models at 10.5 ounces each, the Nikon Pro-Staff and Monarch 2-7x models at 11.6 ounces each, and the Weaver 2-7x at 10 ounces. The Burris Compact does not give you any less weight than a standard scope.
So to summarize, the Burris 2-7x28 Compact, Short Mag and Timberline scopes weigh the same as a standard scope, but provide numerous headaches when attempting to mount them on a rifle. Their optical quality, ruggedness and generous eye relief cannot overcome the serious design flaw inherent in their odd dimensions. The entire Timberline, Short Mag and Compact lines, except for the fixed power 4x24mm (which has no objective bell) share this same fundamental design flaw. This is unfortunate, since their good qualities would make them fine riflescopes if only they had been designed to fit on a rifle. Thumbs down on Burris Compact, Short Mag and Timberline riflescopes.