Burris Euro Diamond 1-4x24mm E-Dot Riflescope
By Don Mutsch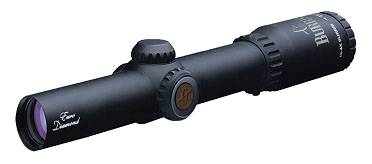 Illustration courtesy of Burris.
This past summer I set out to find a rifle scope to partner with a new .45-70 Marlin 1895SDG rifle. While appropriate for a variety of hunts, this particular rifle/scope combination was to be somewhat of a special purpose setup. My primary intent was to put together a combination for both bear and large boar hunting at short and medium shooting ranges.
As compared to other formidable game species, I donít classify black bears and wild hogs completely in the dangerous game category. Nevertheless, hunting these animals can occasionally result in ďclose encounters of the dangerous kind.Ē Hence, the importance of having a dependable rifle/scope setup that offers quick handling and rapid target acquisition at short ranges. Having already determined the rifle and cartridge combination, the focus was shifted towards addressing specific considerations for this scope:
Shooting a .45-70 with full power +P type loads requires a scope with adequate eye relief. 3.5 inches is a good (minimum) place to start.

Also,

any scope mounted on a rifle that will develop high recoil forces requires a scope that is made well and tough enough to maintain its zero without question.

Bears and boars are often encountered at extremely close range. Having a low powered scope with a wide field of view (FOV) and a forgiving eye box is of significant importance.

On baited bear hunts, much of the action generally takes place as sunlight is beginning to fade, right up to legal shooting time. Combine that consideration with the dark hair that black bears and boars usually sport. When hunting these animals in thick, dark woods with fading sunlight, significant portions of the black crosshairs on a standard duplex reticle can seemingly disappear against dark haired game. This is especially true if there is little ambient light available in the woods due to overcast conditions or the absence of moonlight.
Fortunately, there are a handful of excellent scopes to consider for this task. Since making my scope purchase, the Guns and Shooting Online article titled ďCompared: Dangerous Game Riflescopes from Zeiss, Weaver, Leupold and NikonĒ has been published. The article provides a list of strong contenders to choose from. Any one of these scopes would have been acceptable to top my 1895. However, I chose to go the route of the Burris Euro Diamond 1-4x24 E-Dot.
Approximately 18 months prior to this purchase, I started using the 1.5-6x40 E-Dot version of this Burris scope. Having hunted with it almost exclusively throughout the 2009 hunting season, I was extremely impressed with the overall optical performance and quality of this scope. Likewise, I became a fan of its simple, illuminated center dot reticle. My hands on experiences with this scope significantly contributed toward my decision to purchase the 1-4x24 Euro Diamond E-Dot.
Burris specifications for the 1-4x24 E-Dot Euro Diamond are as follows:
Manufacturer Item:

†

200964
Magnification Range:

†

1x to 4x
Objective:

†

24 mm
Main Tube:

†

30 mm

Large internal lens diameter @ 15.4 mm

Field of View @ 100 yards:

†

109 ft. (low) / 32 ft. (high)
Exit Pupil:

†

24 (low) / 6 (high)
Eye Relief:

†

3.5 to 4 inches
Weight:

†

17 oz.
Length:

†

11.3 inches

Adjustable Range: 130 inches @ 100 yards

Click Value:

†

.5 MOA
Reticle:

†

German type 3P#4 E-Dot (Illuminated)
Battery:

†

CR2032

Matte Black Finish

Burris Forever Warranty

Made in USA

2010 Retail Price: $586
Burris also includes a slip over scope coat and separate lens covers. Both are of good quality and fit properly. A further look at Burrisí published information tells us about the scopes: solid construction, shock proof testing and the use of quad seals to keep out moisture. Additional information describes how the scope is purged 24 times with dry nitrogen to eliminate residual moisture and that every scope is individually tested for leakage and fogging.
What we donít get from looking at specs are answers to the obvious questions: How good is this scope? More importantly, how does this scope perform in the field?
Mounted in Warne fixed rings on a one piece B-Square Weaver style base, I was off to the range for sight in and testing. The Euro Diamond's finger adjustments for elevation and windage offer positive and repeatable ďsteel on steelĒ click correction. Itís a real pleasure to sight in a scope when adjustments are predictable and precise based on the number of clicks needed to move the point of impact (POI). Through two separate range sessions, the scope properly maintained zero and POI was unaffected by changing the scope's magnification level.
Shouldering the rifle immediately confirms the generous eye relief the Euro Diamond offers. Compared to many other scopes, it also becomes apparent how forgiving this scope is in terms of eye position. That is, the shooters eye placement from side to side as well as front to back, is less critical than many rifle scopes. The scope is quite forgiving before starting to vignette (wink) at us. This is partially due to the large exit pupil size that makes it easy to position your eye in the scope's light path. For me, this is well appreciated for hunting applications where natural eye position changes slightly depending upon the specific shooting position and differences in the layers of clothing being worn.
As opposed to a traditional magnification adjustment ring, the Euro Diamondís entire ocular bell turns when making magnification changes. The adjustment is smooth, yet offers adequate resistance to prevent an unintentional change. In practice, Iíve found it quite convenient to grab hold of the ocular bell and give it a turn. Commonly found on many European models, the Euro Diamond sports a quick focus ring at the rear of its ocular bell. It is rubber coated and serves to protect a shooters brow if they creep too close during a shot. Considering the scope's generous eye relief, this is unlikely to occur. If there is one minor disadvantage to an ocular design like this, itís when a person chooses to equip the scope with flip up (Butler Creek) style scope covers. The flip up cover will rotate with the ocular bell when the magnification setting is changed. I donít find this to be a significant issue. Even for the occasions when I use flip up scope covers, I tend to keep my magnification settings fairly consistent in the field and any adjustments are usually minor.
The Euro Diamonds 3P#4 E-Dot illuminated reticle (IR) is worth discussing in some detail. In short, itís exactly what I had been looking for and I love it. For starters, Burris got it right by having the illumination control mounted to look like a third turret on the left side of the scope. To my eyes, this is aesthetically superior to scopes having the controls mounted on the ocular bell.
The reticle is located in the second image plane, in the American tradition. As such, it remains the same size regardless of the magnification settings. Personally, I prefer this consistent reticle size.
The German style 3P#4 reticle is not nearly as heavy as some German #4 reticles. By comparison, Leupoldís heavy German #4 reticle has significantly thicker posts. As best as I can describe here, a person could compare the thickness of the Burris posts to that of some heavy duplex reticles. When considering the IR feature for low light periods, I find the Burris reticle subtentions to be about perfect. The posts are adequately heavy to quickly pickup on game in full daylight. If I were to choose a dangerous game scope with no illumination, I would generally prefer a slightly heavier reticle for those low light periods.
In use, the Burris E-Dot illumination is nothing more than a simple, tiny, orange dot that glows in the center of the crosshairs. As opposed to some other designs, I find that restricting the amount of illumination to a center dot prevents the shooters eye from becoming distracted from the target. It also prevents an overly bright halo type of glow from appearing inside the scope. To turn on the Burris IR, just press and hold the button on the side of the scope for a few seconds and the intensity of illumination will return to its previous setting. There are 10 intensity levels and Iíve found the lowest setting to be the best for me. Simply pressing the button on the side of the scope walks through the various brightness levels. To turn off the illumination, simply hold the button in for 5 to 10 seconds until the orange dot disappears. (I say 5 to 10 seconds, as the times differ between my two Euro Diamondís.) The push button, what Burris calls their ďDigital Dimmer SwitchĒ is completely quiet in operation and has waterproof qualities. Of noteworthy importance is that when the IR is off, the center of the crosshairs simply look no different than the standard 3P#4 non-illuminated reticle.
What about battery life? If left on, the IR turns itself off after two hours. Iíve found battery life to be excellent on my 1.5-6 Euro Diamond and this scope should be no different. The battery has lasted for months throughout the entire hunting season. However, I found that leaving the battery in for several months after hunting season did result in a dead battery. As such, Burris does recommend removing the battery when not using it for extended periods of time. A nice accessory Burris includes is one additional threaded aluminum turret cap which is slightly taller than the low, installed covers. A person can choose to store the battery inside this cover when not in use, or perhaps store an onboard spare.
In early September, I had the chance to test this Euro Diamond on a black bear hunt in Maine. As it would turn out, conditions were perfect for evaluating the low light performance of this scope. I was hunting very thick woods with a fully intact leaf canopy and was setup in a blind just 20 yards from my bait set. The bait was positioned where the ground and the backdrop of the woods from my shooting lane were noticeably dark. My hunt would take place during a new moon phase, meaning there would be no visible moon for at least one night and just a sliver for other evenings. In addition, the skies were overcast on most nights. This added up to no ambient light being available to help with night vision. Coming in after dark, the hunters in camp commented how, ďit was so dark that you couldnít even see your hand in front of your faceĒ and that was no exaggeration. Letís just say it was very dark and it turned that way relatively fast. For me, itís rare when appropriate hunting light expires before legal shooting time and this was one such occasion.
During my week long hunt, I had smaller bears come into my bait set on two separate evenings. On both occasions I chose to pass on these estimated 150 pound bears and they hung around well past dark. This provided me the perfect opportunity to critically evaluate the optical performance of the 1-4x24 E-Dot Euro Diamond. From the concealment of my blind, I was able to check the relative brightness of this scope against the coat of a black bear and the surrounding dark background. Short of pulling out light meters and other measurement gear, could there be a better test scenario anyone could make? While the optical performance was excellent, as light continued to fade, the crosshairs of the scope started to blend in or disappear with the blackness. I was able to make this test repeatedly as it got darker over a period of approximately 45 minutes. Besides the assistance of great optics and a wide FOV, the slight glow of the illuminated orange dot made it easy to determine precise shot placement.
Iím not suggesting that a person could not make the shot without an IR. However, I can testify that IR is VERY helpful. Taking aim without the illuminated dot under these somewhat extreme circumstances is a bit more of an approximation when the crosshairs are mostly not visible. Bears that have not had particularly good shots put on them have been known to run for miles until they finally expire. On something as tough as a bear, precise shot placement can make the difference between quick game recovery and one with an extended search in the darkness. Worse yet, is waiting to recover your game the next day and hoping that there is a trail to pick up and that mild temps have not spoiled the meat. Worst of all is the unnecessary pain and suffering your poor shot placement caused.
Is there anything Burris could do to improve this scope? If I had my way, I opt to eliminate the white cursive ďEuro DiamondĒ lettering found on the side near the objective. Of real improvement would be for Burris to add their water shedding StormCoat to the scope's already excellent HiLume lens coating. StormCoat comes standard on the XTR (tactical) version of this scope and is found on the Six-X line. For those unaware, StormCoat is similar in function to the RainGuard coating Bushnell has been putting on their Elite scopes for some time now.
What this all adds up to is that the 1-4x24 Burris Euro Diamond E-Dot is a scope that performs extremely well and is a real value in itís market niche. Itís bright throughout its magnification range with excellent image clarity and contrast across the entire field of view. The IR is well implemented and very effective. The Burris lifetime warranty and overall quality is there. Quite frankly, it also looks right on top of my lever action 1895.
Iíll include this little tidbit of info, as itís rarely discussed in scope reviews: For those that have never looked through a mounted 1x scope of similar design, understand that you will see the last few inches of barrel coming into view from the bottom of the scopes image. This is normal and is observed at the scopes lowest magnification setting. It is no fault to the scopes design. Itís a simple function of low power and desirable wide FOV. As the scopes magnification is increased, FOV decreases, until the barrel eventually disappears from view. To pick a number, often the barrel disappears somewhere around 2x. Obviously, this varies depending on the specific rifle/scope setup. Most hunters get accustomed to this very quickly and I have not found it to be a distraction. It is no different than seeing the end of the barrel when shooting with iron sights. In fact, it often doesnít come into play as I tend to like my scope's power set somewhere between 1.5x and 2x when on stand.
Honest feedback from fellow scope aficionadoís that looked through my 1-4x24 Euro Diamond has been very positive. One person in particular ponied up the money for one after looking through mine. There are a few other scopes in the market that I would consider a close equal to this Burris model. However, there are none Iíve seen that I would consider better. Itís the right tool for the job and I feel that the refinements of such a scope can make a difference. Iíd trust my life to it on any dangerous game hunt and that says it all.
As a final note, Iíll briefly mention that I grew up in a household where people buying American made products put a roof over our heads and food on the table. Especially during this long recession, it means something to me to buy a quality American made product with this price/performance value.