Burris Fullfield II 2-7 x 35 Ballistic Plex Riflescope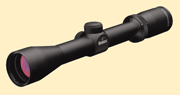 Illustration courtesy of Burris
A brand new addition to the Burris Fullfield II line is their new 2-7 x 35 mm Ballistic Plex scope. It boasts the same set of features as you would expect from a Fullfield II: fully multi-coated lenses with up to 95% light transmission, positive click adjustments, quad ring seals rather than just O rings, quick focus, and double adjustment springs found on very, very few scopes. It weighs just 12 ounces, and is just about 11-1/2 inches long.
For decades, "eastern" fixed hunting scopes have been 2.5X or 4X, while the "western" fixed scopes have been 4X to 6X. Obviously, these power ranges cover most any big game hunting scenario, and you have the Burris Ballistic Plex reticle working for you at an easier to use magnification than the more common 12x Mil-Dot or TDS style range compensating reticles. My only initial reservation is the Ĺ MOA adjustments rather than ľ MOA adjustments that Iíd personally prefer to have, as mentioned in the Burris specs. However, the scope I tested does indeed have ľ in. @ 100 yards click adjustments.
The 60 inches of internal adjustment is better than average, and by shaving 5mm off the outside diameter of the objective side, the scope can bit mounted a bit lower than many 40mm scopes. For many mounts youíll be able to use low rings to get your scope closer to the centerline of your bore. The included rubber Burris scope end caps add nothing to the OD of the tube, as they set into the scope ends as opposed to around. This scope has an average eye relief of about 3-1/2 inches; adequate for all but the hardest kicking rifles.
The optic clarity edge-to-edge very good; and on top of all this, the street price is astonishingly low. Iíve seen them around $160. You canít get anything near this combination of features in a tough, ballistic reticled scope for this price. It is a fabulous value.
The Burris ballistic reticle is touched upon here: http://www.chuckhawks.com/burris_signature_select_scopes.htm and a full length review of the Signature Select 3-10 x 40mm scope appears on the Product Review Page of this site. As mentioned before, you may not need it for many hunting applications, but when you do youíll sure be glad it is there.
This scope comes very nicely presented, wrapped in blue cloth, the rubber scope caps as mentioned, and templates for the ballistic reticle to get you in the ballpark for most rifles. The fine-tuning is up to you.
According to the exit pupil specs (16mm to 4.6mm), this 2-7 x 35 scope is more correctly a "2.187 by 7.608 power scope," giving you a bit better magnification than you might think. As most middle-aged human eyes can only dilate to about 5mm, this scope is plenty bright enough for most legal hunting hours, even cranked all the way up. How a scope dims to your eyes is easy enough to check with, say, a 4-12 x 40 scope. At maximum magnification, only 3.33mm of exit pupil is left. Thatís something I can easily notice after sundown, and I believe most folks can as well. Ten power magnification is about the most I can use without distraction from a 40mm objective scope, even a scope with outstanding glass. I found the Burris to have a fully usable magnification range from before sunrise to after sunset.
It is a fine scope in every way I can realistically grade a scope: build quality, features, and apparent ruggedness, with a ballistic reticle as icing on the cake. So, it is a home run for Burris. The only problem they are likely to have is keeping this new model in stock. Itís not only good, but a really good bargain as well, perhaps the best all-around "Fullfield II" ever introduced. Highly recommended.