Burris Six X 2-12x40mm Ballistic Plex: The Most Versatile Riflescope Made?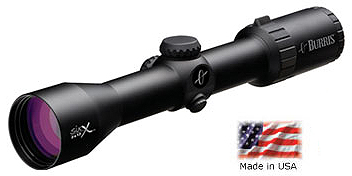 Illustration courtesy of Burris
Jack O'Connor, the Dean of American gun writers, had some general scope magnification recommendations that he mentioned in his 1970's book The Hunting Rifle. Mr. O'Connor mentioned 2x-3x for big game in brush and forest, 3x-4x for general and long range big game shooting and 8x-12x for long range varmint shooting. Burris Optics has put this entire spectrum of usable power range into one high-end scope. The basic specs for this matte finish Six X scope are as follows.
This is no starter or entry level scope. It is made in the USA with a 30mm main tube for increased adjustment range, Burris' best glass, largest internal lenses, best optical coatings, tough construction and a 6x zoom range. The same basic scope is offered in a 50mm objective version that weighs just one ounce more.
Why a 6x zoom range? I suppose a lot of it is, "because we can." Swarovski has tried to make a lot of hay with its Z6 line of extended zoom range scopes. A Swarovski in a similar configuration to the Burris Six X runs in the $1900 - $2000 range, not what I would call popularly priced. Viewed in this context, the Burris Six sells at an amazingly low price point, currently about one third the price of a Z6.
Now for the "why not"? Lens designers have long known that a zoom lens is always a trade-off in favor of convenience over quality. The wider the zoom range, the more compromises that must be made in optical design and the lower the resultant optical quality will be at any given price point. There is no free lunch in optics, regardless of brand or country of manufacture. There are many compromises inherent in the design of super-extended zoom ranges. Perhaps the most obvious to the consumer is a reduced field of view at the upper end, but virtually all optical aberrations will be increased while total light transmission, resolution and contrast will be decreased. A fair comment, again regardless of brand, is that while extended zoom range scopes are often wrongfully called "more powerful," they cannot equal the overall image quality afforded by a smaller zoom range scope built to the same quality standards and price point.
One thing you will notice about the Six X's 40mm objective is that it does not appear nearly that large, due to the 30mm main tube. It helps make the entire scope appear sleek and compact, even though it isn't. About five years ago, writing about the then-new Burris Signature Select scopes, I wrote that, "It has been a long time since I've been so totally impressed with a scope as I am with their Signature Select 3-10x40mm Ballistic Plex." My opinion has not changed since then. Compared to many other scopes, that Signature Select is like wiping off the windshield and turning the lights on.
The natural question that follows is what do you get in the Six X? It is combination of things: more field of view on the low end, more power on the upper and more internal adjustment range. The eye relief on the Six X is published at four inches. It is every bit of that, making this scope suitable for the harshest recoiling rifles.
Another thing that is impressive about the Six X is that, without the added weight, length and complexity of an adjustable objective, this scope is crystal clear throughout the zoom range. It is common for inexpensive scopes to get muddy and fuzzy towards the upper end of the zoom range. Despite the 6x zoom range, the image at 12x magnification remains clear, a neat trick and no small achievement.
Burris did an excellent job with this scope. It is bright, clear and one of the most versatile scopes available. The fact that it sells for up to $1400 less than some competitive models is hardly trivial, either. The Six X, as tested, is a hunting scope second to none. The extended zoom range is only good if you can actually use it and with the Six X, you can.