Burris SpeedBead for Shotguns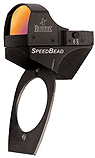 SpeedBead. Illustration courtesy of Burris.
One of the items introduced and promoted at the 2008 SHOT show was the Burris "SpeedBead," a HOLOsite genre sighting system for shotguns. Mounting between the buttstock and receiver on several semi-auto shotguns and pump actions, it is currently offered for the following models:
300240 - Benelli Super Black Eagle, Super Black Eagle II
300241 - Benelli M2, Montefeltro, Ultra Light
300242 - Benelli Legacy, Sport II, Super Sport, Cordoba
300243 - Benelli SuperNova
300244 - Beretta 391, Urika, Urika2, Teknys
300245 - Beretta Xtrema, Xtrema2
300246 - Beretta 3901, 390
300247 - Franchi I-12, Stoeger 2000
300248 - Remington 870, 1100, 1187
I shot several shotguns that were "SpeedBead" equipped at the range. It projects a very bright, clear, red dot at the front bead of your shotgun that is intended to eliminate any stock weld mounting issues. As long as you put the red dot where you want it, that is where your shot goes.
Burris states, "Maintaining proper form on the trap range is one thing. Maintaining it in the real world of flushing pheasants, quail, grouse, and fast-flying waterfowl is another. With the SpeedBead System, both the target and the red dot remain in focus. The optics and their position on the sight plane eliminate the need for perfect left/right, up/down head position for an accurate shot."
So, how beneficial is it? Although you have likely read very positive comments from me about Burris products in the past, this one is an idea that I loathe. It is borne of rifle complex thinking, a fundamental ignorance of what wing shooting is all about. Shotguns are pointed, not aimed, and the front bead of a shotgun is not something you should be consciously aware of when shooting. The SpeedBead is visually loud, distracting and certainly does not promote good shotgunning technique. Rather than a benefit, gimmicks such as this can destroy shooting technique, turning you into a "stop-shooter" rather than a smooth, instinctive shooter that always keeps his muzzle moving and is strictly looking at the target, with no conscious awareness of the sight.
Presumably, you are reading my articles because you want candid assessments of product, not puffery, and that is my impression. The SpeedBead is an aesthetically vulgar red dot that is of no benefit on moving targets; it is a hindrance rather than a help.
It does have a purpose, though, that I can understand. Good wing shooting form is not necessary when turkey hunting, for example, so putting a red dot on the tom's head may be just what the doctor ordered for turkey hunters. Some may also find it useful for slug gun applications. Additionally, it might be worth a look if you are slightly cross-dominant, as the red dot is, as mentioned, clear and bright and might allow you to shoot properly with both eyes open without putting the familiar "X" of clear tape across one lens of your shooting glasses.
Adding a "SpeedBead" to your shotgun requires no drilling and tapping of the receiver, or permanent modifications to your shotgun. Thus, on for turkey season and off for the rest of the time is a possibility.
As a generalization, though, this is not a product I would consider adding to any of my shotguns for bird hunting. You might find differently, but I seriously doubt it.