Bushnell 4x32mm and 3-9x32mm Rimfire Riflescopes
By Chuck Hawks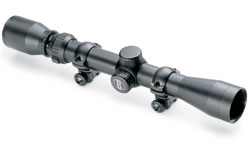 Illustration courtesy of Bushnell
Bushnell offers two riflescopes specifically intended for use only on rimfire hunting and plinking rifles. These constitute Bushnell's aptly named ".22 Rimfire Riflescope" line.
There is a 4x32mm fixed power model (#76-2243) and a 3-9x32mm variable power model (#76-2239). Both come in your choice of matte black or silver finishes. These are inexpensive scopes, but they offer surprisingly good optical and mechanical performance.
What distinguishes a .22 rimfire hunting/plinking scope? The magnification, field of view and other design elements must be suitable for the range, trajectory, recoil, and anticipated target size typically engaged with a rifle chambered for the .22 Long Rifle cartridge.
Small game is just that: small. And so are most common plinking targets, from tin cans to bottle caps, shotshell cases, and "clay" pigeons. The effective range of a .22 rimfire rifle is limited by the cartridge's remaining energy and rainbow trajectory. Most targets will necessarily be engaged at distances from, say, 25 to 75 yards. And the recoil of a .22 rifle is slight.
That means that a scope for a .22 rifle need not have a lot of eye relief, as recoil is not going to drive the scope back into the shooter's eye. Nor must the internals of the scope be designed to withstand the incredible acceleration of centerfire cartridge recoil. These two factors contribute to the low cost of most .22 riflescopes.
To hit small targets at moderate distances, medium magnification (and a medium field of view) is ideal. In fact, a fixed 4-power scope is just about perfect, and many experienced small game hunters end up leaving their variable power scopes set between 3x and 5x magnification. Very high and very low magnification is neither necessary nor desirable.
Most .22 rimfire targets are engaged at distances considerably less than 100 yards (the distance at which most centerfire riflescopes are designed to be parallax free). Therefore, Bushnell rimfire scopes are designed to be parallax free at 50 yards.
These design considerations are why rimfire scopes are fine tuned for their specific purpose, actually making them superior for the job to most centerfire rifle scopes. Which is why most major manufacturers that offer a line of centerfire riflescopes also offer special rimfire models.
Unlike centerfire rifles, most .22 rifles come with grooves in the top of their receivers for "tip-off" scope mounts. Consequently most .22 scopes, including the Bushnell models reviewed here, are supplied with tip-off scope mounting rings. This represents considerable savings for the purchaser.
Bushnell .22 Riflescopes are designed with a standard 1" diameter tube, making them adaptable to any standard 1" scope ring if the intended rifle is not grooved for the supplied rings. These scopes are built on a one-piece tube and come with fully coated optics, 1/4 MOA fingertip elevation and windage adjustments, Bushnell's Multi-X reticle, and are dry-nitrogen filled to make them waterproof and fogproof. The 3-9x model has an easy-grip power change ring. Both employ conventional eyepiece focusing.
In most areas the specifications of the two models are identical, but in some they are necessarily different, as the following list reveals.
Objective lens diameter: 32mm
Eye relief: 3"
Exit pupil at 4x: 8mm
Click value: .25 MOA
Adjustment range: 40" at 100 yards
Max. field of view at 100 yards: 30' (4x); 40' (3-9x)
Weight: 10 ounces (4x); 11.2 ounces (3-9x)
Length: 11.5" (4x); 11.75" (3-9x)
2004 MSRP: $46 (4x); $54 (3-9x)
Jim Fleck (frequent Guns and Shooting Online product tester), his brother Bob Fleck, and I did the range testing. The 4x scope was mounted on Bob's CZ 452 rifle, and the 3-9x scope was mounted on a Browning A-Bolt .22 owned by Jim. Both of these individual bolt action rifles are notable for their consistent accuracy.
At the range we tested both scopes at 25, 50 and 100 yards. We found it best to set the variable scope at about 3x or 4x for shooting at the 25 yard line, as an apparent lack of depth of field made close range targets appear fuzzy at the higher powers. But at 100 yards the 7x to 9x settings proved worthwhile for shooting at paper targets.
Both rifles delivered excellent (and comparable) groups at 50 yards, definitely better than would have been possible with iron sights. At that distance there was no discernable difference in the accuracy potential of the two scopes. In fact, there was little or no difference in accuracy at 25, 50 or 100 yards.
The windage and elevation adjustments were surprisingly precise and accurate in both scopes. They were a pleasure to zero-in. This speaks well for the mechanical design and assembly of these economical Bushnell scopes.
Their overall optical quality was better than I expected given the very modest price of these scopes (approximately $30 and $40 respectively at our local discount department store). Both scopes are entirely satisfactory for their intended purpose. The 4x model was optically somewhat superior, at both the center and the edge of the field of view. This is usually the case when comparing fixed and variable power scopes. Flare and internal reflections seem adequately suppressed in both; certainly they posed no problem at the range. As Jim noted, these scopes are not as bright and sharp as an expensive centerfire riflescope, such as a Sightron SII or Leupold VX-II that costs hundreds of dollars more, but they work well in most lighting conditions.
Bob and I preferred the fixed power 4x scope, but Jim particularly appreciated the variable power feature of the 3-9x model. We all agreed that both Bushnell .22 Riflescopes offer good performance at a very reasonable price.