Bushnell Elite 3200 2-7x32mm Riflescope
By Chuck Hawks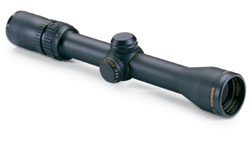 Illustration courtesy of Bushnell
The Bushnell Elite 3200 2-7x32mm is what I would call a "sensible" scope. It was chosen to complement a limited production Ruger 1-A Light Sporter with a stainless steel barreled action. This elegant, perfectly balanced rifle in caliber .257 Roberts is only 38.25" in overall length, despite its full length 22" barrel. The last thing such a rifle needs is a huge scope with a "syrup bucket" objective negating its fine balance and handling qualities.
So, when it came time to select a suitable scope, all of the models that I considered were premium scopes in the 2-6x, 2-7x, and 2.8-8x range with objective lens diameters of less than 40mm. These are what I term sensible riflescopes. At low magnification they offer the wide field of view critical to fast target acquisition at short range, and at the high end they offer adequate magnification for precision shooting at the rifle range or for that rare long range shot at an undisturbed big game animal.
What tipped the scales in favor of the Bushnell Elite 3200 was its proprietary Rainguard external lens coating. (And the fact that Bushnell does not offer a 2-7x scope in their top of the line Elite 4200 series.) Since the special Ruger Light Sporter features a stainless steel barreled action, it seemed reasonable to choose a scope that was not only waterproof, but through which you can actually see in the rain.
To quote the Bushnell catalog, Rainguard is a "permanent, patented, hydrophobic and oleophobic lens coating that prevents fogging by causing condensation from rain, sleet, snow or even your own breath to bead up into much smaller droplets than on standard coatings. Smaller droplets scatter less light, which results in a clearer, brighter view."
In addition to Rainguard, the Elite 3200 line features a one-piece 25mm tube, multi-coated (not fully multi-coated, however) optics, 1/4 MOA (resettable) fingertip click windage and elevation adjustments, fast focus eyepiece, and magnum recoil proof construction. The latter refers to Bushnell's 1000 round .375 H&H Magnum torture test. The scope is dry nitrogen filled and guaranteed to be 100% waterproof, fogproof, and shockproof. Bushnell claims 90% light transmission at 550 nm.
Elite scopes come with Bushnell's Elite Lifetime Limited Warrantee against defects in normal use and a special "No Questions Asked" one-year replacement policy (U.S.A. only). The latter means that if the customer is not fully satisfied, Bushnell offers to replace the scope for free or give the customer a full refund.
Here are the basic specifications of the Elite 3200 2-7x32mm riflescope:
Model # - 322732M
Finish - Matte black
Objective lens diameter - 32mm
Reticle - Bushnell Multi-X
Field of view - 44.6' at 2x, 12.7' at 7x
Weight - 12 ounces
Length - 11.6"
Eye relief - 3"
Exit pupil - 12.2-4.6 mm
Click value - 1/4 MOA
Adjustment range - 50 MOA
Mounting length - 6"
2005 MSRP - $265.95
The matte black Bushnell scope looks fine atop the stainless steel and walnut Ruger K1-A rifle, and it would also look fine on a polished and blued rifle. The matte black finish is nondescript enough to blend in with most rifles.
I was able to use low Ruger rings to mount the scope, due to the modest diameter of its objective lens. All that was required was to remove the open rear sight with which the rifle was supplied. A low scope mount is always preferable to a taller mount, as it has less effect on the rifle's balance and the rifle/scope combination occupies less space.
In use the Elite 3200 2-7x32 scope provides bright, clear views of the target. Flare is adequately suppressed, and edge to edge sharpness is good. Chromatic and spherical aberrations are held to entirely satisfactory levels. The Bushnell version of the Duplex reticle is a pretty good one for big game hunting.
The wide field of view available at 2 power is particularly valuable in most real world hunting situations. Remember, the majority of North American deer are killed at less than 100 yards, regardless of the caliber of the rifle employed. And the maximum magnification of 7 power served nicely when sighting-in the test rifle at the range.
The fast European style focus is an excellent feature that is being adopted by more and more American scope companies. On this scope the focus ring required a fair amount of force to turn, which is good as it is unlikely to be changed accidentally. The eyepiece ring itself is rubberized to provide a good gripping surface, as well as to save foreheads from the full effect of heavy recoil that might drive the scope back into the shooter's eyebrow.
The 1/4 MOA click adjustments work as advertised. Fingertip knobs are always appreciated. There is a slight interaction between the windage and elevation adjustments, but not enough to present a serious problem for a big game scope. Once sighted-in the adjustments seemed to stay put, as the point of impact did not drift with continued shooting.
All in all, the Bushnell Elite 3200 2-7x32mm riflescope performed very well, just as I had expected. It is a fine choice for most big game hunting, and particularly for the shorter, faster handling breed of hunting rifle exemplified by the Ruger No. 1A. Bushnell scopes have a good reputation for ruggedness and dependability, so I expect this Elite 3200 to serve me well for many years to come.