Bushnell Elite 4200 3-9x40mm Riflescope
By the Guns and Shooting Online Staff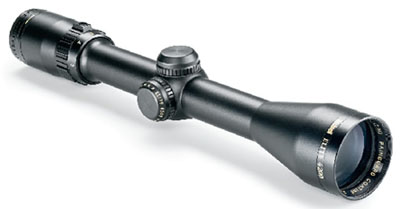 Illustration courtesy of Bushnell.
We have had the pleasure of owning and reviewing a wide range of Bushnell (www.bushnell.com) riflescopes over the years. However, we have previously neglected a staff review of an Elite 4200 model. This review of one of the newest additions to the Elite 4200 line will correct that oversight. The scope in question is the Elite 4200 version of the justly popular 3-9x40mm riflescope.
A 3-9x40mm scope of good quality will do almost anything required of a big game hunting rifle. (We say "almost" because the 3-9x40 is probably too much magnification for very close range or hunting dangerous game; a scope with minimum magnification in the 1.5x-2x range is a better choice for those purposes.) A 3-9x40 has sufficient field of view for short range shots down to about 25 yards and enough magnification for long shots at big game animals well beyond the MPBR of any commercially available hunting cartridge. A 3:1 zoom range may not sound particularly sexy compared to scopes, like the Elite 6500 series, with 6.5:1 zoom ranges, but it is immanently more sensible from an optical design perspective.
With a 7mm exit pupil at 5.7x magnification, the big 40mm objective gathers plenty of light for dawn and dusk hunting, more light than most eyes can accept. (At 3x magnification, the exit pupil is 13.33mm, almost twice the 7mm diameter and several times the surface area of the pupil of a fully dark adapted human eye!) When the scope's exit pupil is larger than the pupil of the viewer's eye, the extra light cannot be accepted and is simply wasted. The idea that a front objective lens larger than 40mm in diameter is desirable for big game hunting is absurd, a marketing ploy to separate the uninformed from their hard earned money.
That is why we do not recommend scopes with outsize objectives for big game hunting riles. They simply add unnecessary weight and bulk to the rifle, adversely affecting its handling qualities. It also explains why we chose to mount the 3-9x40mm Elite 4200 on our recently reviewed (see the Product Reviews page) Weatherby AccuMark rifle in caliber .270 Win. They make an all-around rifle/scope combination that is hard to beat.
Our test scope came with Bushnell's Multi-X reticle, their version of the general purpose Duplex. We much prefer simple reticles, like the Multi-X, that do not require thought or calculations that waste time when a hunter should be concentrating on aiming to get a shot off with dispatch. The external finish on the one-piece, aluminum alloy main tube is a handsome and subdued anodized matte black. The optics are fully multi-coated and, in addition, all Elite 4200 scopes come with Bushnell's proprietary RainGuard HD coating on the front and rear element surfaces. RainGuard makes water bead and run off the lenses, a big advantage in fog and rain. Naturally, the scope is purged, dry nitrogen filled and O-ring sealed to eliminate internal fogging, making it 100% waterproof. The low, fingertip windage and elevation knobs click in ¼ MOA increments. Light transmission is claimed to be 95% at 550 NM (details unspecified). All Elite 4200 riflescopes are covered by Bushnell's "bullet proof" warranty and, in the USA only, a one-year "no questions asked" replacement warranty for the original owner. Here are the specifications of the Bushnell Elite 4200 3-9x40mm.
Product number: 423944M
Objective lens diameter: 40mm
Finish: Matte black
Reticle: Multi-X
Field of view (at 100 meters): 11m (3x), 4m (9x)
Parallax free at: 100 yards
Adjustment range: 50" at 100 yards
Click value: ¼ MOA
Exit pupil: 13.3mm (3x), 4.4mm (9x)
Eye relief: 3.3"
Length: 12.6"
Main tube diameter: 1" (25mm)
Mounting length: 6"
Weight: 13 ounces
2010 MSRP: $299.99
Bushnell markets a very wide range of riflescopes, from blister packed economy models to the upscale Elite 3200, 4200 and 6500 models. Suffice to say that by choosing an Elite 4200 scope, the buyer is getting what we consider a solid, four-star riflescope that is more than adequate for any hunt, anywhere in the world. Our Weatherby Mark V AccuMark test rifle, for example, is a top quality, extremely accurate rifle with an MSRP in the $2000 price class and we think that the 4200 3-9x40mm is an excellent match for such a rifle.
We mounted the Elite 4200 using Leupold's steel STD bases and rings, one of our favorite mounting systems. Absolutely no difficulties were encountered and there was plenty of mounting latitude, even though the Weatherby is a long action rifle. Our friends at Bushnell have been in the riflescope business for a long time and their attention to often overlooked details, such as adequate mounting latitude, reflects that experience.
Visually, our trip to the rifle range revealed that targets appear sharp and clear when viewed through the 3-9x40mm Elite 4200. Center contrast and sharpness are very good, with only a moderate loss of resolution at the edge of the field of view. (No scope is as sharp at the edge as it is at the center.) Optical aberrations, such as distortion and coma, are well corrected across the field of view. Flare does not become a problem until the scope is aimed quite close to a light source. (Never point any scope directly at the sun!) Bushnell's multi-coatings do a good job.
The 50" (at 100 yards) windage and elevation adjustment range should be more than adequate. If you run out of adjustment with this scope, either your mounting system is not installed correctly or the mount base screw holes drilled and tapped into your rifle's receiver are not properly aligned with the bore. Sadly, the latter is an all too common problem these days. While we are on the subject of windage and elevation adjustments, the Elite 4200's were unusually accurate and stayed put when set. It was no problem to sight-in our test rifle to put the bullets where we wanted them and four clicks (not three clicks or five clicks) really do move the point of impact 1" at 100 yards, without interaction between elevation and windage.
Our test scope's 3.3" eye relief is adequate for cartridges in the .270-.30-06 class, but we would like at least 4" of eye relief for a scope to be mounted on a powerful medium bore rifle or a hard kicking magnum rifle. The scope's eyebox is generous at 3x, good at 6x and satisfactory (although tighter) at 9x. Eye position should not be a problem for shooters whose rifles fit properly; when we mounted the Weatherby quickly, the scope did not "wink" at us. Of course, if your rifle doesn't fit, your eye will not be aligned with any scope, regardless of brand.
Among this scope's many nice features is fast, European style focusing, which we prefer. It is particularly convenient when a rifle and scope will be used by more than one shooter, as our test rifles and scopes usually are. A rubber trim ring around the end of the eyepiece protects the shooter's glasses, and possibly eyebrow, in the case of hard kicking rifles.
The grooved zoom ring is easy to turn, even when wearing gloves. It is commendably smooth in operation and there is a tactile, raised square at the mid point in the zoom ring's 180-degree rotation. When the tactile bump is straight up, the scope is set at 5x.
As expected, recoil had no effect on the integrity of the 4200. Bushnell Elite scopes have a good reputation for toughness and are quite capable of shrugging off the recoil even of powerhouse cartridges, such as the .375 H&H Magnum.
There are not a lot of negative comments in this review for the simple reason that we could not find much to criticize about the Bushnell Elite 4200 3-9x40mm scope. It is a good looking, four-star scope that performs well and gives excellent value for its relatively modest price. It is backed by a well established company that is one of the leaders in the business. It seems to have found a permanent home on our deluxe Weatherby AccuMark rifle. (The Elite 4200 is the third scope we have had on this rifle in about two weeks and the least expensive, so when we say it has found a home, it means something.) We are looking forward to taking this combo hunting in the near future!