A Second Look at the Bushnell BackTrack GPS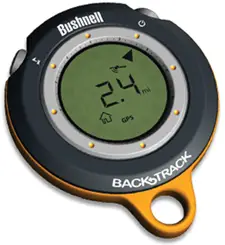 Yellow/gray BackTrack. Illustration courtesy of Bushnell Outdoor Products.
Once in a great while, a simple, utilitarian product comes along that is so handy and so practical you might wonder how you got along without it before. That defines the Bushnell Backtrack, that is as useful as your imagination lets it become.
Bushnell's Backtrack is an amazingly easy to use disc-shaped GPS that fits just about anywhere: a pocket, around your neck, or in your backpack. This simple GPS is about 2-15/16 inches in diameter and just over half of an inch thick. It is powered by a pair of AAA batteries that are rated for 20 hours of life, or over 130 uses. It weighs next to nothing, and is effortless to use. The Backtrack is "set it and forget it," as the Ron Popeil slogan goes. In an unusual step for a small electronic device like this, the instructions are in color and extremely well done. There is essentially no learning curve with this product, it is as close to self-explanatory as it gets.
The Backtrack includes a digital compass; no great shakes there. But it is a precision GPS that allows to mark and store three separate locations, telling you at a glance the direction of those locations and how far away you are from them up to 99 miles. The LCD display is large, easy to read, and is generously backlit as well. Day or night, you'll have no problems making it out.
It looks like a giant stopwatch. It has only two buttons. A quick press on the button to the right turns on the LCD display, showing you the battery life and you'll see a blinking icon as the GPS synchs up to the satellites. Depressing this same button shifts from compass mode to "home" icon to car icon to star icon, and then cycles back through the sequence. Stop on the icon of your choice then hold the left button down for a couple of seconds. Bingo, a starburst circle instantly surrounds the display that becomes a "zero," indicating that you have marked your current location and are zero yards way from it.
Like all devices that run off of global positioning satellites, it is accurate to about 5 yards or so. It quickly marks your trophy on the tundra, your boat, your lodge, the dock, your vehicle, the head of the main trail, the start of traplines, your ground blind, or any three locations that care to log. At a glance, you know how far you are from any of the locations and when deep in the timber, it always let you know where "out" is, and how far you have to go.
At a street price of about $65, eliminating the possibility of getting lost or spending the night in the woods has never been easier or more affordable. It is a time-saver, to be sure, and works like a charm.